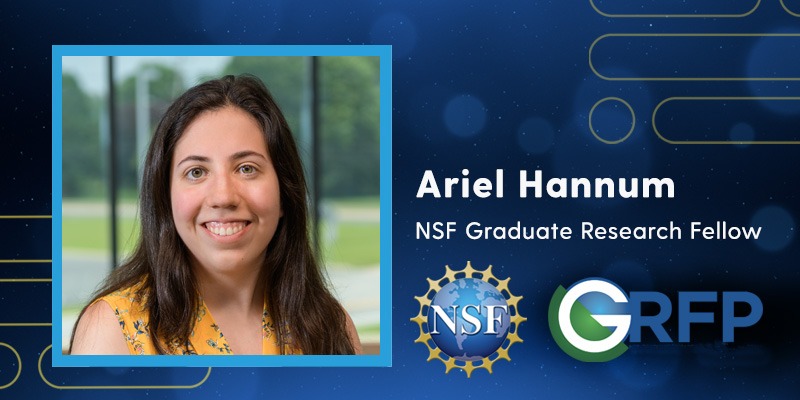 Meet the NSF GRFP recipients – Ariel Hannum
Ariel Hannum graduated from UD in May, with a bachelor's degree in biomedical engineering, and is heading to California to enroll in a doctoral program in bioengineering at Stanford University. She is interested in the application of MRI as a tool to detect and diagnose disease in the human body.
Hannum's research focuses on understanding what causes lower quality images in magnetic resonance elastography (MRE), an MRI technology that captures images while vibrating the back of a person's head in order to calculate mechanical properties, such as stiffness, in the brain. She said stiffness has been shown to be associated with brain health and is used to characterize Alzheimer's, multiple sclerosis and other diseases.
Her work identifies and quantifies different sources of signal noise that exist in MRE, and her ultimate goal is to develop techniques to reduce signal noise present in images to further improve MRE as a tool for evaluating brain health. She was surprised to find out that little formal research has been conducted on assessing the noise in MRE, which is a challenging problem.
"I was introduced to medical imaging applications when I was a summer intern at Hologic, a medical device company that creates mammography systems," said Hannum. "I was drawn to how imaging technology can help identify and diagnose disease, which can have a significant impact on patient outcomes, and want to be part of developing innovative medical imaging techniques."
Hannum is appreciative of the mentorship provided by Curtis Johnson, UD assistant professor of biomedical engineering, who has been her principal investigator. Along with creating a lab dynamic that is open and friendly, which makes it easy to approach classmates, Johnson has provided great support for her project.
"I am grateful for the opportunity to work with resources that are not available elsewhere," said Hannum. "Because I was trained to operate the MRI scanner, conveniently located on the main campus, I am able to independently collect my own data and run experiments, which is not common for an undergraduate student."
Hannum, who received the Engineering Alumni Association Scholarship and was a Telkes Distinguished Scholar at UD, would like to be a professor conducting research, teaching and liaising with industry, academia and healthcare. She is interested in unifying research through collaboration to improve imaging technologies.