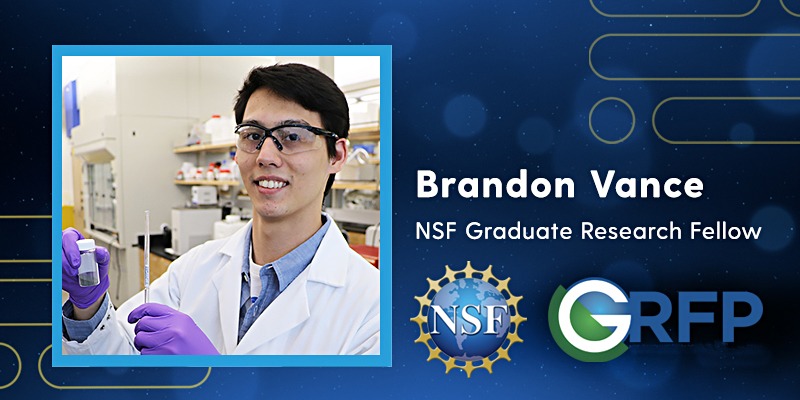 Meet the NSF GRFP recipients – Brandon Vance
Brandon Vance, a chemical and biomolecular engineering doctoral student, is focusing on converting polyolefins into gasoline, jet and diesel-ranged fuels, and high-grade lubricants. His primary objective is to develop fundamental knowledge pertaining to the reaction network and catalysts that facilitate those reactions.
Vance is interested in this topic because it has massive impacts to society and the environment. He said many of the technical details and challenges are new and unique to the conversion of plastic wastes.
"The plastic industry is currently founded on a linear-life model where plastics are produced, then used—usually only once—and finally discarded in a landfill," said Vance. "This is a highly unsustainable practice that threatens the global environment and results in massive economic losses. Chemically recycling plastic waste is an effective solution to both of these problems because it converts the plastic-life model into a circular model while generating value from waste. However, chemical recycling is a young field with many challenges in its path to broad industrial implementation."
As an undergraduate at Iowa State University, Vance worked in the field of catalysis: a modification in the rate of a chemical reaction induced by material unchanged chemically at the end of the reaction. He participated in a NASA-funded project to develop catalysts for the generation of rocket fuel on Mars, conducted biomass conversion work as a visiting scholar in Beijing, and presented academic research to members of Congress at the Posters on the Hill conference.
While Vance hopes to attain a chemical engineering faculty position at an R1 Doctoral Research University, his overarching career goals are to generate knowledge capable of addressing the sustainability issues of the chemical industry and improve the diversity of STEM programs and higher education institutions.