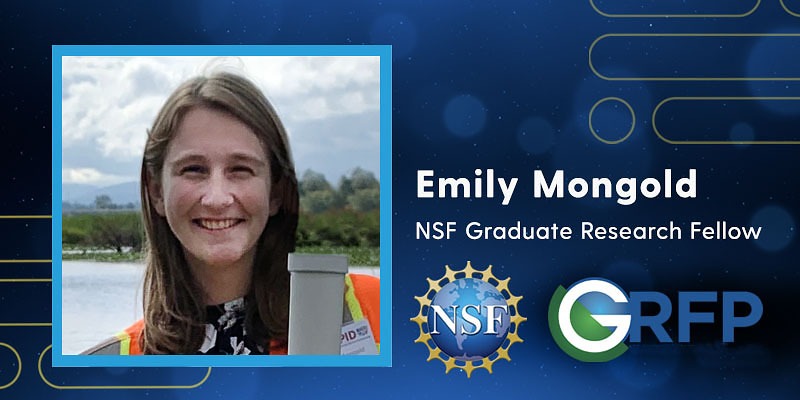 Meet the NSF GRFP recipients – Emily Mongold
Emily Mongold graduated from UD in May with a bachelor's degree in civil engineering and is enrolling at Stanford University in a doctoral program in structural engineering and geomechanics. Her research will be related to structural resilience and the impact of natural disasters, specifically tsunamis.
"I became interested in natural disasters and resilience in 2015 when I was in high school and did community service work in New Orleans," said Mongold. "Helping rebuild in New Orleans 10 years after Hurricane Katrina made me realize the lasting impact these disasters have on communities."
Mongold's senior thesis on hurricane evacuation coincided with research conducted at UD's Disaster Research Center. She has also performed research through the NSF Research for Undergraduates (REU) program, at the University of Washington, by using reconnaissance data from hurricane-damaged buildings to measure the accuracy of various 3D digital modeling methods.
Rachel Davidson, professor of civil and environmental engineering, College of Engineering associate dean for academic affairs, and Disaster Research Center core faculty member, was Mongold's research advisor at UD.
"Along with giving me the chance to perform research, Professor Davidson has supported my academic and extracurricular activities," said Mongold. "In preparation for graduate school, she helped me network and connect with faculty at other universities and gave me invaluable advice every step along the way."
Mongold's extracurricular activities have included participating in University of Delaware Alternative Breaks (UDaB), an organization that immerses student-led teams in direct service and experiential learning with community organizations to increase knowledge of social justice issues and encourage lifelong active citizenship. She credits this experience with enabling her to connect structural engineering principles with society-level, values-based thinking and practice social justice while gaining invaluable leadership experience.
Mongold, who received UD's Civil and Environmental Engineering Chair's Research Fellowship several times, as well as the Civil and Environmental Engineering Alumni Award, College of Engineering Rosario P. Award and Women of Promise Award, hopes to work in academia as a professor so she can continue to research and teach and mentor students.