2019-2020 APPLICATION
Undergraduate Research Scholars Program
The UD Undergraduate Research Scholars Program provides summer research opportunities for college students who are not currently enrolled at the University of Delaware. The program is designed to prepare, motivate, encourage, and support students who want to learn more about the graduate school experience and possibly pursue an academic or research career. As a scholar in this program, you will spend 10 weeks on the University of Delaware campus in the summer of 2020, immersed in a research project where you will work closely with faculty, graduate students and postdoctoral researchers. You will also learn first-hand about graduate programs at the University of Delaware and develop a valuable network of contacts who can support and assist you in applying to graduate school. The program will provide a stipend, as well as housing and round-trip transportation.
If you have any questions abut the program, please contact the Graduate College.
DEADLINE:
FEBRUARY 21, 2020
Program runs:
JUNE 10 through
AUGUST 15
Thank you to everyone who applied! The spaces available for the 2020 summer have been filled and we will not be taking any more applicants this year
EXPLORE THE POSSIBILITIES
Students will be matched with an appropriate faculty member based on research interests. There are hundreds of faculty mentors available for placements across all disciplines, including Animal and Food Sciences, Art, Art Conservation, Art History, Biology, Chemistry, Communication, Computer and Information Sciences, Education, Engineering, Fashion, History, Mathematics, Nutrition, Physics and Astronomy, Plant and Social Sciences, Psychology, Public Policy and Administration, and more.
In addition to traditional lab experiences, there are opportunities in areas such as analyzing social network data, setting up an urban living lab, and studying use of financial services for low-income households.
Here are more details for some examples of possible placements.
Athletic Training
The Athletic Training Research at UD was established in Fall of 2003 providing a plethora of research opportunities to the UD community and State of Delaware.
The primary focus of this research involves sport-related concussion and lower extremity biomechanics. Collaborative projects have been developed within the University of Delaware including the Department of Athletics, Departments of Physical Therapy, Mechanical & Chemical Engineering, Student Health Services, and Intramural Athletics and Recreation Services. In addition, several State of Delaware interscholastic (high school) sports programs and regional Sports Medicine specialists are involved with current research efforts. The laboratory research group has numerous annual peer-reviewed scientific publications, published abstracts, and a multitude of professional presentations ranging from regional clinical meetings to international sports medicine conferences.
Energy
The broad scope of Energy research and development efforts at UD offer opportunities for study in the fields of physics, chemistry, materials science, chemical engineering, mechanical engineering, and electrical engineering.
Collaborative efforts have been established across the university, nationally and internationally that work to develop solar, wind and alternative approaches to energy resources.
Today, IEC is a multi-disciplinary laboratory devoted to research and development of thin film photovoltaic cells and is one of the few laboratories in the world with expertise in Si, CdTe, and CuInSe2 based solar cells. Throughout its history, IEC has worked with over 50 companies – either formally on a contract basis, or informally on a researcher-to-researcher basis – in supporting their research efforts or transferring technology to start a new research program.
Learning & Development Lab
The achievements of chess grand masters, musical virtuosos, and Olympic athletes hardly match what children accomplish by the tender age of three. How do children do it?
Since 1974, the Child's Play, Learning and Development Lab at the University of Delaware (formerly the Infant Language Project), under the direction of Dr. Roberta Golinkoff, has been exploring how children learn and grow. From how children develop language and spatial skills to how play can help scaffold learning, we are exploring children's marvelous minds.
Memory and Speech Research
Memory and Perception Speech Lab
Memory and Perception of Speech (MAPS) research at UD investigates how linguistic experience shapes our perception of spoken language. The current focus of this program has been in the role of memory consolidation during sleep in the acquisition of speech information. Our methods combine behavioral with neuroimaging (fMRI, ERP) techniques to better understand the neural underpinnings of perceptual phenomena. We study these questions in populations with typical and impaired language, in order to improve remediation efforts in those who struggle with spoken language processing.
Speech Language Acquisition and Multilingualism Lab
The Speech Language Acquisition and Multilingualism (SLAM) Lab at UD is located within the Department of Communication Sciences and Disorders, and is directed by Dr. Giovanna Morini. The lab studies how young children learn language. Particularly, how different groups of children: monolinguals, bilinguals, as well as children who are born deaf or hard-of-hearing develop linguistic skills. Some of our studies also focus on topics related to how adults acquire a second language. Given that many of our participants are very young and cannot yet provide reliable verbal responses, we use behavioral methods such as eye-tracking and head-turn measures to answer our research questions.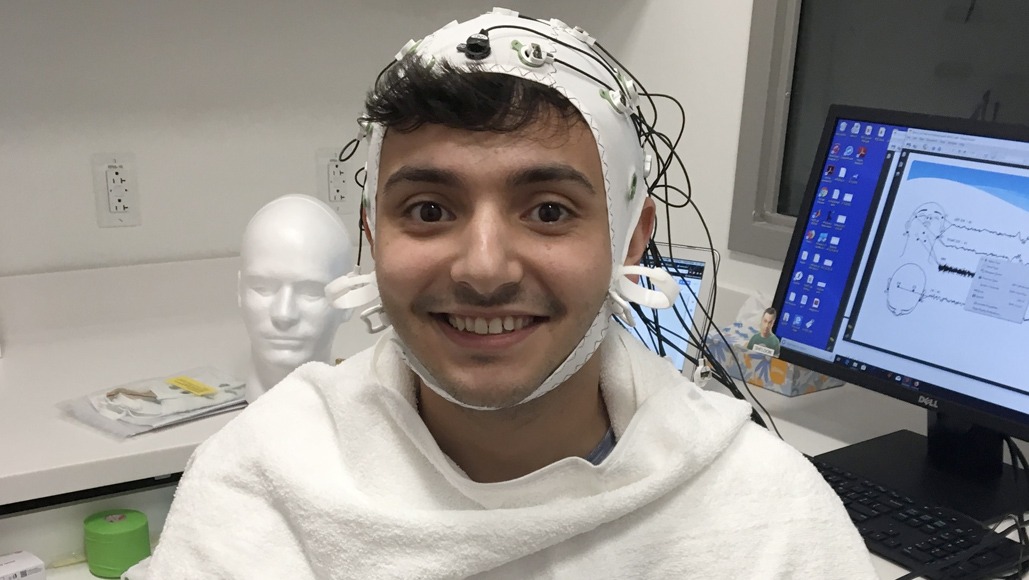 Click below to see a list of current projects for the MAPS Lab
Project List
Click below to see a list of current projects for the SLAM Lab
Project List
Mechanical Neuroimaging
RNeuroimaging research is focused on using tissue mechanics to characterize the structure, function, and health of the brain. We develop high-resolution methods for magnetic resonance elastography (MRE) to mechanically map the brain for applications in neuroscience, neurology, neurosurgery.
Research is performed at the Center for Biomedical and Brain Imaging at the University of Delaware that houses a Siemens 3T Prisma MRI scanner. We enjoy strong collaborations with researchers throughout UD Engineering, Health Sciences, and Psychology, and with local hospitals Nemours/A.I. duPont Hospital for Children and Christiana Care Health System. Our MRE technology is used world-wide with collaborators at the University of Illinois at Urbana-Champaign, Dartmouth College, Washington University in St. Louis, and the University of Edinburgh amongst other academic and medical institutions.
Political Communication
Political Communication examines the impact of new technologies on political discourse. Tracking Twitter feeds and social media accounts are as common as checking news headlines. Remaining at the forefront of understanding the intersection of political communication methods and influence is the focus of this program.
This program strives to meet the challenges of this extraordinary era in political communication with diverse and compelling initiatives and programs.