Graduate Student Travel Award
The Graduate Student Travel Award is supported by the Office of the Provost to help University of Delaware graduate students participate in significant professional conferences pertaining to their field of study. Conference travel is essential to the academic growth and development of graduate students. It affords opportunities for presentation of student work in a professional setting, as well as opportunities for networking and exposure to the latest academic research.
In the Spotlight
Below is a sampling of the most recent award recipients.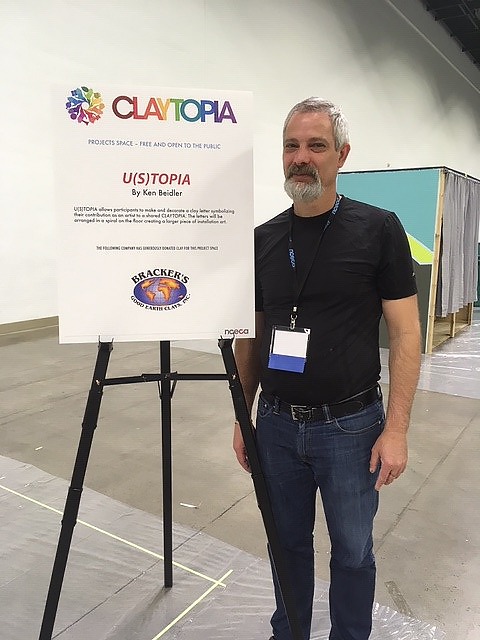 (Stanley) Ken Beidler
PROGRAM: Fine Arts
National Council on Education for the Ceramic Arts
Philadelphia, Pennsylvania, United States
March 25, 2019
My presentation at the annual National Council on Education for the Ceramic Arts was entitled U(S)Topia.  I lead an interactive clay workshop in which participants were invited to make a clay letter using the theme from the conference CLAYTOPIA.  101 youth and adults participated in the 9 hour workshop, decorating a letter and then adding it to a floor installation work at the conference.  The activity was a skill building, peer-to-peer networking opportunity that highlighted the experiences of each participant and their unique contribution to the ceramic community.  The workshop drew on my interest in my graduate work in using ceramic art as a medium for building networks and creating opportunities for peer-to-peer learning through artistic experiences.  My role as a facilitator included preparing all the materials for the workshop, setting up the space and installation, assisting participants with the project, photographing and documenting the project as it was made and posting on social media.  I gained valuable experience that I will utilize in planning future art installations that involve interaction with a variety of communities.  I appreciate the opportunity to represent the University of Delaware at this important annual ceramics conference.

Anne Cross
PROGRAM: Art History
"Circulating Photographs: Materials, Practices, Institutions," the Bibliotheca Hertziana, Max Planck Institute for Art History, Rome, Italy
Philadelphia, Pennsylvania, United States
March 18, 2019
With the support of the Office of Graduate and Professional Education,  this past March I was able to travel to Rome to participate in a workshop on the history of photography entitled "Circulating Photographs: Materials, Practices, Institutions." Hosted by the Bibliotheca Hertziana at the Max Planck Institute for Art History, this workshop brought together an international group of scholars to examine the circulation of photographs, and photographic knowledge, in Europe and America in the nineteenth and twentieth centuries.
During this five-day course, we toured a number of photographic archives in Rome, including the Istituto Centrale per la Grafica, the Istituto Centrale per il Catalogo e la Documentazione, the British School, and the American Academy, and attended two public lectures. As part of the program, each participant was also required to present a case study that engaged with the themes of photographic circulation. Highlights included discussions of French colonial medical photography, Communist photomontage, and the circulation of Abraham Lincoln's photograph via the five-dollar bill. For my presentation, I gave a 25-minute talk derived from my doctoral dissertation, which discussed the circulation of images of Civil War prisoners. These photographs, which were taken in Annapolis in 1864, circulated widely as 2 ½ x 4-inch card photographs known as cartes de visite, and later as wood engravings in the illustrated press.
As an American photo historian, I benefited immensely from attending this program. I not only gained valuable experience in editing my work for an international audience, but also I was able to network and make friends with scholars from England, France, Germany, and Italy, who helped enhance my knowledge of photographic history. For example, I received feedback from a French scholar who encouraged me to think of my photographs more as Union propaganda, rather than medical records. I also greatly enjoyed getting to see all the amazing Italian art and architecture – and eating all the amazing Italian food! – when we weren't in class. I am very grateful to the Office of Graduate and Professional Education for having supported my trip to Rome, as it was truly the opportunity of a lifetime!

Recent Award Recipients
To date 1268 graduate students have received funding from UD's Graduate College to pursue professional development.
kenza Soufiane
PROGRAM: Civil Engineering
VENUE: AREMA Conference (American Railway Engineering and Maintenance-of-Way Association) -- Dallas, TX, United States
PRESENTATION: September 13, 2020
Rachael Vause
PROGRAM: Art History
VENUE: International Medieval Congress, Leeds -- Leeds, United Kingdom
PRESENTATION: July 5, 2020
Duncan Tulimieri
PROGRAM: Biomechanics and Movement Science
VENUE: KINARM Camp -- Kingston, ON, Canada
PRESENTATION: June 8, 2020
Kleio Baxevani
PROGRAM: Mechanical Engineering
VENUE: International Conference of Robotics and Automation -- Paris, France
PRESENTATION: May 31, 2020
Prem Chand
PROGRAM: Mechanical Engineering
VENUE: International Conference on Robotics and Automation -- Paris, France
PRESENTATION: May 31, 2020
Felicia Berube
PROGRAM: Exercise Science
VENUE: American College of Sports Medicine Annual Meeting -- San Fancisco, CA, United States
PRESENTATION: May 26, 2020
Amanda Kasman
PROGRAM: Art Conservation
VENUE: American Institute for Conservation of Historic & Artistic Works Annual Conference 2020 -- Salt Lake City, UT, United States
PRESENTATION: May 21, 2020
Seyyedaliakbar Nakhli
PROGRAM: Civil Engineering
VENUE: 2020 World Environmental & Water Resources Congress -- Henderson, NV, United States
PRESENTATION: May 17, 2020
Kody Seward
PROGRAM: Biological Sciences
VENUE: Quantitative Fluorescence Microscopy Course 2020 -- Salisbury Cove, ME, United States
PRESENTATION: May 15, 2020
Nancy Contreras
PROGRAM: Criminology
VENUE: Latin American Studies Association -- Guadalajara, Mexico
PRESENTATION: May 13, 2020
Jack Williams
PROGRAM: Mechanical Engineering
VENUE: Osteoarthritis Research Society International (OARSI) -- Vienna, Austria
PRESENTATION: April 30, 2020
Kelsey Neal
PROGRAM: Mechanical Engineering
VENUE: Osteoarthritis Research Society International -- Vienna, Austria
PRESENTATION: April 30, 2020
Hira Rashid
PROGRAM: Urban Affairs and Public Policy
VENUE: Peace, Global Health & Sustainability Conference (PEGASUS IV) -- Waterloo, Ontario, Canada
PRESENTATION: April 24, 2020
Corina Gilden
PROGRAM: Urban Affairs and Public Policy
VENUE: APPAM Regional Student Conference -- Washington, DC, United States
PRESENTATION: April 24, 2020
Nicolas Al Fahel
PROGRAM: Energy and Environmental Policy
VENUE: 2020 APPAM Regional Student Conference - DC -- Washington, DC, United States
PRESENTATION: April 24, 2020
Yue Pan
PROGRAM: Physics
VENUE: APS April Meeting -- Washington, DC, United States
PRESENTATION: April 18, 2020
Dilek Eruslu
PROGRAM: Economics Education
VENUE: AERA 2020 Annual Meeting of the American Educational Research Association -- San Francisco, CA, United States
PRESENTATION: April 17, 2020
Gerilyn Slicker
PROGRAM: Human Development and Family Studies
VENUE: American Educational Research Association (AERA) -- San Francisco, CA, United States
PRESENTATION: April 17, 2020
Nadisha Downs
PROGRAM: Human Development and Family Studies
VENUE: 2020 American Educational Research Association Annual Conference -- San Francisco, CA, United States
PRESENTATION: April 16, 2020
Angela Maria Bohorquez Oviedo
PROGRAM: Political Science and International Relations
VENUE: Annual Midwest Political Science Association (MPSA) Conference 2020 -- Chicago, IL, United States
PRESENTATION: April 16, 2020
Leah Jackson
PROGRAM: Fashion and Apparel Studies
VENUE: 2020 Popular Culture & American Culture Association Conference -- Philadelphia, PA, United States
PRESENTATION: April 15, 2020
Kati Tilley
PROGRAM: Education
VENUE: David L. Clark Graduate Research Seminar -- San Francisco, CA, United States
PRESENTATION: April 15, 2020
Riza Li
PROGRAM: Bioinformatics and Systems Biology
VENUE: Association for Clinical and Translational Science (ACTS) 2020 -- Washington D.C., DC, United States
PRESENTATION: April 14, 2020
Vishruta Prashant Yawatkar
PROGRAM: Geography
VENUE: American Association of Geographers 2020, Annual Meeting -- Denver, CO, United States
PRESENTATION: April 6, 2020