Professional Development Award
Around the World
The Professional Development Award for Graduate Students is supported by the Office of the Provost to help University of Delaware graduate students participate in significant professional conferences pertaining to their field of study. Conference travel is essential to the academic growth and development of graduate students. It affords opportunities for presentation of student work in a professional setting, as well as opportunities for networking and exposure to the latest academic research. We invite you to explore our world view and see where our students have been and where they are heading to next.
This map was added 12-15-2015 and is a growing snapshot of our recent award recipients.
In the Spotlight
Below is a sampling of the most recent award recipients.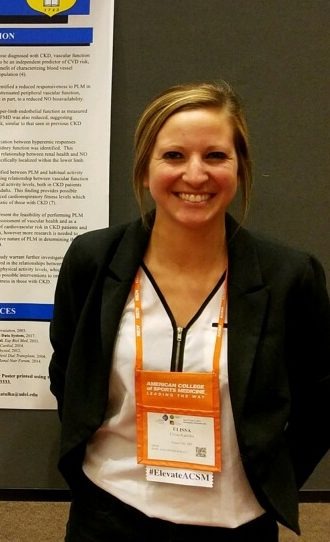 Elissa Katulka
PROGRAM: Applied Physiology
American College of Sports Medicine 65th Annual Meeting
Minneapolis, Minnesota, United States
May 29, 2018
My experience at American College of Sport's Medicine's (ACSM) 65th Annual Meeting in Minneapolis, MN, was notable for many reasons.  Being a doctoral student, we are encouraged and expected to share our work with other researchers through publishing data, which has many benefits regarding the expansion of scientific knowledge and understanding for the research community.  However, the experiences that are obtained at conferences and meetings allow researchers to directly interact with others while sharing their data and common interests regarding ways to expand this knowledge and reach a common goal.
The experience I had was enjoyable for a variety of unique reasons, being that this was the first national meeting I have attended. Beyond this, I also had the opportunity to present in a "thematic poster" session, which can be described as a combination of a "free communication" poster session and an oral presentation. This abstract presentation was eligible for awards through individual interest groups, or "subgroups" within ACSM which have focuses on specific topics within the research fields of health science and sports medicine.  I gratefully achieved the award for 1st place within the interest group that I had submitted my abstract, marking another reason for my truly exceptional experience during my time at ACSM.
With the professional development assistance through the Office of Graduate and Professional Education, I was provided the resources to adequately prepare and perform my presentation to the best of my ability at ACSM.  In addition, this assistance gave me the opportunity to network with a wide variety of individuals such as colleagues from prior institutions that I have attended, current and prior University of Delaware students and faculty, and new acquaintances from universities and institutions across the country. Moreover, it allowed me to further develop my understanding and appreciation for health science research, the individuals who perform it, and to expand my horizons regarding my future goals as I continue my graduate career at UD.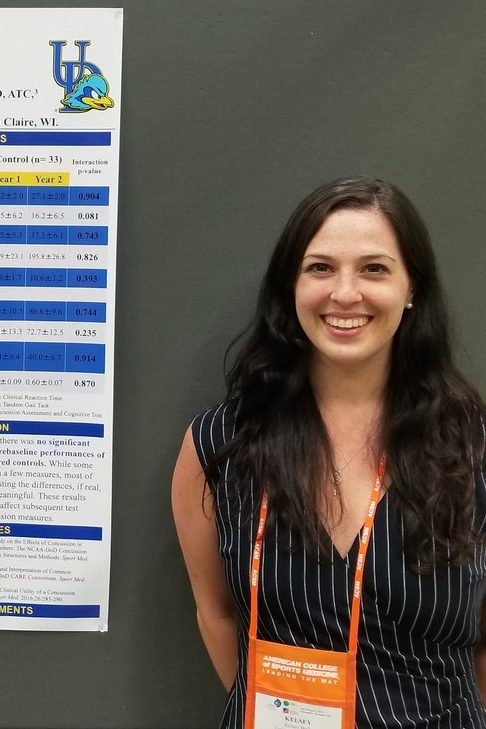 Kelsey Bryk
PROGRAM: Biomechanics & Movement Science
American College of Sport's Medicine 65th Annual Meeting
Minneapolis, Minnesota, United States
May 29, 2018
I recently had the privilege of attending and presenting at the American College of Sport Medicine's 65th Annual conference in Minneapolis. I presented a poster for one afternoon titled "Effects of a Musculoskeletal Injury on Rebaseline Concussion Assessment Performance." Overall I had a great poster session and was able to meet with many well-known professors in the concussion research field and have great conversations about my research. I was able to attend many informative concussion-related lectures and other poster sessions, as well as some lecture sessions that were outside my area of expertise yet interesting nonetheless, such as "How Motor Units (Really) Work." I'm glad to have attended this conference as it gave me great networking opportunities and I am excited to attend future ACSM conferences and continue learning!

Recent Award Recipients
To date 847 graduate students have received funding from UD's Graduate and Professional Education to pursue professional development.
Kelly-Ann Gesuelli
PROGRAM: School Psychology
VENUE: Council for Exceptional Children Convention and Expo -- Indianapolis, IN, United States
PRESENTATION: January 29, 2019
Meredith Christiansen
PROGRAM: Physical Therapy
VENUE: Combined Sections Meeting - American Physical Therapy Assoication -- Washington, DC, United States
PRESENTATION: January 23, 2019
Mohammad Afsar
PROGRAM: Plant and Soil Sciences
VENUE: Soil Science Society of America (SSSA) meeting, 2019 -- San Diego, CA, United States
PRESENTATION: January 6, 2019
Seyyedaliakbar Nakhli
PROGRAM: Civil Engineering
VENUE: SSSA International Soils Meeting -- San Diego, DE, United States
PRESENTATION: January 6, 2019
Daniel Moore
PROGRAM: Geography
VENUE: American Meteorological Society's 99th Annual Meeting -- Phoenix, AZ, United States
PRESENTATION: January 6, 2019
Kyle Runion
PROGRAM: Oceanography
VENUE: AGU Fall 2018 Meeting -- Washington, DC, United States
PRESENTATION: December 10, 2018
Zhongyuan Xu
PROGRAM: Water Science and Policy
VENUE: AGU 2018 -- Washington, DC, United States
PRESENTATION: December 10, 2018
John Strong
PROGRAM: Education
VENUE: Literacy Research Association 68th Annual Conference -- Indian Wells, CA, United States
PRESENTATION: November 27, 2018
Zhiqiang Zhang Zhiqiang
PROGRAM: Physics
VENUE: 2018 MRS Fall Meeting -- Boston, MA, United States
PRESENTATION: November 25, 2018
Suhyoun Park
PROGRAM: Psychology
VENUE: 2018 Psychonomic Society Annual Meeting -- New Orleans, LA, United States
PRESENTATION: November 15, 2018
Julien Corven (Colvin)
PROGRAM: Education
VENUE: 40th Annual Conference of the North American Chapter of the International Group for the Psychology of Mathematics Education (PME-NA) -- Greenville, SC, United States
PRESENTATION: November 15, 2018
Kelly Curtis
PROGRAM: Education
VENUE: PME-NA (Psychology of Mathematics Education - North American chapter) -- Greenville, SC, United States
PRESENTATION: November 15, 2018
Matthew Melville
PROGRAM: Education
VENUE: North American Chapter of the International Group for the Psychology of Mathematics Education (PME-NA) -- Greenville, SC, United States
PRESENTATION: November 15, 2018
Robert (Tony) Mixell
PROGRAM: Education
VENUE: Psychology of Mathematics Education - North American Chapter -- Greenville, SC, United States
PRESENTATION: November 15, 2018
Augustus Baker
PROGRAM: Psychology
VENUE: Object, Perception, Attention and Memory (OPAM) -- New Orleans, LA, United States
PRESENTATION: November 15, 2018
Nicole Lloyd
PROGRAM: Sociology
VENUE: 2018 POD Network Conference -- Portland, OR, United States
PRESENTATION: November 14, 2018
Alyssa Lompado
PROGRAM: Psychology
VENUE: Psychonomics -- New Orleans, LA, United States
PRESENTATION: November 14, 2018
Minwoo Kim
PROGRAM: Psychology
VENUE: OPAM / Psychonomics Society Annual Meeting 2018 -- New Orleans, LA, United States
PRESENTATION: November 14, 2018
Akshay Bhosale
PROGRAM: Electrical and Computer Engineering
VENUE: Super Computing '18 -- Newark, DE, United States
PRESENTATION: November 11, 2018
Mohammad Morshed Moshiur Hasan
PROGRAM: Mechanical Engineering
VENUE: International Mechanical Engineering Congress & Exposition® ( IMECE2018) -- Pittsburgh, PA, United States
PRESENTATION: November 9, 2018
Kelechi Ogbuanu
PROGRAM: Mechanical Engineering
VENUE: International Mechanical Engineering Congress & Exposition (IMECE 2018) -- Pittsburgh, PA, United States
PRESENTATION: November 9, 2018
Stanford Borrell
PROGRAM: Civil Engineering
VENUE: Young Coastal Scientists and Engineers Conference - Americas -- Merida, Mexico
PRESENTATION: November 9, 2018
Maria Pontiki
PROGRAM: Civil Engineering
VENUE: Young Coastal Scientists and Engineers Conference -- Mérida, Yucatán, Mexico
PRESENTATION: November 9, 2018
Benedict Gross
PROGRAM: Ocean Engineering
VENUE: YOUNG COASTAL SCIENTISTS AND ENGINEERS CONFERENCE – AMERICAS -- Elkton, MD, United States
PRESENTATION: November 9, 2018