Professional Development Award
Around the World
The Professional Development Award for Graduate Students is supported by the Office of the Provost to help University of Delaware graduate students participate in significant professional conferences pertaining to their field of study. Conference travel is essential to the academic growth and development of graduate students. It affords opportunities for presentation of student work in a professional setting, as well as opportunities for networking and exposure to the latest academic research. We invite you to explore our world view and see where our students have been and where they are heading to next.
This map was added 12-15-2015 and is a growing snapshot of our recent award recipients.
In the Spotlight
Below is a sampling of the most recent award recipients.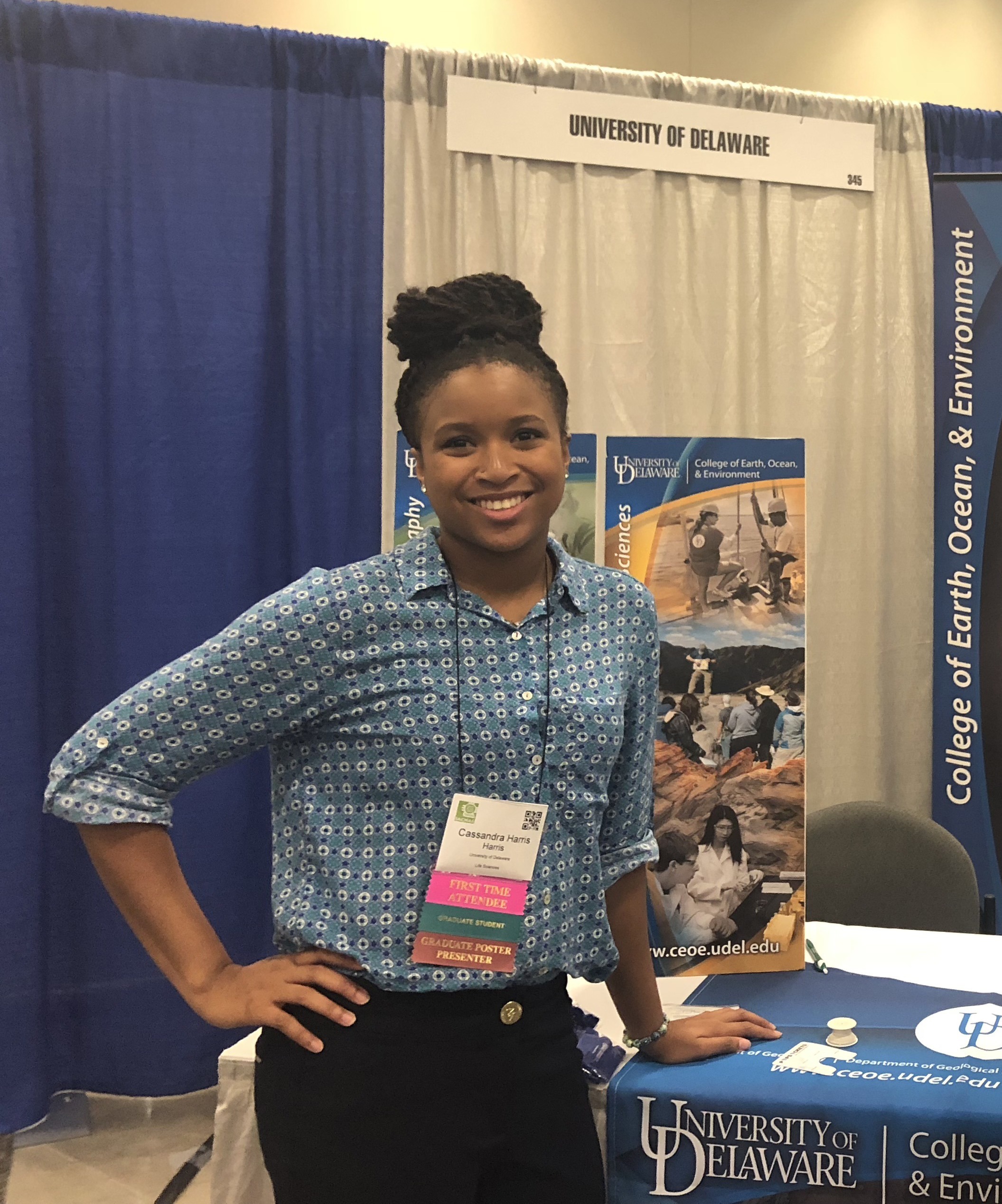 Cassandra Harris
PROGRAM: Marine Studies
2018 SACNAS, The National Diversity in STEM Conference
San Anotonio, Texas, United States
October 11, 2018
SACNAS has been quite the experience for me. It was the first time that I had ever attended a large conference that was hosted by a minority group. All throughout my schooling, people of color were always the minorities at conferences and it was nice to see a change. Even though SACNAS is a group for Chicanos/Hispanics and Native Americans, I felt represented as a person of color at a conference. People of color aren't represented in the sciences and we're a minority at most schools, but SACNAS was different. This conference let all 461 exhibitors know that minorities are scientists too. It made me proud to be an African American woman in science who wanted to continue her journey to be an example for other minority students. As a minority, conferences like SACNAS are essential for professional development. Like I said before, there aren't many minorities in the sciences and SACNAS made sure that they prepared students to prosper as professionals in the sciences. They had sessions such as "Becoming a Resilient Scientist," "Building and Maintaining Professional Networks," and "Life Happens – Surviving Academia Despite Adversity." I noticed that a lot of the professional development sessions were geared towards minorities, which is very beneficial. One session that really hit home for me was about microaggressions. In life, because of the color of my skin people already have assumptions about me. The session talked about the biases that our brain forms that are the underlie for microaggressions and ways to counteract these biases to show the other person that we are just as good of a professional as everyone else. While at SACNAS, I made a lot of connections with people. This was the first time that I was ever prepared with my CV and business cards at a conference and it really paid off. You could tell that people were genuinely impressed at how prepared I was and with the level of professionalism. I met a few potential PhD advisors and I'm really excited about my future in science. SACNAS was such a great experience.

Iman Albadar
PROGRAM: Linguistics & Cognitive Science
Annual Meeting on Phonology (AMP)
San Diego, California, United States
October 5, 2018
The 6th Annual Meeting on Phonology (AMP) Conference was held at UC San Diego in La Jolla, CA. The conference was structured into three days, October 5–7, 2018. The focus of the conference was to showcase high quality research in all areas of phonology. The conference featured breakout sessions, workshops and keynote sessions.
My presentation was on the second day of the conference and it was a poster presentation. I enjoyed discussing my study with others who showed their interest in my work. I also benefited from the various comments that I will be using to improve my future work. I also met some colleagues who showed their willingness collaborate on work in the future based on our shared research interests.
In addition to my presentation, I attended the other conference sessions. These sessions provided me with a valuable learning experience. For instance, there was a demo for a phonological app which allows students to grasp key phonological concepts more quickly and directly by engaging with the mechanism of feature assignment and rule interaction. The seminar about this app taught me how to use it and make it valuable in the classroom. Moreover, the conference provided an excellent opportunity to gather together with other phonologists, interact and exchange our findings and views during conference sessions, coffee breaks and conference dinner. Consequently, I have known a number of academics and professionals from different universities who have similar research interests on prosody and second language acquisition.
In general, it has been a great experience attending the AMP Conference where I met many intelligent and sharp international colleagues and experienced phonologists. Personally, I think this conference was very well organized and very successful. I fully enjoyed the conference with so many interesting discussions on various phonological topics. Several of the sessions, which I attended had been very informative and insightful on their particular subjects.

Recent Award Recipients
To date 847 graduate students have received funding from UD's Graduate and Professional Education to pursue professional development.
Kelly-Ann Gesuelli
PROGRAM: School Psychology
VENUE: Council for Exceptional Children Convention and Expo -- Indianapolis, IN, United States
PRESENTATION: January 29, 2019
Meredith Christiansen
PROGRAM: Physical Therapy
VENUE: Combined Sections Meeting - American Physical Therapy Assoication -- Washington, DC, United States
PRESENTATION: January 23, 2019
Mohammad Afsar
PROGRAM: Plant and Soil Sciences
VENUE: Soil Science Society of America (SSSA) meeting, 2019 -- San Diego, CA, United States
PRESENTATION: January 6, 2019
Seyyedaliakbar Nakhli
PROGRAM: Civil Engineering
VENUE: SSSA International Soils Meeting -- San Diego, DE, United States
PRESENTATION: January 6, 2019
Daniel Moore
PROGRAM: Geography
VENUE: American Meteorological Society's 99th Annual Meeting -- Phoenix, AZ, United States
PRESENTATION: January 6, 2019
Kyle Runion
PROGRAM: Oceanography
VENUE: AGU Fall 2018 Meeting -- Washington, DC, United States
PRESENTATION: December 10, 2018
Zhongyuan Xu
PROGRAM: Water Science and Policy
VENUE: AGU 2018 -- Washington, DC, United States
PRESENTATION: December 10, 2018
John Strong
PROGRAM: Education
VENUE: Literacy Research Association 68th Annual Conference -- Indian Wells, CA, United States
PRESENTATION: November 27, 2018
Zhiqiang Zhang Zhiqiang
PROGRAM: Physics
VENUE: 2018 MRS Fall Meeting -- Boston, MA, United States
PRESENTATION: November 25, 2018
Suhyoun Park
PROGRAM: Psychology
VENUE: 2018 Psychonomic Society Annual Meeting -- New Orleans, LA, United States
PRESENTATION: November 15, 2018
Julien Corven (Colvin)
PROGRAM: Education
VENUE: 40th Annual Conference of the North American Chapter of the International Group for the Psychology of Mathematics Education (PME-NA) -- Greenville, SC, United States
PRESENTATION: November 15, 2018
Kelly Curtis
PROGRAM: Education
VENUE: PME-NA (Psychology of Mathematics Education - North American chapter) -- Greenville, SC, United States
PRESENTATION: November 15, 2018
Matthew Melville
PROGRAM: Education
VENUE: North American Chapter of the International Group for the Psychology of Mathematics Education (PME-NA) -- Greenville, SC, United States
PRESENTATION: November 15, 2018
Robert (Tony) Mixell
PROGRAM: Education
VENUE: Psychology of Mathematics Education - North American Chapter -- Greenville, SC, United States
PRESENTATION: November 15, 2018
Augustus Baker
PROGRAM: Psychology
VENUE: Object, Perception, Attention and Memory (OPAM) -- New Orleans, LA, United States
PRESENTATION: November 15, 2018
Nicole Lloyd
PROGRAM: Sociology
VENUE: 2018 POD Network Conference -- Portland, OR, United States
PRESENTATION: November 14, 2018
Alyssa Lompado
PROGRAM: Psychology
VENUE: Psychonomics -- New Orleans, LA, United States
PRESENTATION: November 14, 2018
Minwoo Kim
PROGRAM: Psychology
VENUE: OPAM / Psychonomics Society Annual Meeting 2018 -- New Orleans, LA, United States
PRESENTATION: November 14, 2018
Akshay Bhosale
PROGRAM: Electrical and Computer Engineering
VENUE: Super Computing '18 -- Newark, DE, United States
PRESENTATION: November 11, 2018
Mohammad Morshed Moshiur Hasan
PROGRAM: Mechanical Engineering
VENUE: International Mechanical Engineering Congress & Exposition® ( IMECE2018) -- Pittsburgh, PA, United States
PRESENTATION: November 9, 2018
Kelechi Ogbuanu
PROGRAM: Mechanical Engineering
VENUE: International Mechanical Engineering Congress & Exposition (IMECE 2018) -- Pittsburgh, PA, United States
PRESENTATION: November 9, 2018
Stanford Borrell
PROGRAM: Civil Engineering
VENUE: Young Coastal Scientists and Engineers Conference - Americas -- Merida, Mexico
PRESENTATION: November 9, 2018
Maria Pontiki
PROGRAM: Civil Engineering
VENUE: Young Coastal Scientists and Engineers Conference -- Mérida, Yucatán, Mexico
PRESENTATION: November 9, 2018
Benedict Gross
PROGRAM: Ocean Engineering
VENUE: YOUNG COASTAL SCIENTISTS AND ENGINEERS CONFERENCE – AMERICAS -- Elkton, MD, United States
PRESENTATION: November 9, 2018