Professional Development Award
Around the World
The Professional Development Award for Graduate Students is supported by the Office of the Provost to help University of Delaware graduate students participate in significant professional conferences pertaining to their field of study. Conference travel is essential to the academic growth and development of graduate students. It affords opportunities for presentation of student work in a professional setting, as well as opportunities for networking and exposure to the latest academic research. We invite you to explore our world view and see where our students have been and where they are heading to next.
This map was added 12-15-2015 and is a growing snapshot of our recent award recipients.
In the Spotlight
Below is a sampling of the most recent award recipients.
Bassil El-Zaatari
PROGRAM: Chemical Engineering
American Chemical Society
New Orleans, United States
March 18, 2018
The American Chemical Society (ACS) conference in New Orleans was an extremely well-organized, thought provoking experience. I mostly attended the POLY sessions on photochemistry, which is closely related to my research. Through it, I heard wonderful talks from experts in the field such as Professors Daniel Saven, Brent Summerlin,  David Haddleton, Emily Petzner, Tim White etc… I even got to see my own advisor give a talk about the colorful chemistry that our lab uses in formulating interpenetrating networks which was featured on UDaily. My own talk was on Sunday afternoon. I discussed the use of photoinduced copper(I) catalyzed azide-alkyne cycloaddition polymerizations for ion conductivity applications. I appreciated the crowd and their interest in my talk. I received many great questions that helped enhance my research since my return. The city of New Orleans itself was moreover spectacular. There is always something to do or something to see every day of the week! Walking down Bourbon Street on Saint Patrick's day, however, was… an experience to say the least. Overall, I really enjoyed exploring the history and culture of the vibrant city.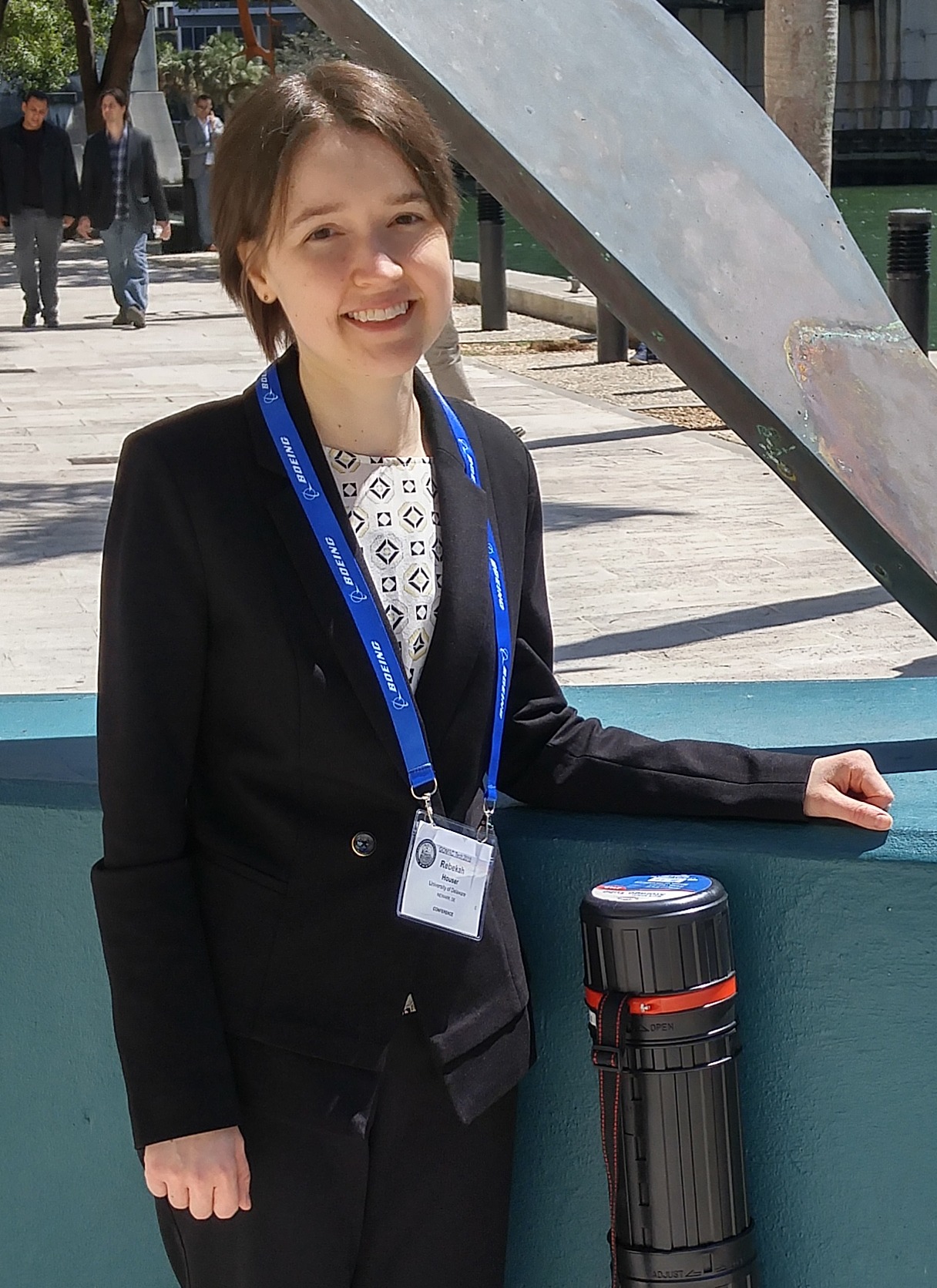 Rebekah Houser
PROGRAM: Electrical & Computer Engineering Online
GOMACHTech
Miami, Florida, United States
March 12, 2018
My first few hours in Miami, the location for the 2018 GOMACHTech conference, gave me the impression of a jungle of palm trees, overpasses, and colored lights. The energy of the city carried over into the conference itself, where attendees moved constantly between sessions, an exposition, conversations, and the coffee bars. The event provided a chance to share ideas, learn from experienced individuals, make new connections, and explore in an exciting environment.
Three of us from the CMOS Verilog Optimization Research Group (CVORG) at the University of Delaware attended the conference. We presented the results of a collaboration with another university to develop infrared scene projectors based on infrared light-emitting diodes (IRLEDs). Besides giving the opportunity to share the results of our team's research, the conference allowed me to engage with professionals and students working in similar areas. I talked with individuals who have been involved in our team's work, and exchanged notes with new acquaintances. These interactions and the sessions I attended gave a better understanding of how the area in which I work is developing, and shaped my ideas for my research.
While most networking exchanges occurred in the conference venue, some allowed the opportunity to visit various areas of Miami. One of the other attendees who is familiar with our area of research and with Miami suggested the Wynwood Arts District as a location to meet and talk with the team on evening. It seemed almost all the permanent surfaces (and some temporary) in the area were covered with bright paintings. Even the sidewalks were decorated with scattered quotes, one of which I found particularly interesting: "Surround yourself with great people, and you will be great." This quote seemed to summarize one of the main takeaways from the conference. As much as my research excites me by itself, the work takes on greater significance as part of a larger team project, and in the context of the community that pushes the technology forward.

Recent Award Recipients
To date 671 graduate students have received funding from UD's Graduate and Professional Education to pursue professional development.
Danielle Civil
PROGRAM: Fashion and Apparel Studies
VENUE: 100 Years of Design Graduate Education: "Fashion and the Future of Design" -- Minneapolis, MN, United States
PRESENTATION: September 27, 2018
Ashley Paintsil
PROGRAM: Fashion and Apparel Studies
VENUE: Fashion and the Future of Design Symposium -- Newark, DE, United States
PRESENTATION: September 27, 2018
Mithun Deb
PROGRAM: Civil Engineering
VENUE: 36TH INTERNATIONAL CONFERENCE ON COASTAL ENGINEERING 2018 -- Baltimore, MD, United States
PRESENTATION: July 30, 2018
Saeideh Banihashemi
PROGRAM: Civil Engineering
VENUE: International Conference on Coastal Engineering (ICCE) -- Baltiore, MD, United States
PRESENTATION: July 30, 2018
Daniel Arbucias Daniel
PROGRAM: Political Science and International Relations
VENUE: Daniel Arbucias -- Phoenixville, PA, United States
PRESENTATION: July 25, 2018
Angela Maria Bohorquez Oviedo
PROGRAM: Political Science and International Relations
VENUE: Thirteenth International Conference on Interdisciplinary Social Sciences -- Granada, Spain
PRESENTATION: July 25, 2018
Angela Harris
PROGRAM: School Psychology
VENUE: International School Psychology Association Conference -- Tokyo, Japan
PRESENTATION: July 25, 2018
Yuliya Brel
PROGRAM: Urban Affairs and Public Policy
VENUE: ISTR 2018 International Conference and PhD Workshop -- Amsterdam, Netherlands
PRESENTATION: July 10, 2018
Khem Raj Ghusinga
PROGRAM: Electrical and Computer Engineering
VENUE: Workshop on "Mathematical Approaches to Cell-Cell Communication and Collective Behaviours" at the Banff International Research Station -- Banff, Canada
PRESENTATION: July 8, 2018
Brett Slifer
PROGRAM: Music
VENUE: International Trombone Festival -- Iowa City, IA, United States
PRESENTATION: July 8, 2018
Daniela Avelar Guerrero
PROGRAM: Education
VENUE: Child Language Symposium -- Reading, United Kingdom
PRESENTATION: June 25, 2018
Joshua Lansford
PROGRAM: Chemical Engineering
VENUE: Gordon Research Conference on Catalysis -- New London, NH, United States
PRESENTATION: June 24, 2018
Joseph Gradone
PROGRAM: Oceanography
VENUE: SCAR Open Science Conference -- Davos, Switzerland
PRESENTATION: June 18, 2018
Katrina Milbocker
PROGRAM: Psychology
VENUE: Research Society on Alcoholism and Fetal Alcohol Spectrum Disorder Study Group Pre-Conference -- San Diego, CA, United States
PRESENTATION: June 16, 2018
kuang lu
PROGRAM: Computational Science and Engineering
VENUE: The 23rd International Conference on Natural Language & Information Systems -- Paris, France
PRESENTATION: June 13, 2018
Elias Gross
PROGRAM: Music
VENUE: Nief-Norf Summer Festival -- Knoxville, TN, United States
PRESENTATION: June 11, 2018
Samuel Scinto
PROGRAM: Chemistry and Biochemistry
VENUE: Gordon Research Conference - Bioorganic Chemistry -- Andover, NH, United States
PRESENTATION: June 8, 2018
jing xu
PROGRAM: Energy and Environmental Policy
VENUE: The Asian Conference on Sustainability, Energy & the Environment (ACSEE2018) -- kobe, Japan
PRESENTATION: June 8, 2018
yao li
PROGRAM: Geography
VENUE: ASCE/World Environmental & Water Resources Congress 2018 -- Minneapolis, MN, United States
PRESENTATION: June 4, 2018
Nancy Naranjo Garcia
PROGRAM: Foreign Languages and Literatures
VENUE: The Asian Conference on Cultural Studies -- Kobe, Japan
PRESENTATION: June 1, 2018
MINYOUNG YUN
PROGRAM: Mechanical Engineering
VENUE: 14th International Conference on Flow Processes in Composite Materials -- Lulea, Sweden
PRESENTATION: May 30, 2018
Mohammad Alsulmi
PROGRAM: Computer Science
VENUE: 2018 IEEE Conference on Computational Intelligence in Bioinformatics and Computational Biology -- Saint Louis, MO, United States
PRESENTATION: May 30, 2018
Kelsey Bryk
PROGRAM: Biomechanics and Movement Science
VENUE: American College of Sport's Medicine 65th Annual Meeting -- Minneapolis, MN, United States
PRESENTATION: May 29, 2018
Joseph Stock
PROGRAM: Applied Physiology
VENUE: ACSM's 65th Annual Meeting -- Minneapolis, MN, United States
PRESENTATION: May 29, 2018