Professional Development Award
Around the World
The Professional Development Award for Graduate Students is supported by the Office of the Provost to help University of Delaware graduate students participate in significant professional conferences pertaining to their field of study. Conference travel is essential to the academic growth and development of graduate students. It affords opportunities for presentation of student work in a professional setting, as well as opportunities for networking and exposure to the latest academic research. We invite you to explore our world view and see where our students have been and where they are heading to next.
This map was added 12-15-2015 and is a growing snapshot of our recent award recipients.
In the Spotlight
Below is a sampling of the most recent award recipients.
Elizabeth Alpert
PROGRAM: Psychology
Association for Behavioral and Cognitive Therapies 51st Annual Convention
San Diego, California, United States
November 16, 2017
Wow, what a conference! This is my fifth year attending the annual meeting of the Association of Behavioral and Cognitive Therapies (ABCT), and this year's lineup did not disappoint. I attended symposium presentations, panel discussions, clinical round tables, and invited speeches that increased my knowledge about current issues in the field of cognitive behavioral therapies for depression, anxiety disorders, posttraumatic stress disorder, and others. I witnessed important conversations about issues of culture and diversity in our field, and I got some ideas from research presentations that will likely help me in my future research at UD—maybe even my dissertation! I also learned about research findings and clinical techniques that will inform my current clinical work with veterans at the Perry Point VA Medical Center, as well as in future clinical placements.
Of course the highlight of the trip was getting to present my own research. I presented a poster entitled "Network Activation and Processes of Change in Exposure-Based Cognitive Therapy for Depression." During my poster presentation, I explained my work to a few graduate students and professors, and I also got to meet a psychology professor who was a graduate student with my advisor, Adele Hayes, many years ago. It was great to exchange ideas with him about my work. In addition, I had the opportunity to do my first symposium presentation as part of a symposium organized around the theme of processes of change during evidence-based treatments for trauma. My talk was titled, "Decentering and Other Processes of Change in Written Exposure Therapy and Cognitive Processing Therapy for Posttraumatic Stress Disorder." I was excited to see the researchers who developed the treatments I examined in the audience, and I was happy to contribute to the knowledge and ongoing discussion in this important area of research.
Overall, I had a fun and fulfilling time at this year's ABCT conference, and I am grateful for the assistance I received from the Office of Graduate & Professional Education and from the Department of Psychological & Brain Sciences that allowed me to attend.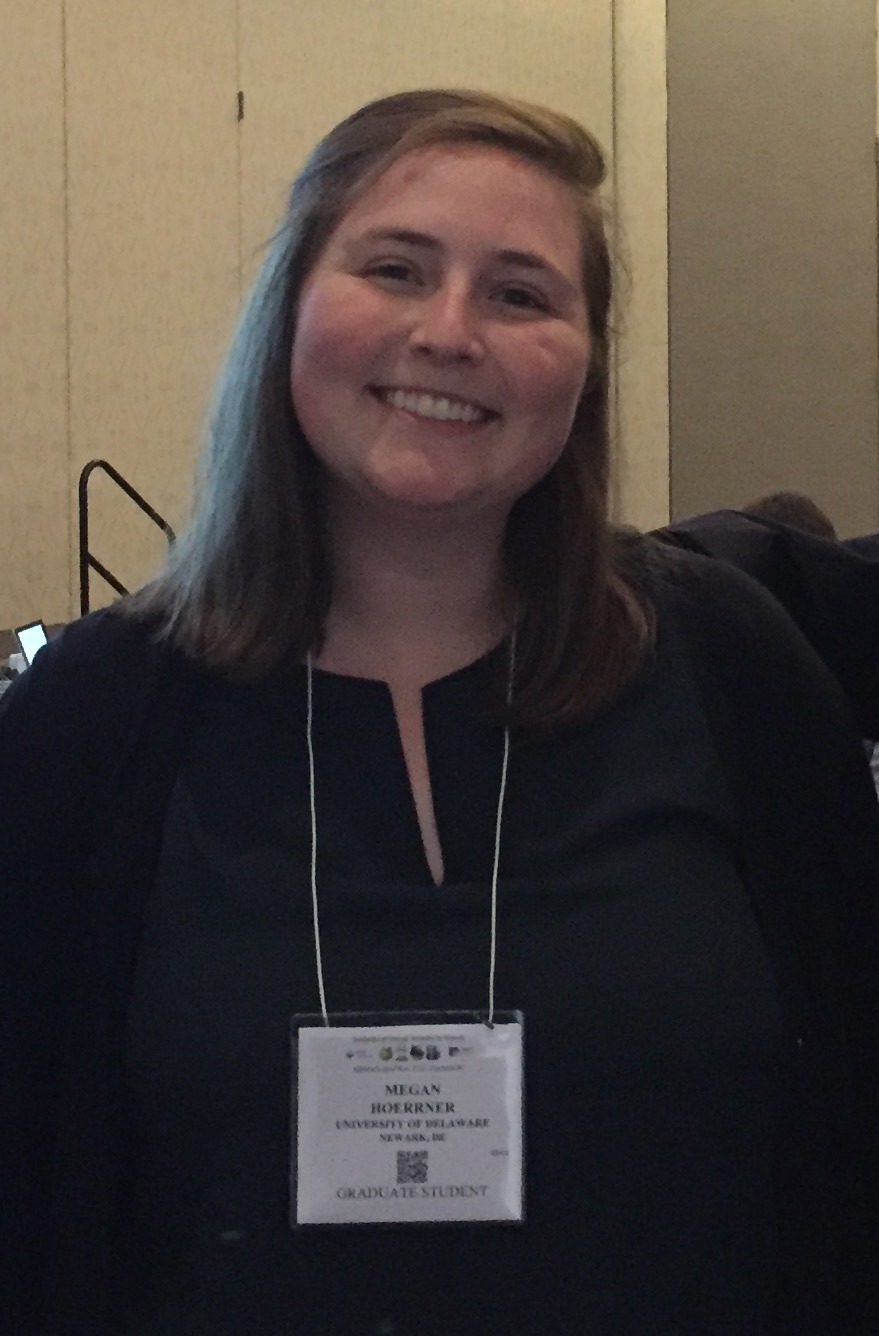 Megan Hoerrner
PROGRAM: Chemistry & Biochemistry
South East Regional Meeting of the American Chemical Society
Charlotte, North Carolina, United States
November 7, 2017
This November I had to opportunity to present a poster of my research at the South East Regional Meeting of the American Chemical Society (SERMACS) in Charlotte, NC. This was my first opportunity to share my graduate research done in the Mary P. Watson group with other people from different universities and industries in the field of chemistry. I was able attend many different lectures related to fields I have background in as well as new areas of research I had not thought about before. A highlight of my trip being able to share my graduate research with my undergraduate advisor, Professor John Gupton from the University of Richmond, who was attending the same conference and show him how far I've come from an undergraduate in his research lab to a third year graduate student. I was able to meet the new students in his lab and learn how the projects I worked on when I was first learning how to be a researcher are evolving as well as new projects they were working on. I attended the conference with my graduate advisor Professor Mary P. Watson and a post doc in our lab Dr. Sarah Pound. Sarah and I were able to explore the conference together as well as experience downtown Charlotte. We both had not been to Charlotte before and were excited to experience different food, places, and chemistry. Another highlight of my trip was meeting up with other professors who taught me chemistry as an undergraduate at the University of Richmond. They were excited to see how much I learned in a short time since I graduated from the University of Richmond in 2015. Overall, I had a wonderful time at the conference and can't wait until I have an opportunity to present my research again.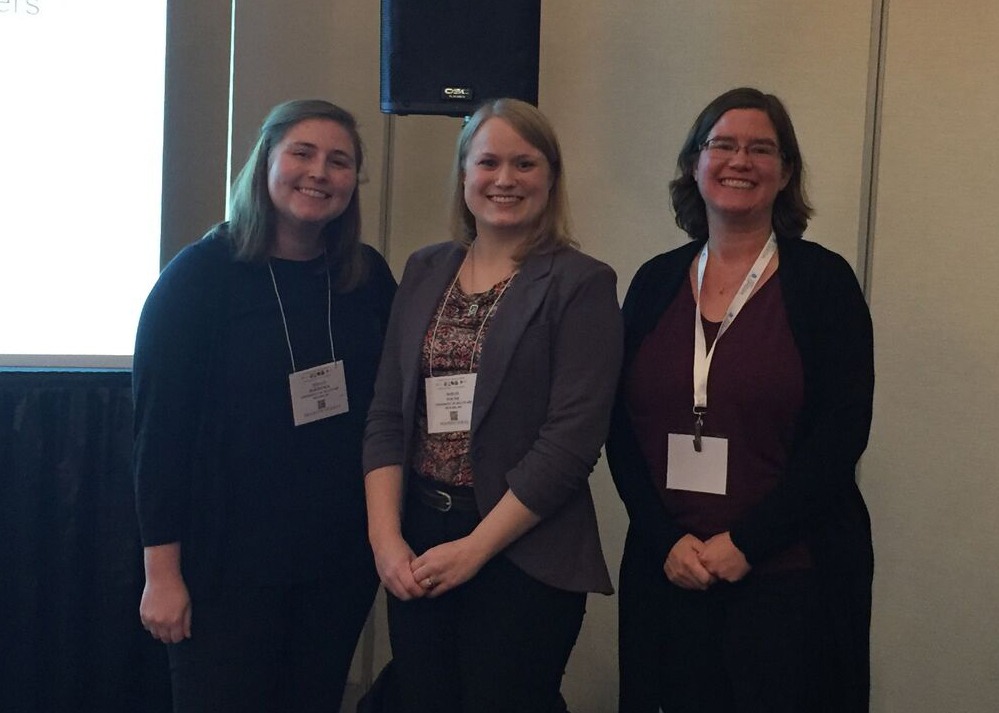 Professor Mary P. Watson and Dr. Sarah Pound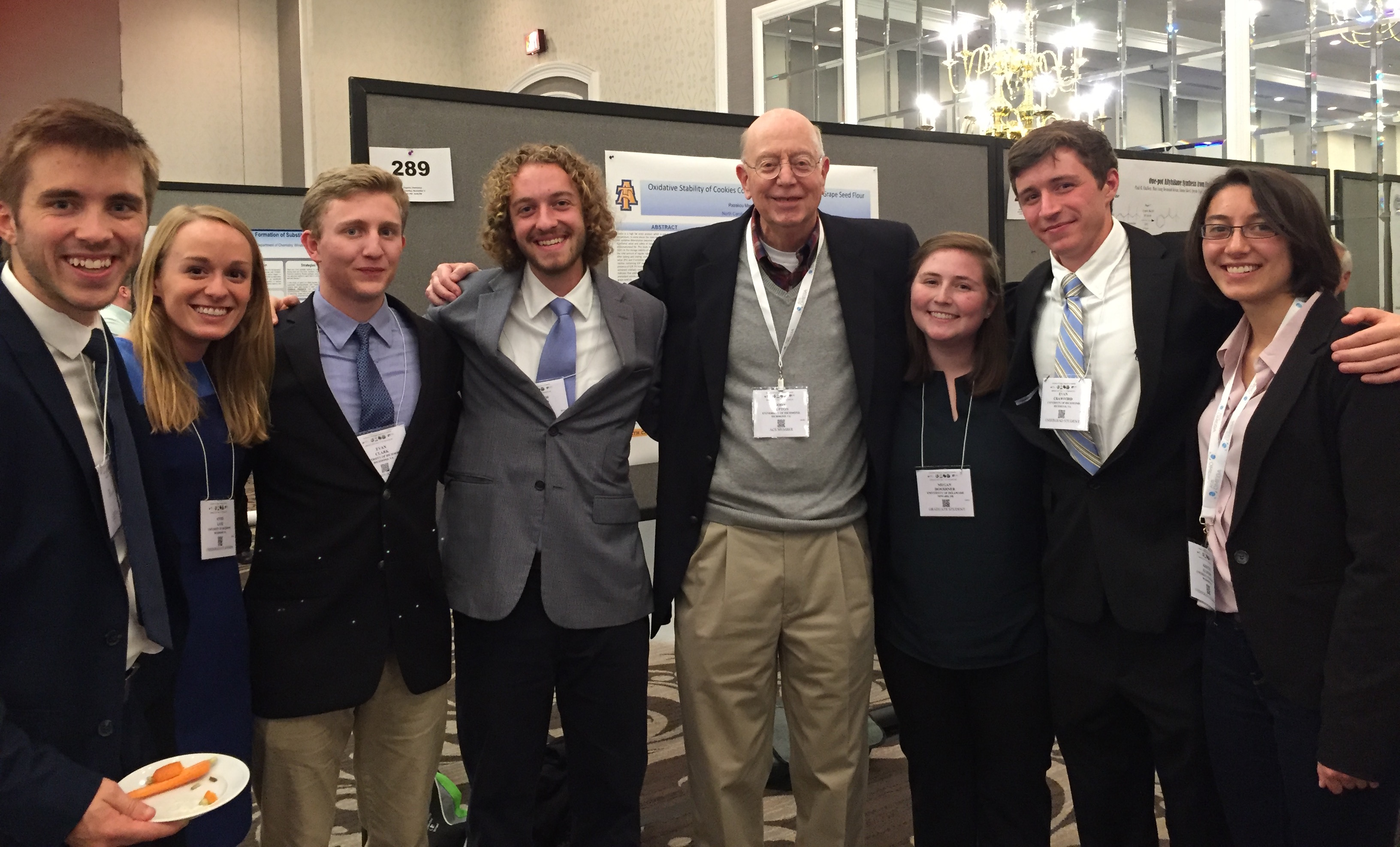 Professor John Gupton's research group from the University of Richmond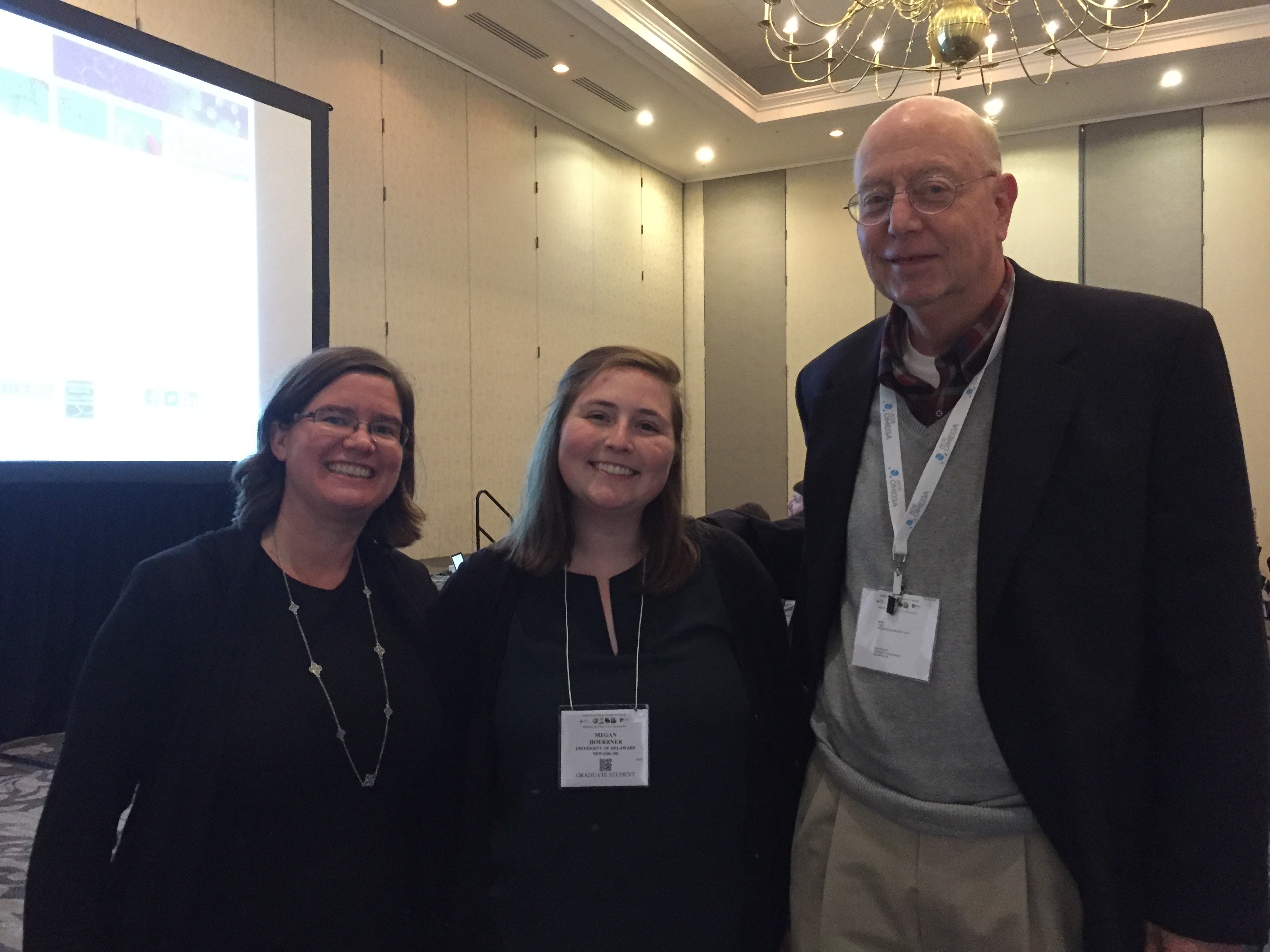 Professor Mary P. Watson and Professor John Gupton

Recent Award Recipients
To date 576 graduate students have received funding from UD's Graduate and Professional Education to pursue professional development.
Daniel Arbucias Daniel
PROGRAM: Political Science and International Relations
VENUE: Daniel Arbucias -- Phoenixville, PA, United States
PRESENTATION: July 25, 2018
Aaron Russell
PROGRAM: Water Science and Policy
VENUE: American Association of Geographers Annual Conference -- New Orleans, LA, United States
PRESENTATION: April 10, 2018
Chelsea Leiper
PROGRAM: Geography
VENUE: American Association of Geographers Annual Meeting -- New Orleans, LA, United States
PRESENTATION: April 10, 2018
Marcia Shirilla
PROGRAM: Education
VENUE: US Play Coalition -- Clemson, SC, United States
PRESENTATION: April 8, 2018
Anna Nuzzolese
PROGRAM: Political Science and International Relations
VENUE: Midwestern Political Science Association Seventy Sixth Annual Conference -- Chicago, IL, United States
PRESENTATION: April 5, 2018
Emily Rowe
PROGRAM: Sociology
VENUE: Southern Sociological Society -- New Orleans, LA, United States
PRESENTATION: April 4, 2018
Kelsey Obringer
PROGRAM: Political Science and International Relations
VENUE: Western Political Science Association; International Studies Association -- San Francisco, CA, United States
PRESENTATION: March 29, 2018
Kelsey Obringer
PROGRAM: Political Science and International Relations
VENUE: Western Political Science Association; International Studies Association -- San Francisco, CA, United States
PRESENTATION: March 29, 2018
Pengcheng Wu
PROGRAM: Chemistry and Biochemistry
VENUE: 255th ACS National Meeting -- New Orleans, LA, United States
PRESENTATION: March 18, 2018
Shuyu Xu
PROGRAM: Materials Science and Engineering
VENUE: 255th ACS National Meeting -- New Orleans, LA, United States
PRESENTATION: March 18, 2018
Ryan Locke
PROGRAM: Biomedical Engineering
VENUE: Orthopaedic Research Society -- New Orleans, LA, United States
PRESENTATION: March 9, 2018
Mehdi Kadivar
PROGRAM: Civil Engineering
VENUE: IFCEE 2018 -- Newark, DE, United States
PRESENTATION: March 5, 2018
Shirin Pourmiri
PROGRAM: Physics
VENUE: APS March Meeting 2018 -- Los Angeles, CA, United States
PRESENTATION: March 5, 2018
Priyanka Mondal
PROGRAM: Physics
VENUE: APS March Meeting 2018 -- LA, CA, United States
PRESENTATION: March 5, 2018
Jennifer Zellers
PROGRAM: Biomechanics and Movement Science
VENUE: American Physical Therapy Association Combined Sections Meeting -- New Orleans, LA, United States
PRESENTATION: February 22, 2018
Karli Wurzelbacher
PROGRAM: Art History
VENUE: College Art Association Annual Conference -- Los Angeles, CA, United States
PRESENTATION: February 21, 2018
Moiyad Aljehani
PROGRAM: Physical Therapy
VENUE: Combined Sections Meeting (CSM) - APTA -- New Orleans, LA, United States
PRESENTATION: February 21, 2018
Nabeel Alghamdi
PROGRAM: Biomechanics and Movement Science
VENUE: Combind Section Meeting -- New Orleans, TX, United States
PRESENTATION: February 21, 2018
Jordana Woodford
PROGRAM: School Psychology
VENUE: National Association of School Psychologists (NASP) Annual Convention -- Chicago, IL, United States
PRESENTATION: February 13, 2018
LUYE LI
PROGRAM: Criminology
VENUE: Academy of Criminal Justice Sciences -- Newark, DE, United States
PRESENTATION: February 13, 2018
Zhangxian Ouyang
PROGRAM: Oceanography
VENUE: 2018 Ocean Science Meeting -- Portland, OR, United States
PRESENTATION: February 12, 2018
Cimone Philpotts
PROGRAM: Urban Affairs and Public Policy
VENUE: Conference of Minorities in Public Administration (COMPA) -- Los Angeles, CA, United States
PRESENTATION: February 12, 2018
Starmanda Duker
PROGRAM: MPA (Public Administration)
VENUE: Conference of Minorities in Public Administration (COMPA) -- Los Angeles, CA, United States
PRESENTATION: February 12, 2018
Chester Holland
PROGRAM: Urban Affairs and Public Policy
VENUE: Conference of Minorities in Public Administration (COMPA) -- Los Angeles, CA, United States
PRESENTATION: February 12, 2018