Professional Development Award
Around the World
The Professional Development Award for Graduate Students is supported by the Office of the Provost to help University of Delaware graduate students participate in significant professional conferences pertaining to their field of study. Conference travel is essential to the academic growth and development of graduate students. It affords opportunities for presentation of student work in a professional setting, as well as opportunities for networking and exposure to the latest academic research. We invite you to explore our world view and see where our students have been and where they are heading to next.
This map was added 12-15-2015 and is a growing snapshot of our recent award recipients.
In the Spotlight
Below is a sampling of the most recent award recipients.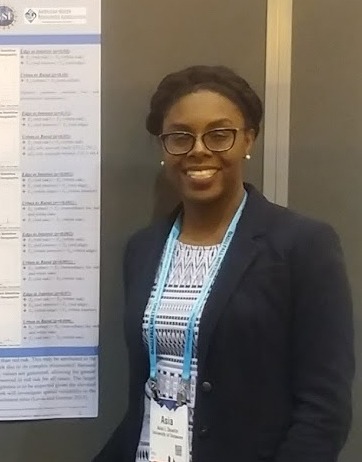 Asia Dowtin
PROGRAM: Geography
2017 Annual Meeting of the American Geophysical Union
New Orleans, Louisiana, United States
December 11, 2017
Receiving the Professional Development Award from OGPE made it possible for me to attend the 2017 Annual Meeting of the American Geophysical Union (AGU) in New Orleans. Attending this conference was an incredibly fulfilling experience. While there were more than 20,000 scientists representing a broad array of the planetary and physical sciences in attendance, I was able to make meaningful connections with those from within my discipline and beyond. During the poster session in which I presented my work, I was able to engage in very insightful conversations with colleagues and scholars from both the US and abroad regarding the contributions my research is intended to make in physical geography, urban forestry, and forest hydrology and biogeochemistry. My time at AGU afforded numerous opportunities to apply new approaches to communicating my work to those from within and outside of my field, and provided the invaluable experience of receiving crucial feedback from both as to how to best improve aspects of my research moving forward. Indeed this is crucial as I prepare to complete my degree and enter the academic workforce. I truly enjoyed being able to attend, and am grateful for OGPE's support in this endeavor.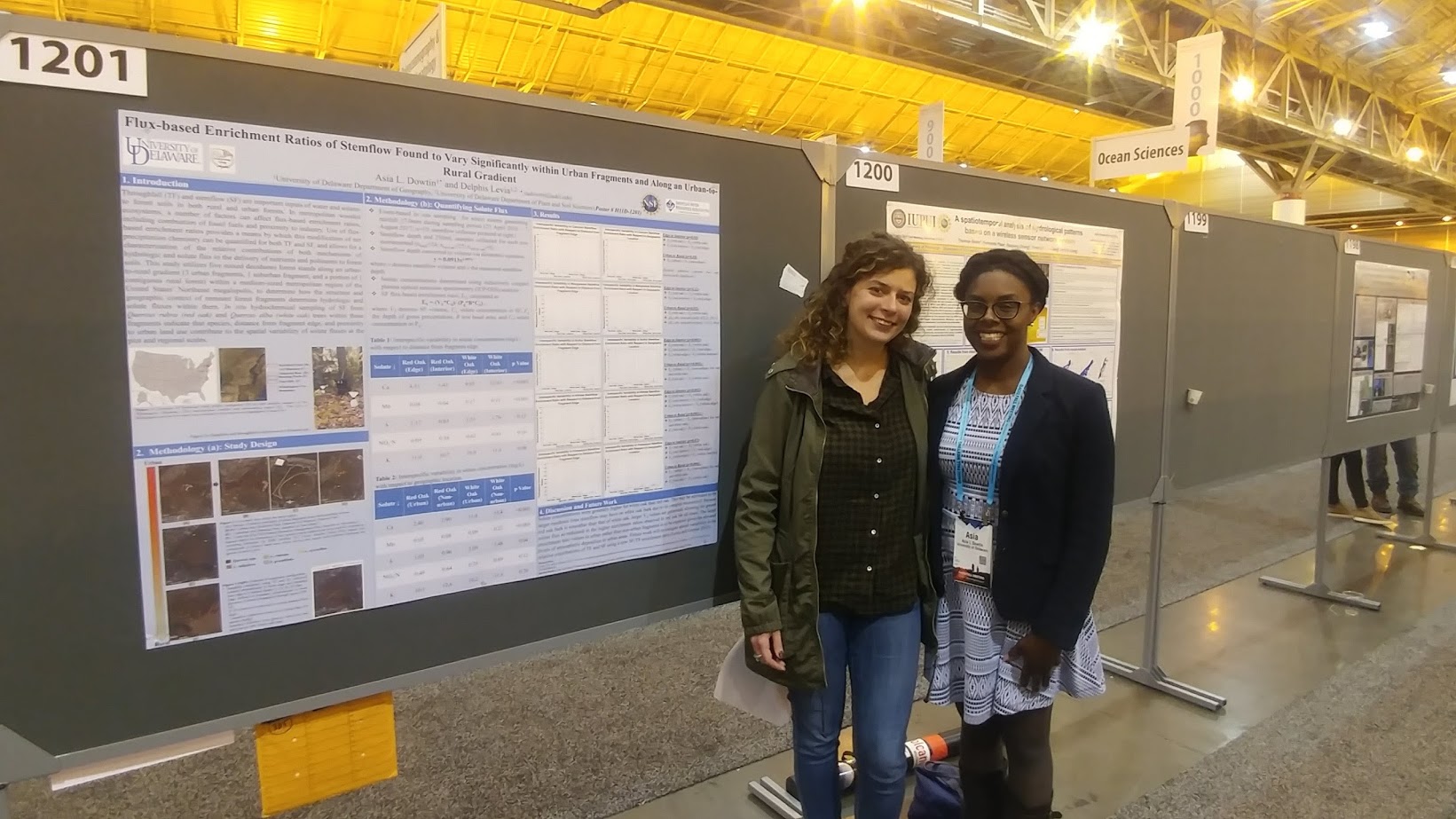 Met up with a friend and former employee of UD's CEOE who is now employed in Norway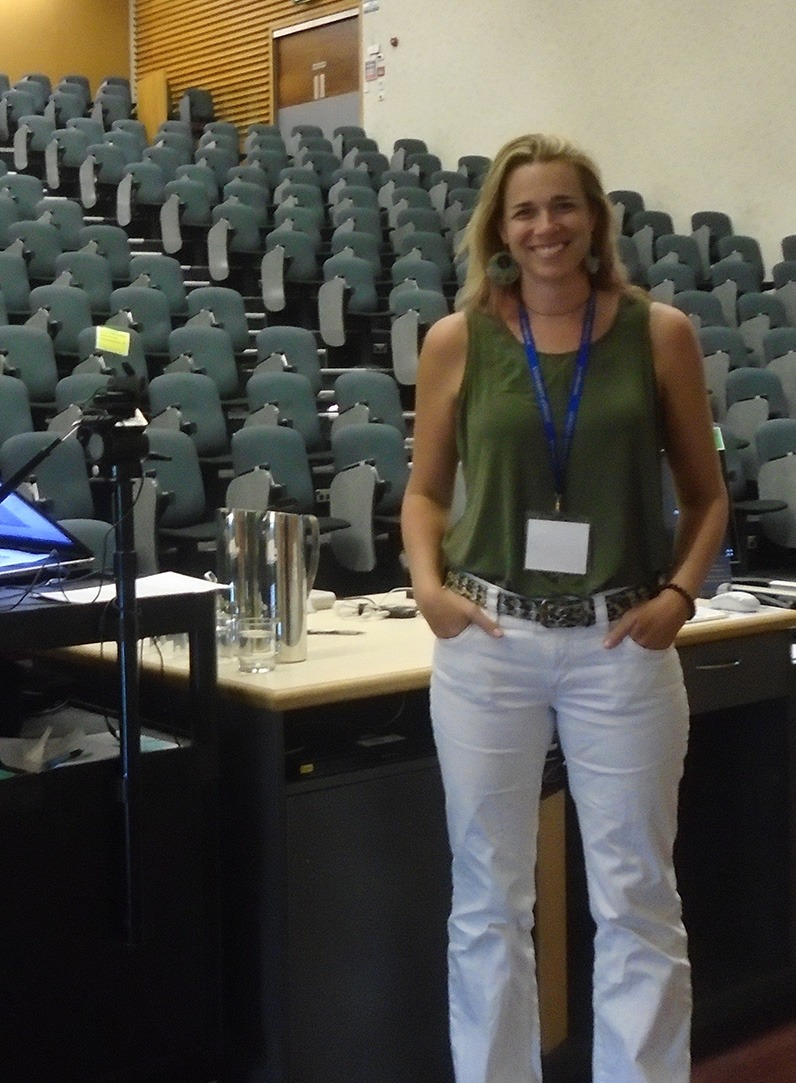 Janel Atlas
PROGRAM: English
Disability Matters Conference
Dunedin, New Zealand
November 27, 2017
It took six separate flights to cover the more than 15,000 kilometers (about 9,300 miles) so that I could attend the Disability Matters Conference in Dunedin, South Island, New Zealand on November 27-29.
The second of its kind held in New Zealand, this interdisciplinary meeting of academics, advocates, lawyers, public and private sector workers, and individuals with disabilities offered a real chance to do more than just talk about disability as a concept. The subtitle of the conference, "Kai whai tikanga te Kawenata/Making the Convention Real," asked participants to have serious conversations about the real world issues people with disabilities face. Researchers of all kinds brought their research to share and seven keynote speakers offered their takes on current issues in disability. At the conclusion of the conference, notes were collated from all of the many panels and presentations, which will then inform a report that the NZ commission will take to the upcoming United Nations' Convention on the Rights of Persons with Disabilities in 2018.
Although I was not the only American presenting at the conference, I was the only person from my field (Rhetoric and Composition). My talk about women's personal narratives of pregnancy loss was very well attended and the audience asked great engaged questions. While I employ a critical disability framework in my PhD research (supervised by Dr. Stephanie Kerschbaum, UD English), my work is not as tightly aligned with disability as many of the other papers presented at this conference. Yet the audience's response and questions/comments after my talk were extraordinarily helpful in thinking through the next phase of my project, which will be to continue to collect first person stories about miscarriage and stillbirth.
I believe that the best thing about conferences is the amazing opportunity to meet smart, engaged, interesting people in my field or adjacent fields. The interstitial spaces of conferences offer the richest chance to talk about and think through our ideas, our thoughts, our convictions as scholars and researchers. That was especially true for me at this conference, as well, where I spent time with some wonderful people (from Australia, Ireland, and all over New Zealand!) who have already helped me hone my research questions and approaches in fruitful ways. I travel home invigorated by the energy of spending an intensive few days thinking and talking and listening at this amazing conference.
I want to express deep appreciation for the financial support provided by the UD Office of Graduate and Professional Education and the Department of English, without which it would have been very difficult for me to attend Disability Matters.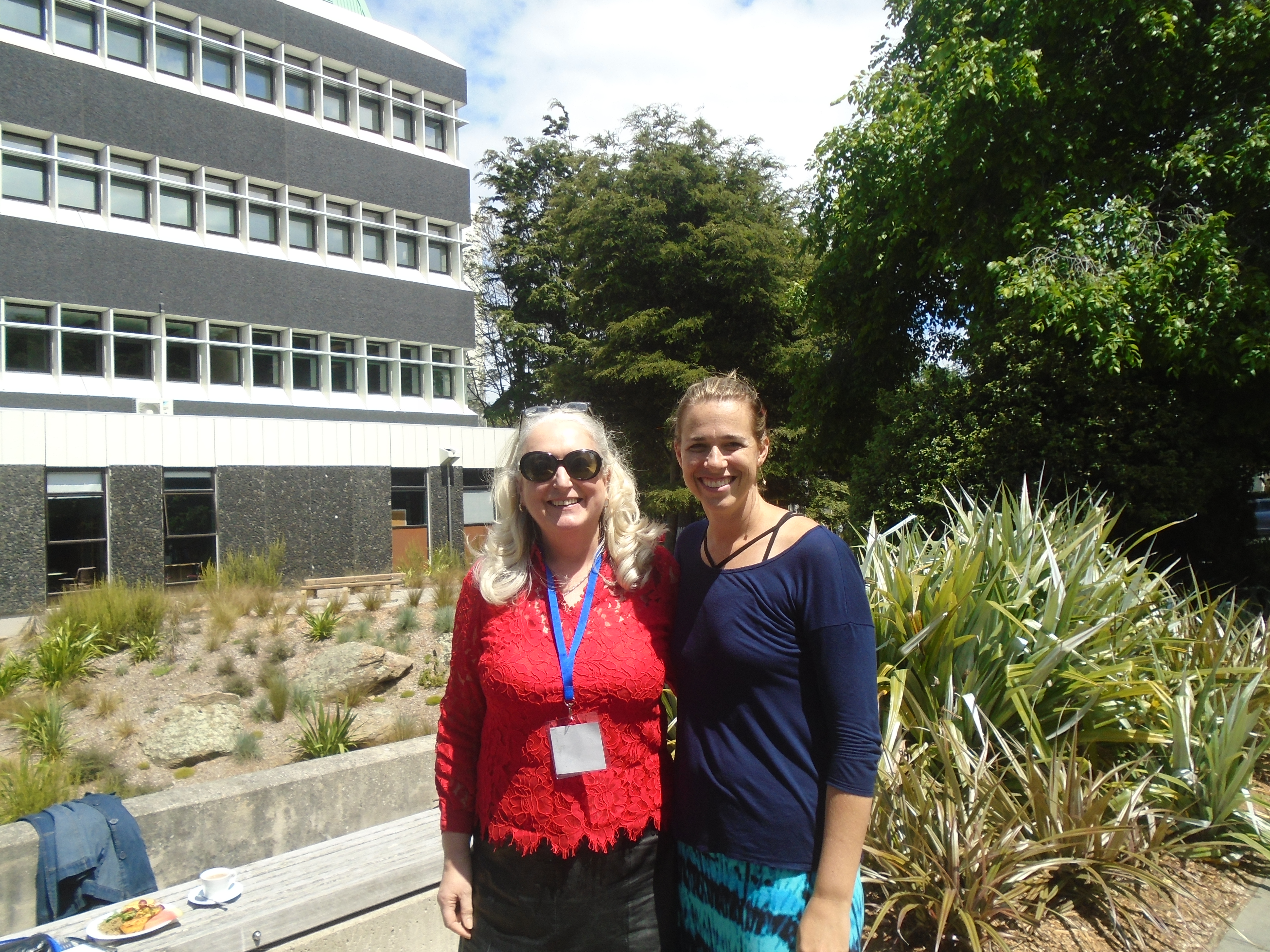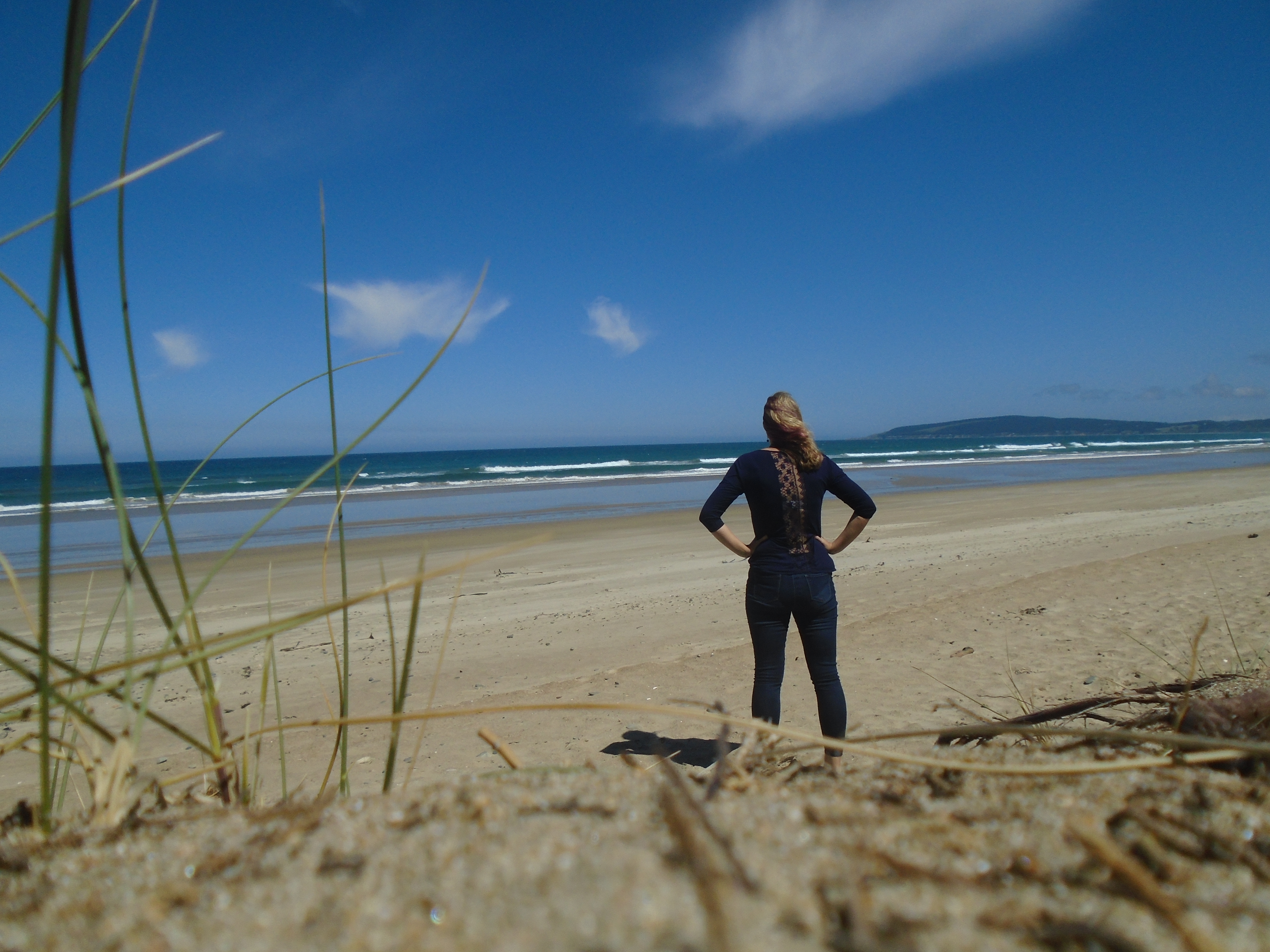 Recent Award Recipients
To date 576 graduate students have received funding from UD's Graduate and Professional Education to pursue professional development.
Daniel Arbucias Daniel
PROGRAM: Political Science and International Relations
VENUE: Daniel Arbucias -- Phoenixville, PA, United States
PRESENTATION: July 25, 2018
Aaron Russell
PROGRAM: Water Science and Policy
VENUE: American Association of Geographers Annual Conference -- New Orleans, LA, United States
PRESENTATION: April 10, 2018
Chelsea Leiper
PROGRAM: Geography
VENUE: American Association of Geographers Annual Meeting -- New Orleans, LA, United States
PRESENTATION: April 10, 2018
Marcia Shirilla
PROGRAM: Education
VENUE: US Play Coalition -- Clemson, SC, United States
PRESENTATION: April 8, 2018
Anna Nuzzolese
PROGRAM: Political Science and International Relations
VENUE: Midwestern Political Science Association Seventy Sixth Annual Conference -- Chicago, IL, United States
PRESENTATION: April 5, 2018
Emily Rowe
PROGRAM: Sociology
VENUE: Southern Sociological Society -- New Orleans, LA, United States
PRESENTATION: April 4, 2018
Kelsey Obringer
PROGRAM: Political Science and International Relations
VENUE: Western Political Science Association; International Studies Association -- San Francisco, CA, United States
PRESENTATION: March 29, 2018
Kelsey Obringer
PROGRAM: Political Science and International Relations
VENUE: Western Political Science Association; International Studies Association -- San Francisco, CA, United States
PRESENTATION: March 29, 2018
Pengcheng Wu
PROGRAM: Chemistry and Biochemistry
VENUE: 255th ACS National Meeting -- New Orleans, LA, United States
PRESENTATION: March 18, 2018
Shuyu Xu
PROGRAM: Materials Science and Engineering
VENUE: 255th ACS National Meeting -- New Orleans, LA, United States
PRESENTATION: March 18, 2018
Ryan Locke
PROGRAM: Biomedical Engineering
VENUE: Orthopaedic Research Society -- New Orleans, LA, United States
PRESENTATION: March 9, 2018
Mehdi Kadivar
PROGRAM: Civil Engineering
VENUE: IFCEE 2018 -- Newark, DE, United States
PRESENTATION: March 5, 2018
Shirin Pourmiri
PROGRAM: Physics
VENUE: APS March Meeting 2018 -- Los Angeles, CA, United States
PRESENTATION: March 5, 2018
Priyanka Mondal
PROGRAM: Physics
VENUE: APS March Meeting 2018 -- LA, CA, United States
PRESENTATION: March 5, 2018
Jennifer Zellers
PROGRAM: Biomechanics and Movement Science
VENUE: American Physical Therapy Association Combined Sections Meeting -- New Orleans, LA, United States
PRESENTATION: February 22, 2018
Karli Wurzelbacher
PROGRAM: Art History
VENUE: College Art Association Annual Conference -- Los Angeles, CA, United States
PRESENTATION: February 21, 2018
Moiyad Aljehani
PROGRAM: Physical Therapy
VENUE: Combined Sections Meeting (CSM) - APTA -- New Orleans, LA, United States
PRESENTATION: February 21, 2018
Nabeel Alghamdi
PROGRAM: Biomechanics and Movement Science
VENUE: Combind Section Meeting -- New Orleans, TX, United States
PRESENTATION: February 21, 2018
Jordana Woodford
PROGRAM: School Psychology
VENUE: National Association of School Psychologists (NASP) Annual Convention -- Chicago, IL, United States
PRESENTATION: February 13, 2018
LUYE LI
PROGRAM: Criminology
VENUE: Academy of Criminal Justice Sciences -- Newark, DE, United States
PRESENTATION: February 13, 2018
Zhangxian Ouyang
PROGRAM: Oceanography
VENUE: 2018 Ocean Science Meeting -- Portland, OR, United States
PRESENTATION: February 12, 2018
Cimone Philpotts
PROGRAM: Urban Affairs and Public Policy
VENUE: Conference of Minorities in Public Administration (COMPA) -- Los Angeles, CA, United States
PRESENTATION: February 12, 2018
Starmanda Duker
PROGRAM: MPA (Public Administration)
VENUE: Conference of Minorities in Public Administration (COMPA) -- Los Angeles, CA, United States
PRESENTATION: February 12, 2018
Chester Holland
PROGRAM: Urban Affairs and Public Policy
VENUE: Conference of Minorities in Public Administration (COMPA) -- Los Angeles, CA, United States
PRESENTATION: February 12, 2018