Professional Development Award
Around the World
The Professional Development Award for Graduate Students is supported by the Office of the Provost to help University of Delaware graduate students participate in significant professional conferences pertaining to their field of study. Conference travel is essential to the academic growth and development of graduate students. It affords opportunities for presentation of student work in a professional setting, as well as opportunities for networking and exposure to the latest academic research. We invite you to explore our world view and see where our students have been and where they are heading to next.
This map was added 12-15-2015 and is a growing snapshot of our recent award recipients.
In the Spotlight
Below is a sampling of the most recent award recipients.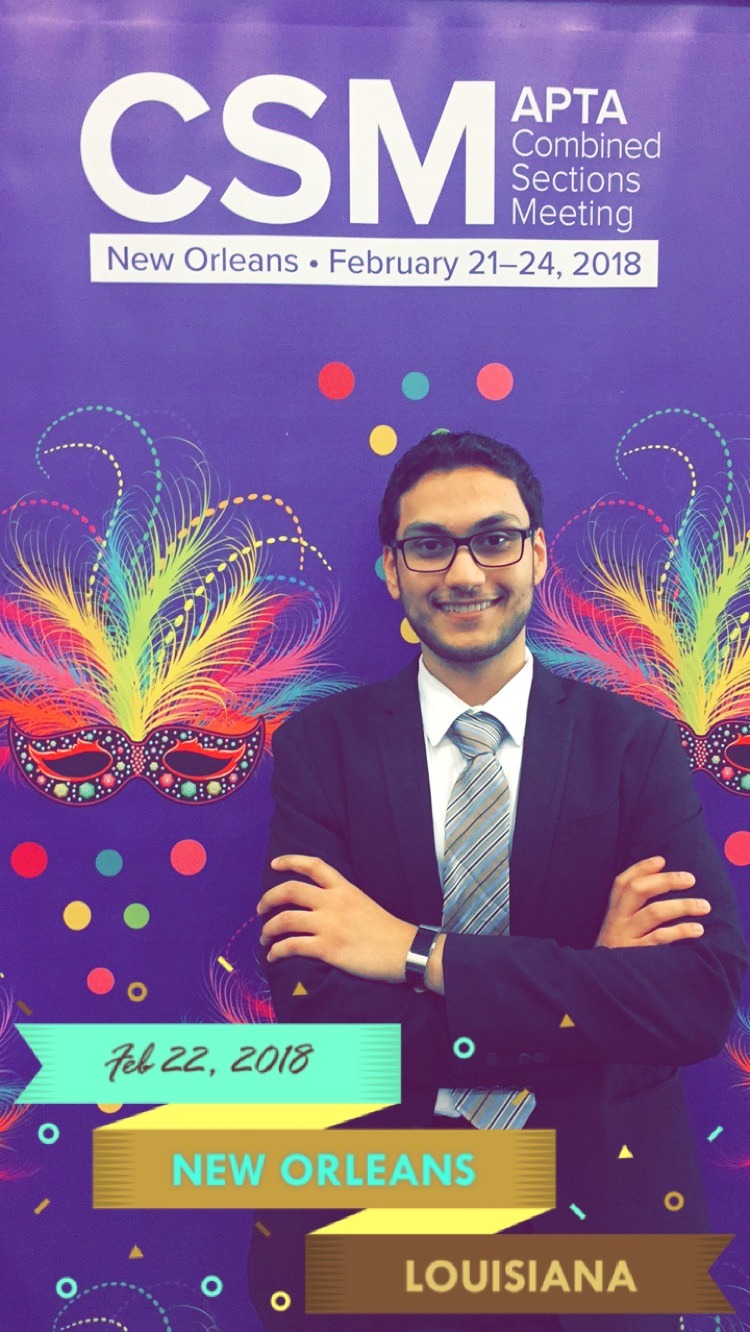 Moiyad Aljehani
PROGRAM: Biomechanics & Movement Science
Combined Sections Meeting (CSM) – APTA
New Orleans, Louisiana, United States
February 21, 2018
I would like to thank the graduate and professional education at the University of Delaware for giving me the opportunity to write this blog. As a Ph.D. student in the physical therapy department, I am glad that I got the chance to have the Professional Development Award. It was very beneficial for my graduate research to travel and show the hard work I have done through the past two years. Without the Professional Development Award, I would not be able to attend the combined section meeting 2018, which is one of the most important conferences in the physical therapy world. I have submitted to the conference an abstract as a first author and I was a co-author of 4 other abstracts (posters and platform presentations). It was a great experience in my academic life to stand in front of people and present my research.
Attending the combined section meeting gave me the opportunity to attend great educational sessions in different fields that related to physical therapy. These educational sessions were about different topics, such as updates and evidence-based practice in my area of research (knee osteoarthritis and total joint replacement). In addition, I attended educational sessions about the scientific writing, research, and other interesting topics in physical therapy.
Furthermore, exploring the vendors and exhibits hall was essential for me because I was looking for new technology to use in my dissertation. I found verities of opportunities and have seen different companies and options. Another important opportunity this award gave me is to make connections with graduate students and pioneers in the field from other schools around the world.
Finally, not only the academic aspects I got from the Professional Development Award, but also I got the chance to travel and explore a new city that I have not visited before.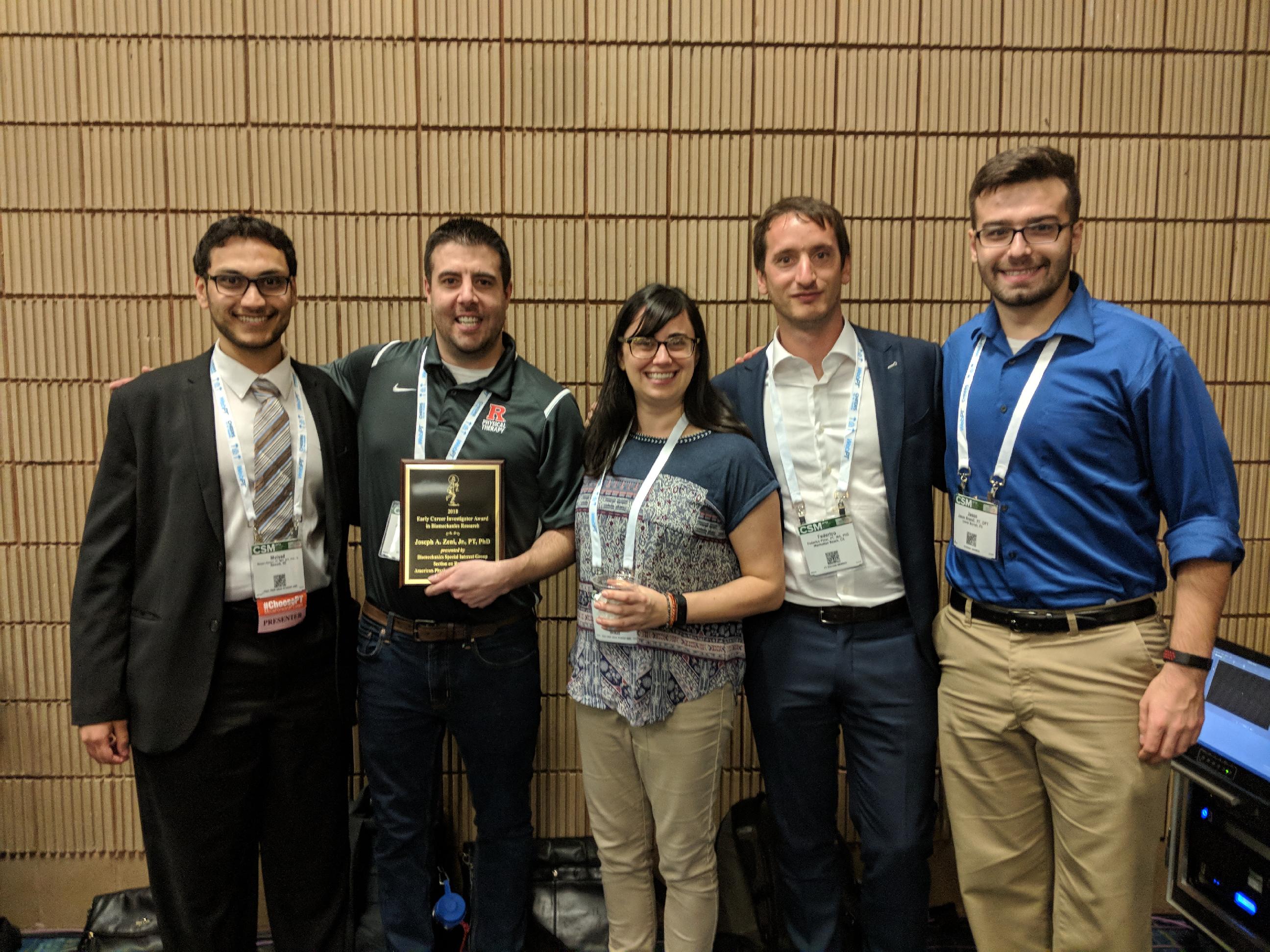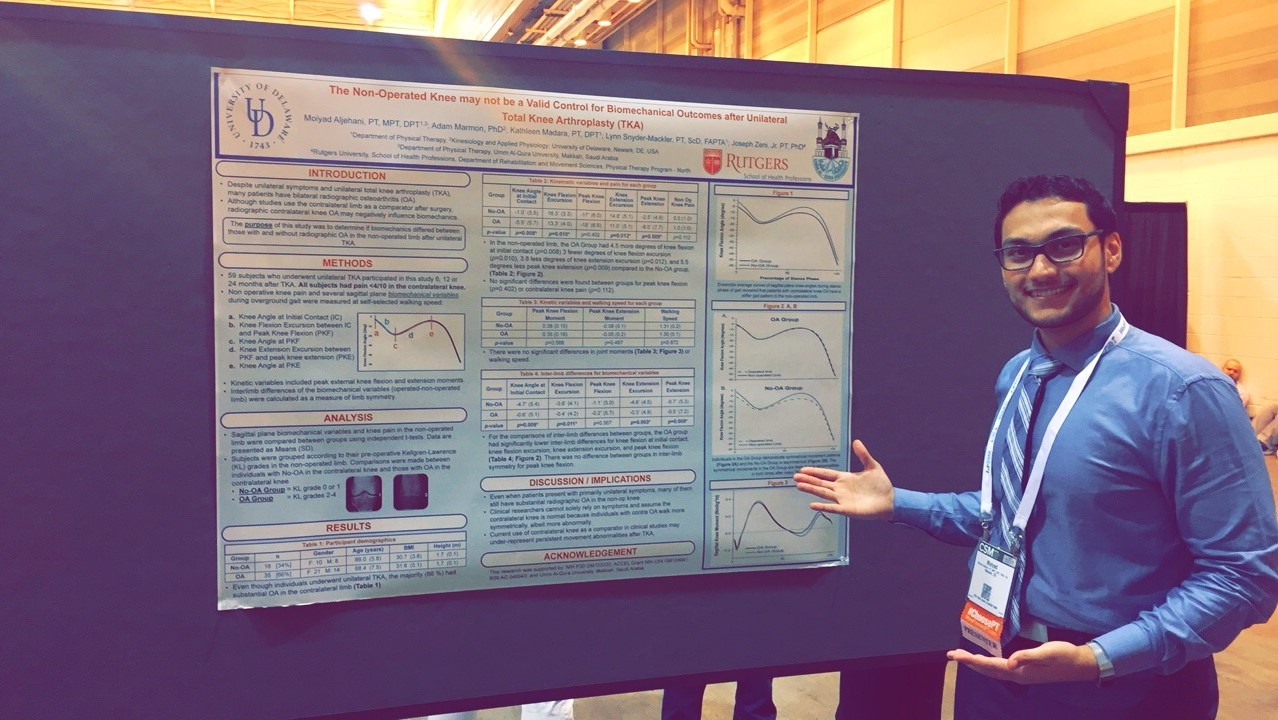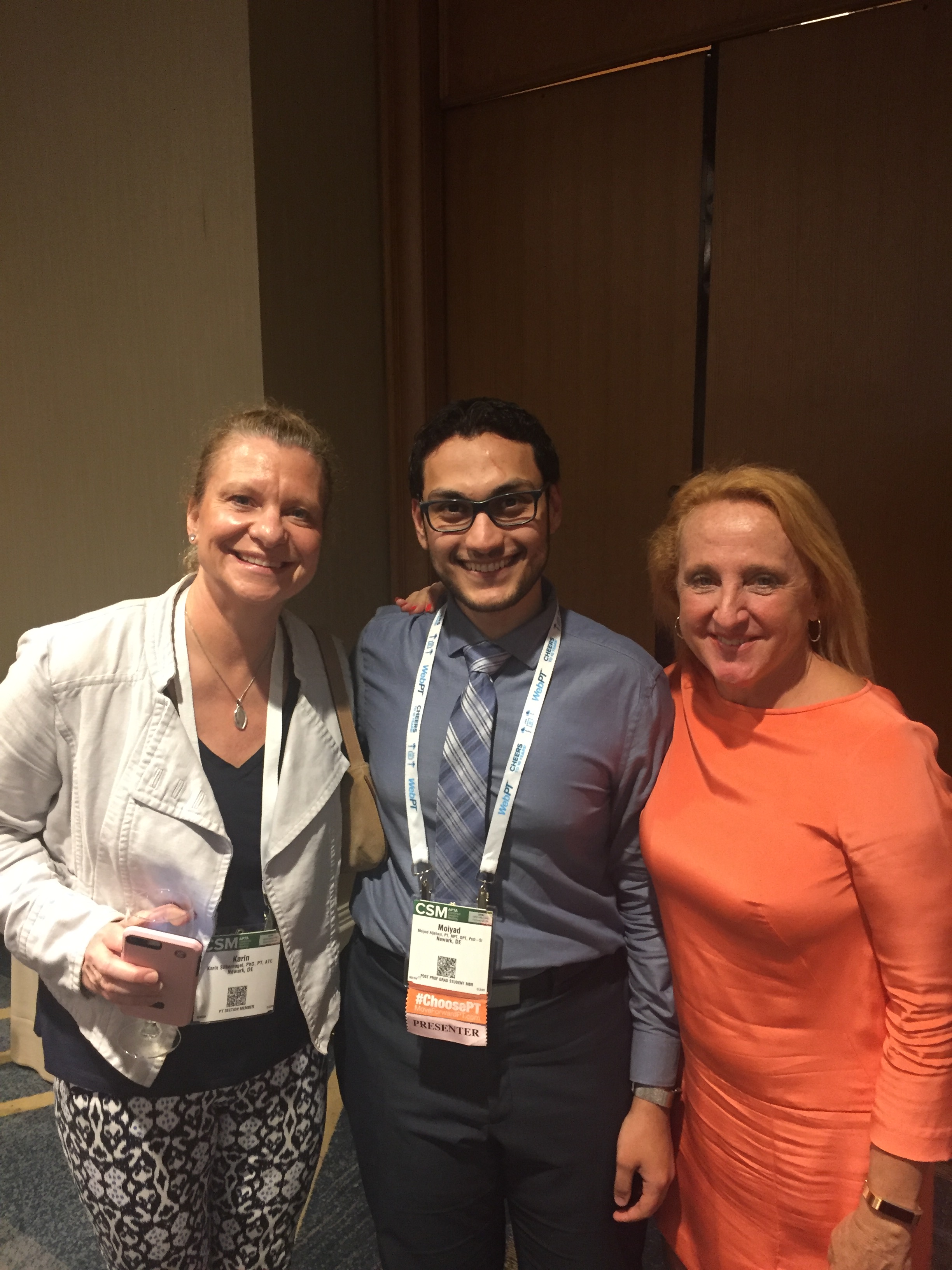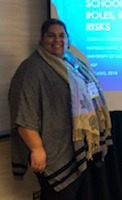 Jordana Woodford
PROGRAM: School Psychology
2018 National Association for School Psychologists Conference
Chicago, Illinois, United States
February 12, 2018
The National Association for School Psychologists held its 2018 national convention in Chicago this year from February 13 to February 16th! Despite all the snow on the ground, over 6500 people from all over the country attended. This year, the theme for the conference was "The Power of One: Creating Connections."
Dr. Kathy Minke and I presented on a project that focused on the roles, risks, and responsibilities associated with School Resource Officers (SRO). We talked about how SROs see themselves in their roles and how that relates to their relationships with students, parents and school staff. Keeping with the spirit of the theme, we facilitated a discussion regarding how school psychologists can connect with the SROs in their schools.
Along with presenting, I had the opportunity to listen to many other wonderful presentations. The highlight of the conference this year was the keynote speaker, Dr. Steve Robbins, who was engaging and inspirational. Throughout his address, Dr. Robbins used personal narrative, social psychology, and cognitive neuroscience to talk about human perceptions around stereotypes. Additionally, I saw was one that focused on self-care for school psychology students. A quote from Eleanor Brown served as the anchor of this presentation, which is "Importance of mental health self-care is not selfish. You cannot serve an empty vessel." Other presentations included topics, such as understanding cultural competence when teaching math RTI to African American students; implementing a cultural competence scale for teachers; and exploring multiple roles that school psychologists play outside of school.
Overall, it was a time to meet new and old friends, to connect with others in the field, and to be inspire by all of the good work happening in the field!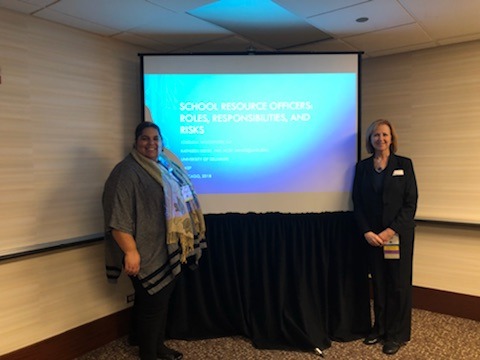 Presenting with Dr. Kathy Minke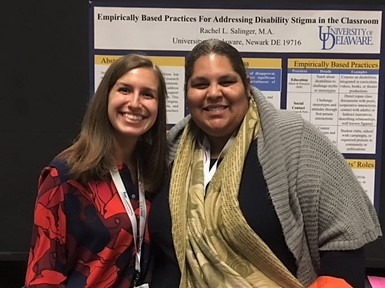 Recent Award Recipients
To date 758 graduate students have received funding from UD's Graduate and Professional Education to pursue professional development.
Danielle Riser
PROGRAM: Human Development and Family Studies
VENUE: Division for Early Childhood's 34th Annual International Conference on Young Children with Special Needs and their Families -- Orlando, FL, United States
PRESENTATION: October 23, 2018
Meng Jia
PROGRAM: Chemistry and Biochemistry
VENUE: AVS 65th International Symposium&Exhibition -- Long Beach, CA, United States
PRESENTATION: October 21, 2018
Christopher Goodwin
PROGRAM: Chemistry and Biochemistry
VENUE: AVS 65th International Symposium & Exhibition -- Long Beach, CA, United States
PRESENTATION: October 21, 2018
Mahsa Konh
PROGRAM: Chemistry and Biochemistry
VENUE: AVS International Symposium and Exhibition -- Long Beach, CA, United States
PRESENTATION: October 21, 2018
Danielle Civil
PROGRAM: Fashion and Apparel Studies
VENUE: 100 Years of Design Graduate Education: "Fashion and the Future of Design" -- Minneapolis, MN, United States
PRESENTATION: September 27, 2018
Patience Ankomah
PROGRAM: Fashion and Apparel Studies
VENUE: Fashion and the Future of Design Symposium -- Minneapolis, MN, United States
PRESENTATION: September 27, 2018
Ashley Paintsil
PROGRAM: Fashion and Apparel Studies
VENUE: Fashion and the Future of Design Symposium -- Newark, DE, United States
PRESENTATION: September 27, 2018
ChaCha Hudson
PROGRAM: Fashion and Apparel Studies
VENUE: Fashion and the Future of Design -- St. Paul, MN, United States
PRESENTATION: September 27, 2018
Soojin Shin
PROGRAM: Energy and Environmental Policy
VENUE: Energy Policy Research Conference -- Boise, ID, United States
PRESENTATION: September 6, 2018
Sachin Gavali
PROGRAM: Bioinformatics and Systems Biology
VENUE: ACM Conference on Bioinformatics, Computational Biology, and Health Informatics (ACM-BCB) -- Washington, DC, United States
PRESENTATION: August 29, 2018
Saleh Tamim
PROGRAM: Bioinformatics and Systems Biology
VENUE: ACM Conference on Bioinformatics, Computational Biology, and Health Informatics (ACM BCB) -- Washington DC, United States
PRESENTATION: August 29, 2018
Aaron Russell
PROGRAM: Water Science and Policy
VENUE: Royal Geographical Society - Annual International Conference -- Cardiff, United Kingdom
PRESENTATION: August 29, 2018
Leigh Andrews
PROGRAM: Psychology
VENUE: Psychological Networks Amsterdam Summer School 2018 -- Amsterdam, Netherlands
PRESENTATION: August 27, 2018
Seyedmohammad Salehi
PROGRAM: Computer Science
VENUE: IEEE Vehicular Technology Conference (VTC) -- Chicago, IL, United States
PRESENTATION: August 27, 2018
Hershal Pandya
PROGRAM: Physics
VENUE: TeV Particle Astrophysics (TeVPA) -- Berlin, Germany
PRESENTATION: August 27, 2018
Muhsiang Hsieh
PROGRAM: Civil Engineering
VENUE: 256th ACS National Meeting -- Boston, MA, United States
PRESENTATION: August 20, 2018
Lane Johnston
PROGRAM: Marine Studies
VENUE: 148th Annual Meeting of the American Fisheries Society -- Atlantic City, NJ, United States
PRESENTATION: August 19, 2018
Emily Ruhl
PROGRAM: Marine Studies
VENUE: American Fisheries Society -- Lewes, DE, United States
PRESENTATION: August 19, 2018
Thabiso Kunene
PROGRAM: Chemistry and Biochemistry
VENUE: 256th ACS National Meeting in Boston -- Boston, MA, United States
PRESENTATION: August 19, 2018
Alize Marangoz
PROGRAM: Chemistry and Biochemistry
VENUE: 256th ACS National Meeting -- Boston, MA, United States
PRESENTATION: August 19, 2018
Celia Foster
PROGRAM: Chemistry and Biochemistry
VENUE: American Chemical Society -- Boston, MA, United States
PRESENTATION: August 19, 2018
Junhui Zhou
PROGRAM: Chemistry and Biochemistry
VENUE: 2018 ACS National Meeting and Exposition in Boston -- Boston, MA, United States
PRESENTATION: August 19, 2018
Melody Morris
PROGRAM: Chemical Engineering
VENUE: American Chemical Society -- Boston, MA, United States
PRESENTATION: August 19, 2018
Molly Ashur
PROGRAM: Marine Studies
VENUE: American Fisheries Society -- Atlantic City, NJ, United States
PRESENTATION: August 19, 2018