Professional Development Award
Around the World
The Professional Development Award for Graduate Students is supported by the Office of the Provost to help University of Delaware graduate students participate in significant professional conferences pertaining to their field of study. Conference travel is essential to the academic growth and development of graduate students. It affords opportunities for presentation of student work in a professional setting, as well as opportunities for networking and exposure to the latest academic research. We invite you to explore our world view and see where our students have been and where they are heading to next.
This map was added 12-15-2015 and is a growing snapshot of our recent award recipients.
In the Spotlight
Below is a sampling of the most recent award recipients.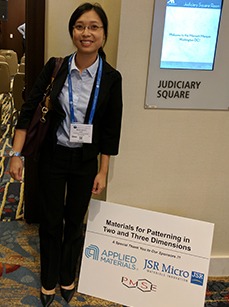 Hang Kuen Lau
PROGRAM: Materials Science & Engineering
ACS 254th National Meeting
Washington, District of Columbia, United States
August 20, 2017
It was my pleasure to attend the 254th American Chemical Society (ACS) National Meeting & Exposition with the theme of "Chemistry's Impact on the Global Economy". Over 10,000 people from all over the world attended the conference in Washington DC. There were technical sessions, poster presentations, career fairs and so on.
I presented my research in microstructured polypeptides-containing hydrogels via aqueous liquid-liquid phase separation at the Division of Polymeric Materials Science and Engineering (PMSE) materials for patterning in two and three dimensions. I had the choice to present my work and meet many scientists who share the passion of science. Sci-Mix is one of the biggest social event in the ACS conference. Everyone from different participating ACS divisions came together to present posters and talk about science while enjoying beer and popcorn.
I am also very lucky that the conference overlapped with a once-in-a-lifetime event, the solar eclipse. ACS gave out free solar glasses for everyone attending the conference so we could watch the eclipse. Everyone came outside to watch the spectacular solar eclipse together. Thanks to the University of Delaware and ACS, it was one of the best experiences in my lifetime to have the opportunity to present my research in a conference and see the solar eclipse at the same time.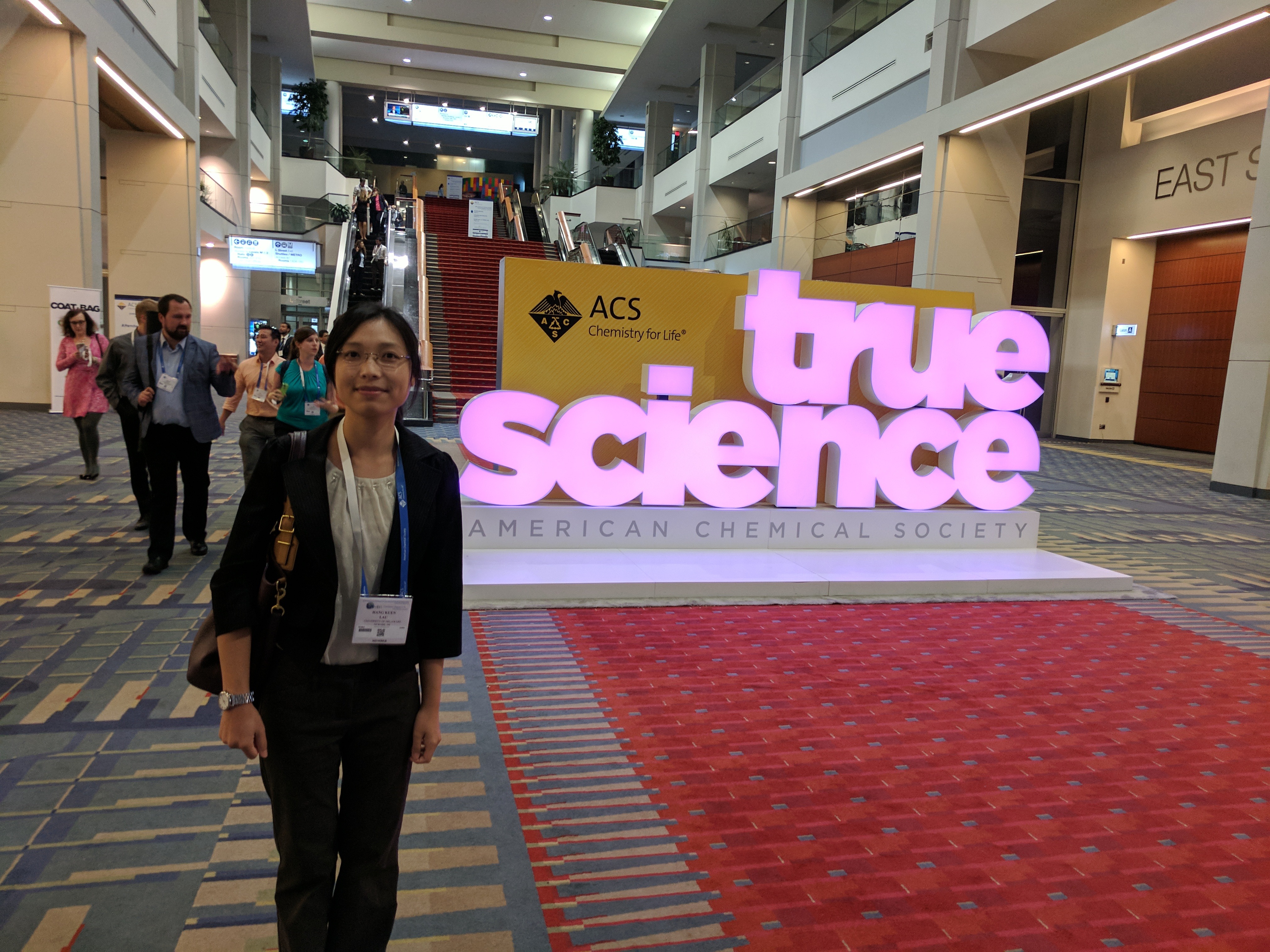 American Chemical Society (ACS) National Meeting & Exposition with the theme of "Chemistry's Impact on the Global Economy"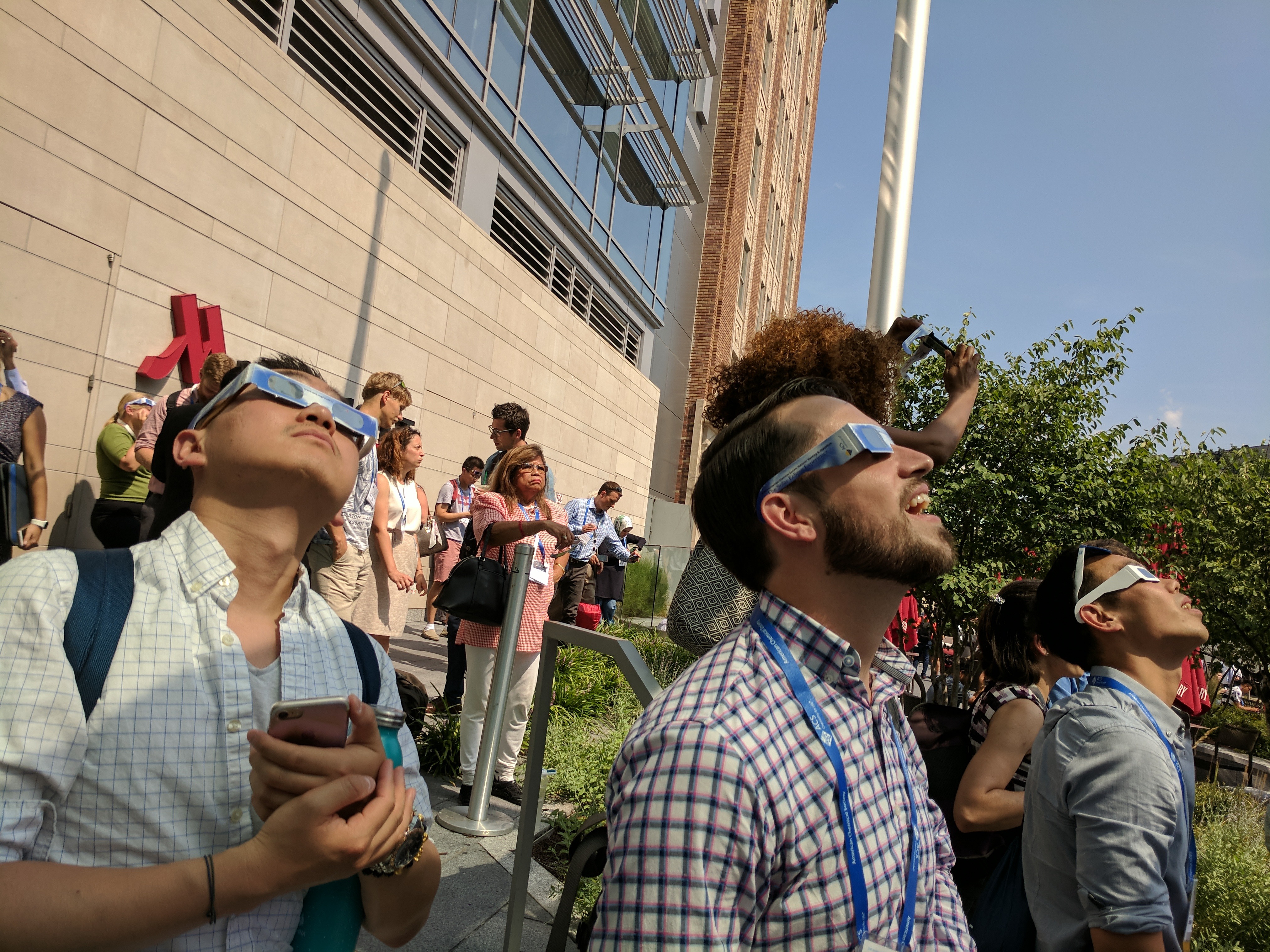 Watching the solar eclipse with colleagues at the conference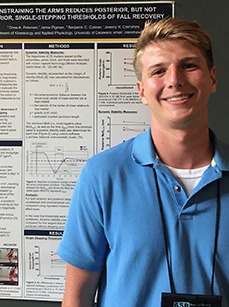 Drew Petersen
PROGRAM: Biomechanics & Movement Science
American Society of Biomechanics 2017
Boulder, Colorado, United States
August 8, 2017
During the week of August 7th, I attended the American Society of Biomechanics Conference in Boulder, Colorado. This was my first time attending a professional conference, as well as the first time presenting at a professional conference. The work I was accepted to present on revolves around the balance and fall prevention, with my poster presentation demonstrating pilot data on the effect of constraining the arms on the single stepping threshold balance assessment.
I was very nervous to present at this conference because while presenting a poster, the experts in the field have time to really critique and question your methods and results found. If not prepared enough, this task would have been much more difficult, but I really was ready for the presentation thanks to the help of my advisor, Jeremy Crenshaw, and my lab peer, Jamie Pigman. Despite not having a lot of visitors to my poster session, the visitors I did have led to some great discussions that could help improve my work in the lab. Despite various suggestions, many of the visitors I had also said that they approved of our methods and analysis and were very optimistic about our work moving forward. I was also able to meet with possible future employers who were interested in my work as a biomechanist in the field of expert witness testimony, which was very interesting to learn about.
ASB 2017 was an awesome first conference experience and I really enjoyed the opportunity to learn about different topics that are being researched across the country, being able to receive positive feedback on the work we are doing here, and having the chance to  network which could lead to future career opportunities for me. I really am thankful to have the resources that the KAAP department provide, the graduate professional development award, and a lab team and advisor that are so supportive of my advancement as a graduate student here at UD.

Recent Award Recipients
To date 576 graduate students have received funding from UD's Graduate and Professional Education to pursue professional development.
Daniel Arbucias Daniel
PROGRAM: Political Science and International Relations
VENUE: Daniel Arbucias -- Phoenixville, PA, United States
PRESENTATION: July 25, 2018
Aaron Russell
PROGRAM: Water Science and Policy
VENUE: American Association of Geographers Annual Conference -- New Orleans, LA, United States
PRESENTATION: April 10, 2018
Chelsea Leiper
PROGRAM: Geography
VENUE: American Association of Geographers Annual Meeting -- New Orleans, LA, United States
PRESENTATION: April 10, 2018
Marcia Shirilla
PROGRAM: Education
VENUE: US Play Coalition -- Clemson, SC, United States
PRESENTATION: April 8, 2018
Anna Nuzzolese
PROGRAM: Political Science and International Relations
VENUE: Midwestern Political Science Association Seventy Sixth Annual Conference -- Chicago, IL, United States
PRESENTATION: April 5, 2018
Emily Rowe
PROGRAM: Sociology
VENUE: Southern Sociological Society -- New Orleans, LA, United States
PRESENTATION: April 4, 2018
Kelsey Obringer
PROGRAM: Political Science and International Relations
VENUE: Western Political Science Association; International Studies Association -- San Francisco, CA, United States
PRESENTATION: March 29, 2018
Kelsey Obringer
PROGRAM: Political Science and International Relations
VENUE: Western Political Science Association; International Studies Association -- San Francisco, CA, United States
PRESENTATION: March 29, 2018
Pengcheng Wu
PROGRAM: Chemistry and Biochemistry
VENUE: 255th ACS National Meeting -- New Orleans, LA, United States
PRESENTATION: March 18, 2018
Shuyu Xu
PROGRAM: Materials Science and Engineering
VENUE: 255th ACS National Meeting -- New Orleans, LA, United States
PRESENTATION: March 18, 2018
Ryan Locke
PROGRAM: Biomedical Engineering
VENUE: Orthopaedic Research Society -- New Orleans, LA, United States
PRESENTATION: March 9, 2018
Mehdi Kadivar
PROGRAM: Civil Engineering
VENUE: IFCEE 2018 -- Newark, DE, United States
PRESENTATION: March 5, 2018
Shirin Pourmiri
PROGRAM: Physics
VENUE: APS March Meeting 2018 -- Los Angeles, CA, United States
PRESENTATION: March 5, 2018
Priyanka Mondal
PROGRAM: Physics
VENUE: APS March Meeting 2018 -- LA, CA, United States
PRESENTATION: March 5, 2018
Jennifer Zellers
PROGRAM: Biomechanics and Movement Science
VENUE: American Physical Therapy Association Combined Sections Meeting -- New Orleans, LA, United States
PRESENTATION: February 22, 2018
Karli Wurzelbacher
PROGRAM: Art History
VENUE: College Art Association Annual Conference -- Los Angeles, CA, United States
PRESENTATION: February 21, 2018
Moiyad Aljehani
PROGRAM: Physical Therapy
VENUE: Combined Sections Meeting (CSM) - APTA -- New Orleans, LA, United States
PRESENTATION: February 21, 2018
Nabeel Alghamdi
PROGRAM: Biomechanics and Movement Science
VENUE: Combind Section Meeting -- New Orleans, TX, United States
PRESENTATION: February 21, 2018
Jordana Woodford
PROGRAM: School Psychology
VENUE: National Association of School Psychologists (NASP) Annual Convention -- Chicago, IL, United States
PRESENTATION: February 13, 2018
LUYE LI
PROGRAM: Criminology
VENUE: Academy of Criminal Justice Sciences -- Newark, DE, United States
PRESENTATION: February 13, 2018
Zhangxian Ouyang
PROGRAM: Oceanography
VENUE: 2018 Ocean Science Meeting -- Portland, OR, United States
PRESENTATION: February 12, 2018
Cimone Philpotts
PROGRAM: Urban Affairs and Public Policy
VENUE: Conference of Minorities in Public Administration (COMPA) -- Los Angeles, CA, United States
PRESENTATION: February 12, 2018
Starmanda Duker
PROGRAM: MPA (Public Administration)
VENUE: Conference of Minorities in Public Administration (COMPA) -- Los Angeles, CA, United States
PRESENTATION: February 12, 2018
Chester Holland
PROGRAM: Urban Affairs and Public Policy
VENUE: Conference of Minorities in Public Administration (COMPA) -- Los Angeles, CA, United States
PRESENTATION: February 12, 2018