Professional Development Award
Around the World
The Professional Development Award for Graduate Students is supported by the Office of the Provost to help University of Delaware graduate students participate in significant professional conferences pertaining to their field of study. Conference travel is essential to the academic growth and development of graduate students. It affords opportunities for presentation of student work in a professional setting, as well as opportunities for networking and exposure to the latest academic research. We invite you to explore our world view and see where our students have been and where they are heading to next.
This map was added 12-15-2015 and is a growing snapshot of our recent award recipients.
In the Spotlight
Below is a sampling of the most recent award recipients.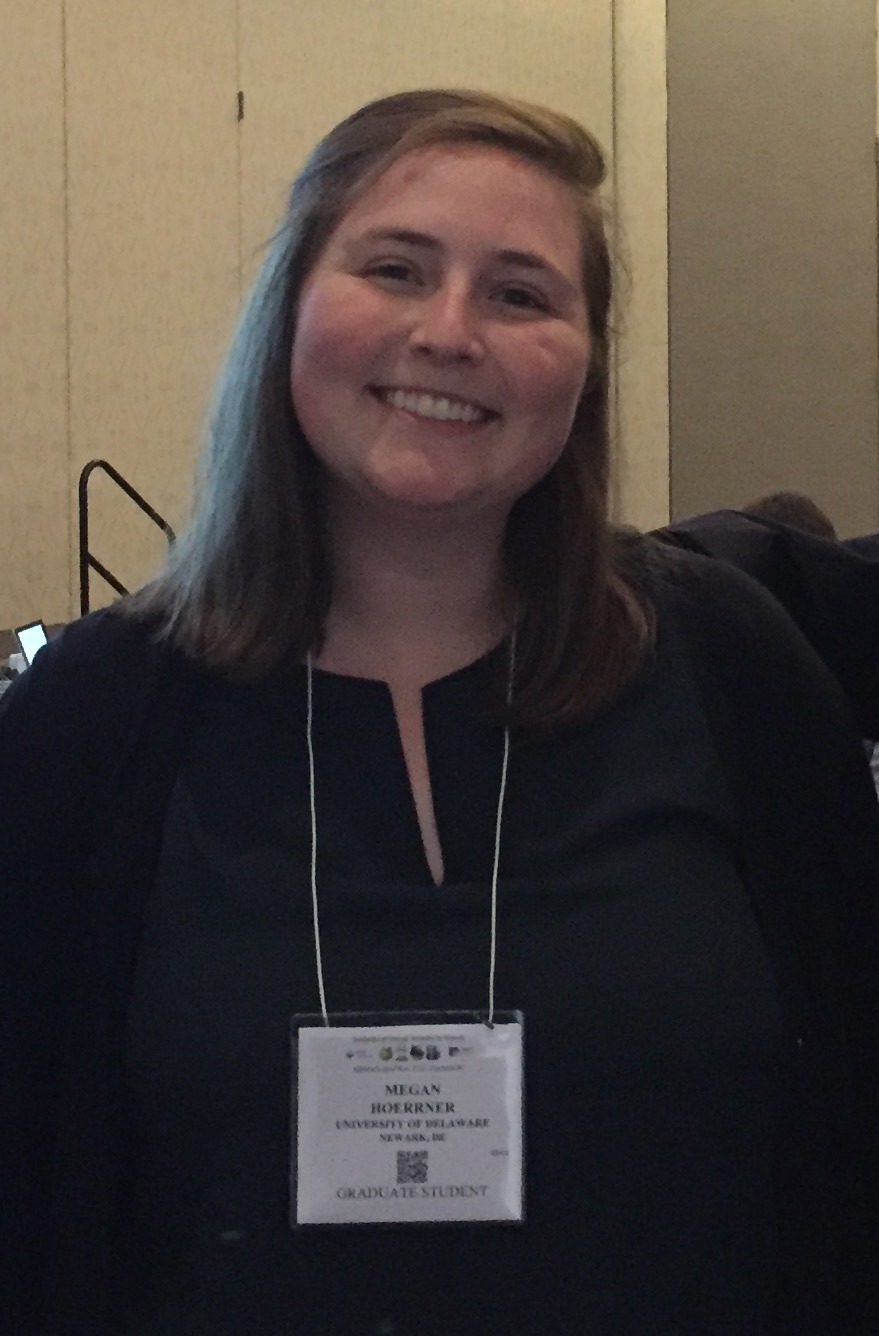 Megan Hoerrner
PROGRAM: Chemistry & Biochemistry
South East Regional Meeting of the American Chemical Society
Charlotte, North Carolina, United States
November 7, 2017
This November I had to opportunity to present a poster of my research at the South East Regional Meeting of the American Chemical Society (SERMACS) in Charlotte, NC. This was my first opportunity to share my graduate research done in the Mary P. Watson group with other people from different universities and industries in the field of chemistry. I was able attend many different lectures related to fields I have background in as well as new areas of research I had not thought about before. A highlight of my trip being able to share my graduate research with my undergraduate advisor, Professor John Gupton from the University of Richmond, who was attending the same conference and show him how far I've come from an undergraduate in his research lab to a third year graduate student. I was able to meet the new students in his lab and learn how the projects I worked on when I was first learning how to be a researcher are evolving as well as new projects they were working on. I attended the conference with my graduate advisor Professor Mary P. Watson and a post doc in our lab Dr. Sarah Pound. Sarah and I were able to explore the conference together as well as experience downtown Charlotte. We both had not been to Charlotte before and were excited to experience different food, places, and chemistry. Another highlight of my trip was meeting up with other professors who taught me chemistry as an undergraduate at the University of Richmond. They were excited to see how much I learned in a short time since I graduated from the University of Richmond in 2015. Overall, I had a wonderful time at the conference and can't wait until I have an opportunity to present my research again.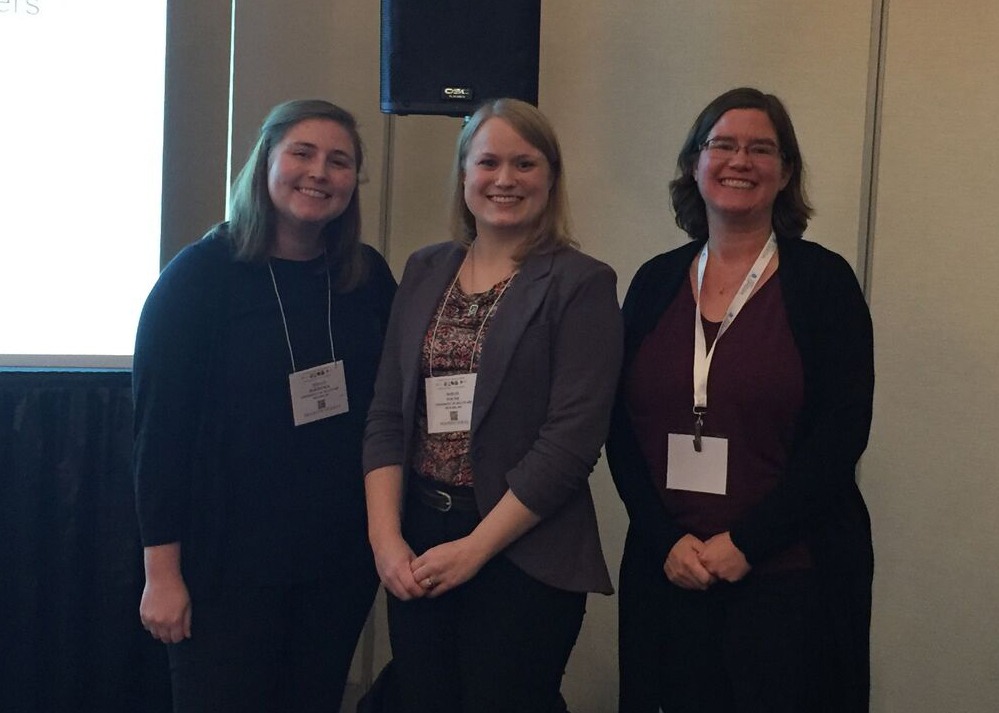 Professor Mary P. Watson and Dr. Sarah Pound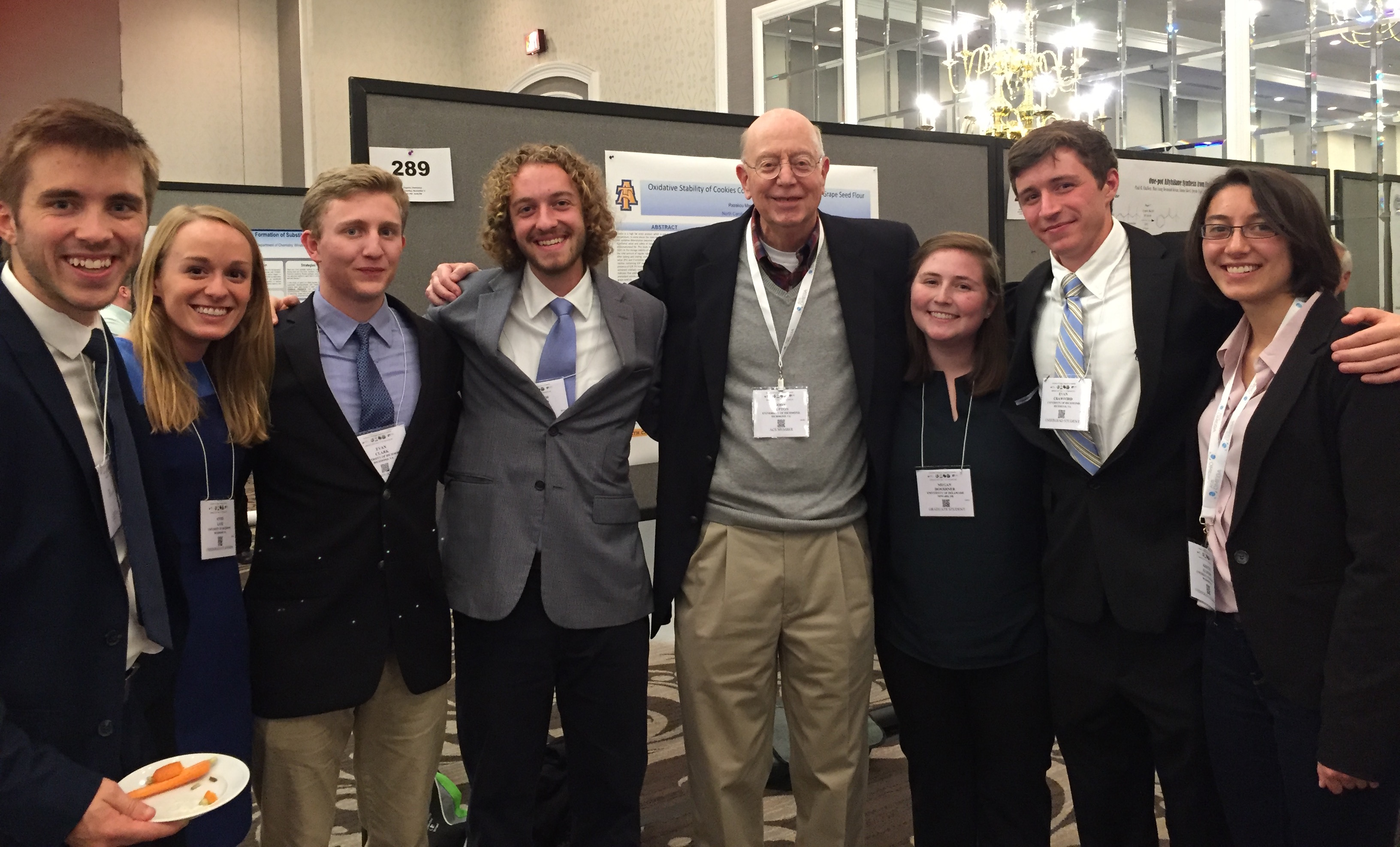 Professor John Gupton's research group from the University of Richmond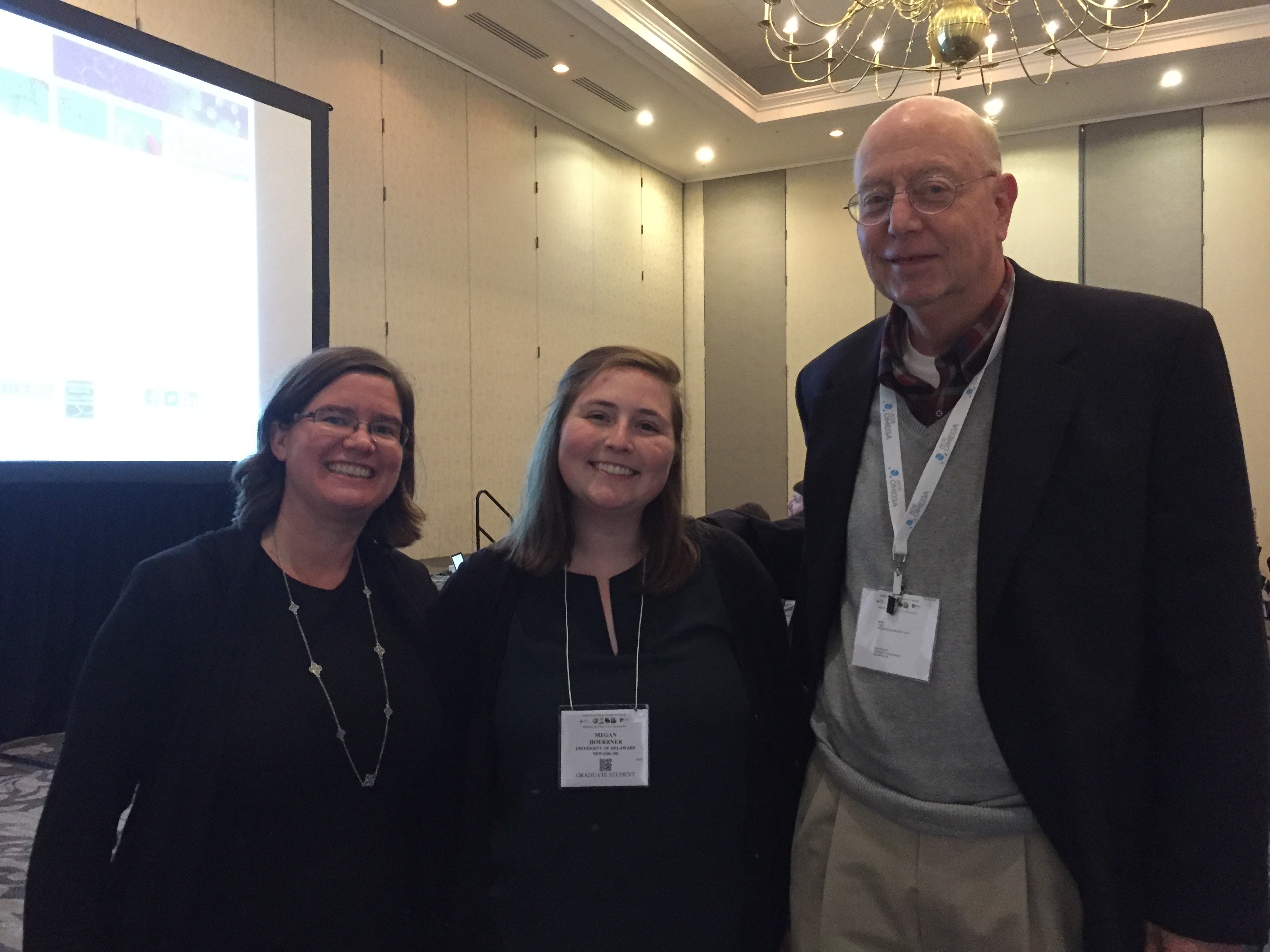 Professor Mary P. Watson and Professor John Gupton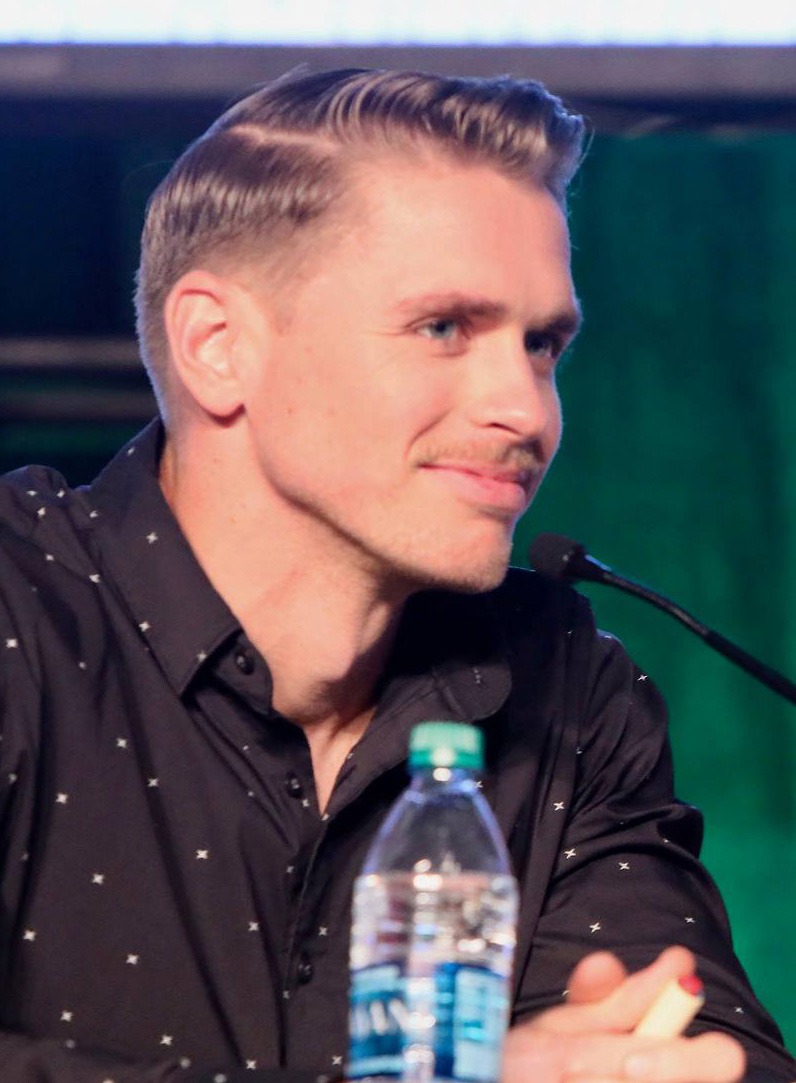 Sean Boyle
PROGRAM: Entomology & Wildlife Ecology
Entomological Society of America national meeting 2017
Denver, Colorado, United States
November 5, 2017
"Ain't nothin' to it, but to do it, sir," answered Harold, the cordial Denver Convention Center guest greeter, after I mentioned I was on my way to give my first presentation at a national ESA meeting. Harold's contagious motivation and positivity ignited my self confidence while I walked through the convention center. After passing my thesis defense just four days prior, I carried a deep sense of pride in my research and was eager to share it with entomologists from around the world. In addition to presenting my Master's thesis work, I was also a member of the UD team competing in the national Linnaean Games competition, a thirty-six-year ESA tradition consisting of head-to-head battles of entomological wits and knowledge between student teams from universities across the country. The UD team had never made it past the first round of the tournament, so needless to say, I wanted to utilize this opportunity to make some history for the Blue Hens.
My eight-minute presentation seemed to end almost instantly after it began, yet I felt accomplished in effectively communicating my research. Fortunately, this feeling was not a product of my own hubris, as I received many accolades from professors and fellow students. Fueled by these positive vibes, I shifted gears to join my Linnaean Games team for our first round match-up against UC-Riverside. Competing like a perennial powerhouse we dominated the match, attaining the first Linnaean Games victory in UD history. Alas, in our semifinal match, our valiant efforts were thwarted by Texas A&M, and we finished a respectable third place.
All in all, my experiences at ESA 2017 presenting my research, competing in the Linnaean Games with my fellow UD students, and engaging in provocative dialogue with colleagues were monumental in my development as an entomologist.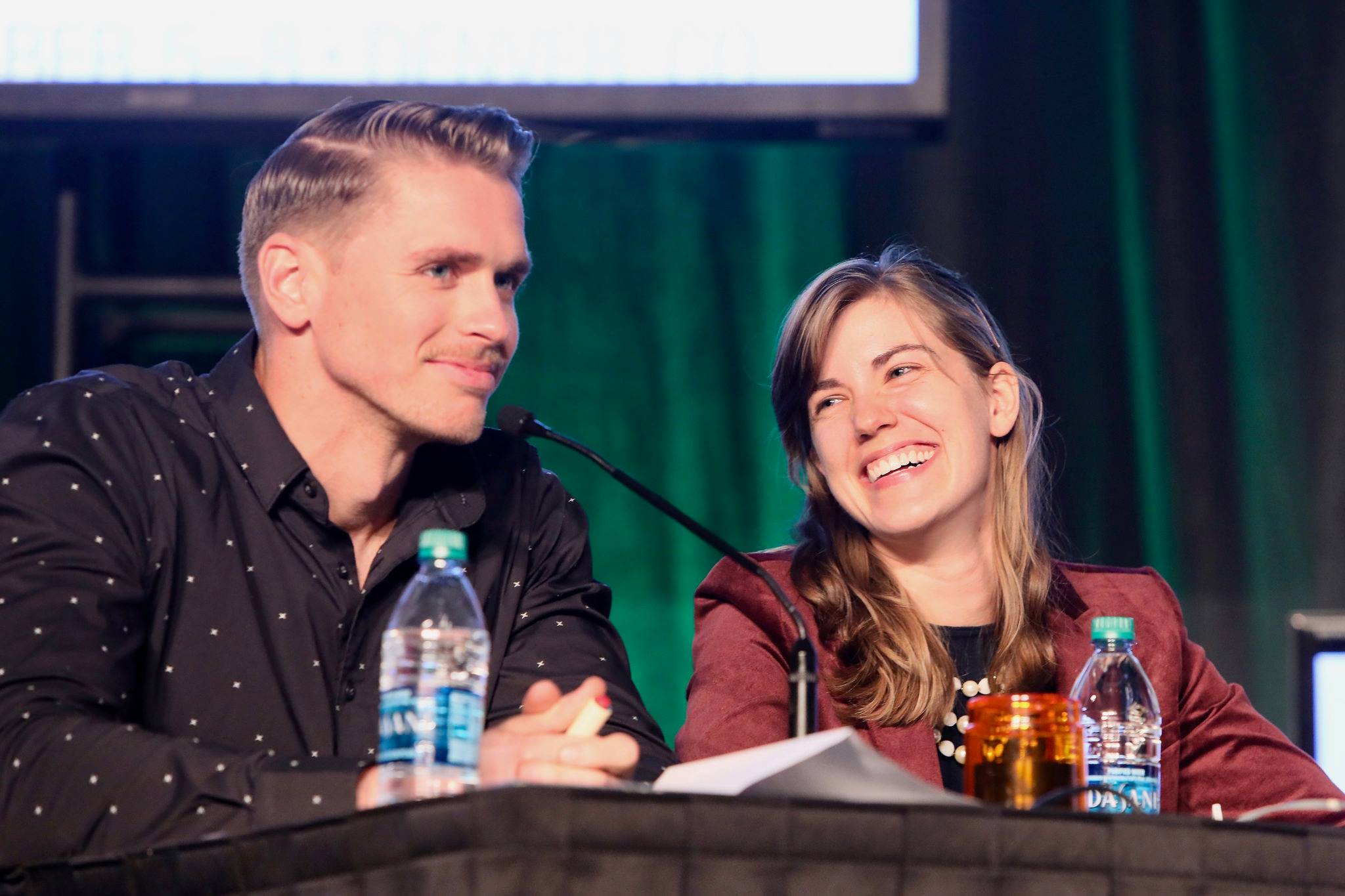 National Linnaean Games Competition

Recent Award Recipients
To date 666 graduate students have received funding from UD's Graduate and Professional Education to pursue professional development.
Daniel Arbucias Daniel
PROGRAM: Political Science and International Relations
VENUE: Daniel Arbucias -- Phoenixville, PA, United States
PRESENTATION: July 25, 2018
Angela Maria Bohorquez Oviedo
PROGRAM: Political Science and International Relations
VENUE: Thirteenth International Conference on Interdisciplinary Social Sciences -- Granada, Spain
PRESENTATION: July 25, 2018
Angela Harris
PROGRAM: School Psychology
VENUE: International School Psychology Association Conference -- Tokyo, Japan
PRESENTATION: July 25, 2018
Yuliya Brel
PROGRAM: Urban Affairs and Public Policy
VENUE: ISTR 2018 International Conference and PhD Workshop -- Amsterdam, Netherlands
PRESENTATION: July 10, 2018
Khem Raj Ghusinga
PROGRAM: Electrical and Computer Engineering
VENUE: Workshop on "Mathematical Approaches to Cell-Cell Communication and Collective Behaviours" at the Banff International Research Station -- Banff, Canada
PRESENTATION: July 8, 2018
Brett Slifer
PROGRAM: Music
VENUE: International Trombone Festival -- Iowa City, IA, United States
PRESENTATION: July 8, 2018
Daniela Avelar Guerrero
PROGRAM: Education
VENUE: Child Language Symposium -- Reading, United Kingdom
PRESENTATION: June 25, 2018
Joshua Lansford
PROGRAM: Chemical Engineering
VENUE: Gordon Research Conference on Catalysis -- New London, NH, United States
PRESENTATION: June 24, 2018
Joseph Gradone
PROGRAM: Oceanography
VENUE: SCAR Open Science Conference -- Davos, Switzerland
PRESENTATION: June 18, 2018
Katrina Milbocker
PROGRAM: Psychology
VENUE: Research Society on Alcoholism and Fetal Alcohol Spectrum Disorder Study Group Pre-Conference -- San Diego, CA, United States
PRESENTATION: June 16, 2018
kuang lu
PROGRAM: Computational Science and Engineering
VENUE: The 23rd International Conference on Natural Language & Information Systems -- Paris, France
PRESENTATION: June 13, 2018
Elias Gross
PROGRAM: Music
VENUE: Nief-Norf Summer Festival -- Knoxville, TN, United States
PRESENTATION: June 11, 2018
Samuel Scinto
PROGRAM: Chemistry and Biochemistry
VENUE: Gordon Research Conference - Bioorganic Chemistry -- Andover, NH, United States
PRESENTATION: June 8, 2018
jing xu
PROGRAM: Energy and Environmental Policy
VENUE: The Asian Conference on Sustainability, Energy & the Environment (ACSEE2018) -- kobe, Japan
PRESENTATION: June 8, 2018
yao li
PROGRAM: Geography
VENUE: ASCE/World Environmental & Water Resources Congress 2018 -- Minneapolis, MN, United States
PRESENTATION: June 4, 2018
Nancy Naranjo Garcia
PROGRAM: Foreign Languages and Literatures
VENUE: The Asian Conference on Cultural Studies -- Kobe, Japan
PRESENTATION: June 1, 2018
MINYOUNG YUN
PROGRAM: Mechanical Engineering
VENUE: 14th International Conference on Flow Processes in Composite Materials -- Lulea, Sweden
PRESENTATION: May 30, 2018
Mohammad Alsulmi
PROGRAM: Computer Science
VENUE: 2018 IEEE Conference on Computational Intelligence in Bioinformatics and Computational Biology -- Saint Louis, MO, United States
PRESENTATION: May 30, 2018
Kelsey Bryk
PROGRAM: Biomechanics and Movement Science
VENUE: American College of Sport's Medicine 65th Annual Meeting -- Minneapolis, MN, United States
PRESENTATION: May 29, 2018
Joseph Stock
PROGRAM: Applied Physiology
VENUE: ACSM's 65th Annual Meeting -- Minneapolis, MN, United States
PRESENTATION: May 29, 2018
Jie Zhang
PROGRAM: Electrical and Computer Engineering
VENUE: 2018 Compound Semiconductor Week -- Boston, MA, United States
PRESENTATION: May 29, 2018
Kazy Shariar
PROGRAM: Electrical and Computer Engineering
VENUE: COMPOUND SEMICONDUCTOR WEEK 2018 -- Cambridge, MA, United States
PRESENTATION: May 29, 2018
Qi Cheng
PROGRAM: Electrical and Computer Engineering
VENUE: 2018 CSW -- Boston, MA, United States
PRESENTATION: May 29, 2018
Jennifer Myers
PROGRAM: Art Conservation
VENUE: CMOP (Conference on Modern Oil Paints) -- Amsterdam, Netherlands
PRESENTATION: May 23, 2018