Professional Development Award
Around the World
The Professional Development Award for Graduate Students is supported by the Office of the Provost to help University of Delaware graduate students participate in significant professional conferences pertaining to their field of study. Conference travel is essential to the academic growth and development of graduate students. It affords opportunities for presentation of student work in a professional setting, as well as opportunities for networking and exposure to the latest academic research. We invite you to explore our world view and see where our students have been and where they are heading to next.
This map was added 12-15-2015 and is a growing snapshot of our recent award recipients.
In the Spotlight
Below is a sampling of the most recent award recipients.
Rachel Slotter
PROGRAM: Disaster Science & Management
The Third Northern European Conference on Emergency and Disaster Studies
Amsterdam, Netherlands
March 21, 2018
From March 21st – 23rd, I had the opportunity to attend the Third Annual Northern European Conference on Emergency and Disaster Studies held in Amsterdam. At this conference, I presented a paper assessing the ethical challenges in conducting disaster field research in small communities devastated by disasters. This work is part of an on-going project and the feedback received during this conference will prove invaluable going forward.
Beyond my presentation, I also had the opportunity to interact with a number of European and American disaster scholars. One of the most interesting aspects of this conference was learning firsthand how differently research ethics are considered between the United States and some European nations. This difference came across clearly in a number of presentations during our panel focused on ethical disaster research. Many fruitful conversations evolved from these differences and I was able to learn a great deal about the considerations of research ethics from a number of notable disaster scholars from across Europe. This was by far the most valuable experience for me during the conference. I was not only able to understand firsthand how this difference plays out in a number of research studies, but this insight will prove invaluable throughout my career when I utilize the works published from European scholars.
This was my first opportunity to present at an international academic conference. I cannot thank the Office of Graduate and Professional Education enough for providing me with this opportunity. This was an invaluable learning and professional development experience for me that I know will be very useful for the remainder of my time as a doctoral student.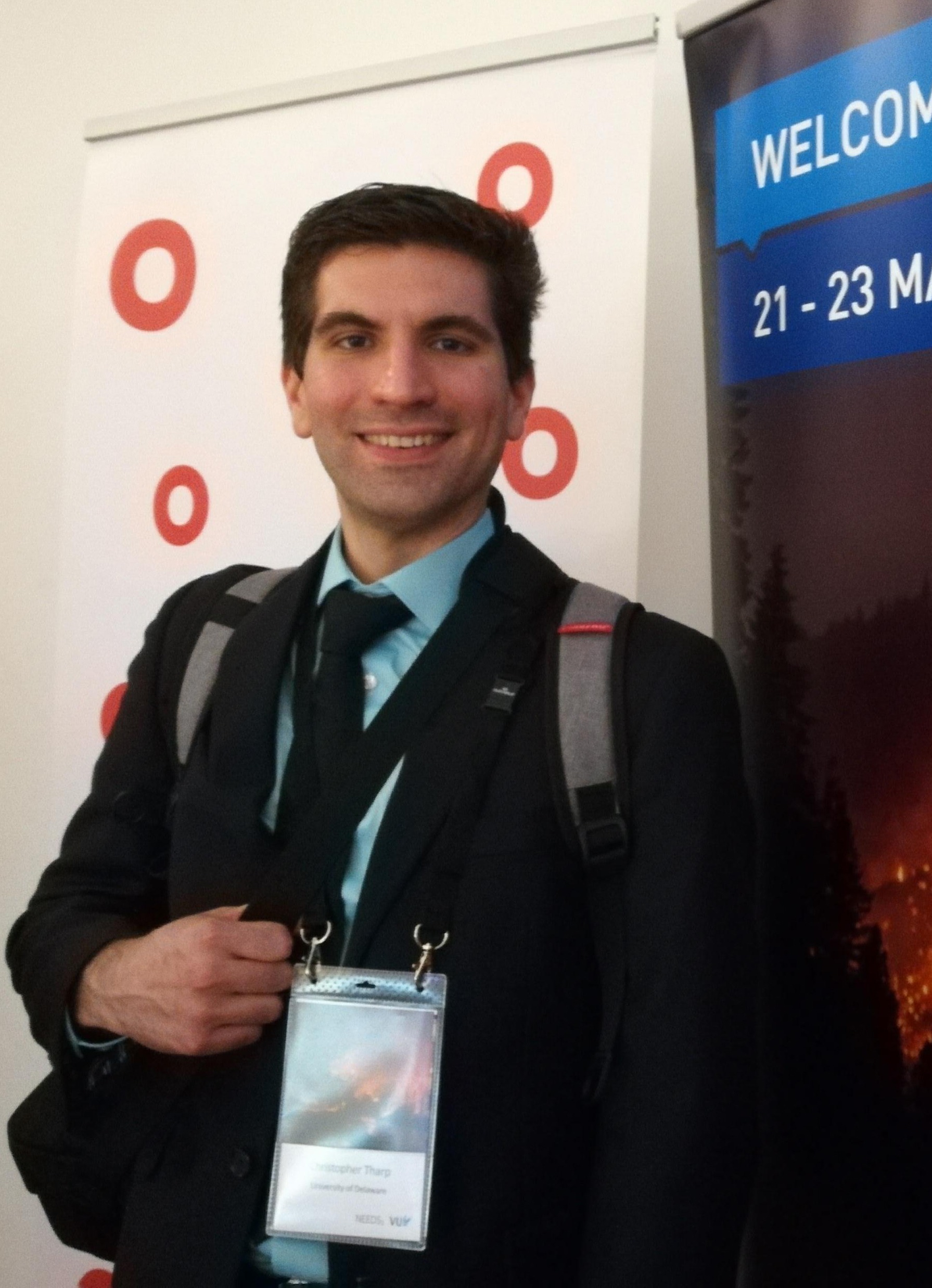 Christopher Tharp
PROGRAM: Political Science & International Relations
NEEDS3 – 3rd Northern European conference on Emergency and Disaster Studies
Amsterdam, Netherlands
March 21, 2018
The NEEDS 2018 conference is the third Northern European Conference on Emergency and Disaster Studies.  The aim of the NEEDS conference is to explore crisis and disaster research and management: to review the history of the field, to assess the status quo, and to outline directions and strategies for future research.  As stated on the NEEDS 2018 website, "The conference wishes to harness its broad, interdisciplinary expertise by gathering crisis and disaster researchers from academic institutions and practitioners from the crisis and disaster management community to build networks and to discuss the most pressing issues in disaster research across the academic and practical disciplines" (n.p.).
My research is on cultural memory and disasters, particularly the ways in which visual and material culture have preserved the memories of 9/11.  I presented my paper on a Memory and Disasters panel along with eight other researchers who each discussed specific real time cases and examples of disasters and different forms of memory.  After I delivered my presentation, participants in the conference asked questions, and I received indispensable feedback from the renowned and accomplished disaster anthropologist Dr. Susanna Hoffman who delivered closing remarks.  After the panel, I was fortunate enough to be able to have a conversation with Dr. Hoffman over lunch about my research, and about her projects.  The advice that she gave is invaluable to me.
Over the course of the three-day NEEDS conference, I met and networked with dozens of scholars from different disciplines and practitioners in the disaster field who offered me advice and related their research and fieldwork experiences to me.  Because I had the opportunity to attend this conference, I was able to showcase my work to the disaster community, I received helpful support and critiques, and I had many generative discussions about my future as a researcher.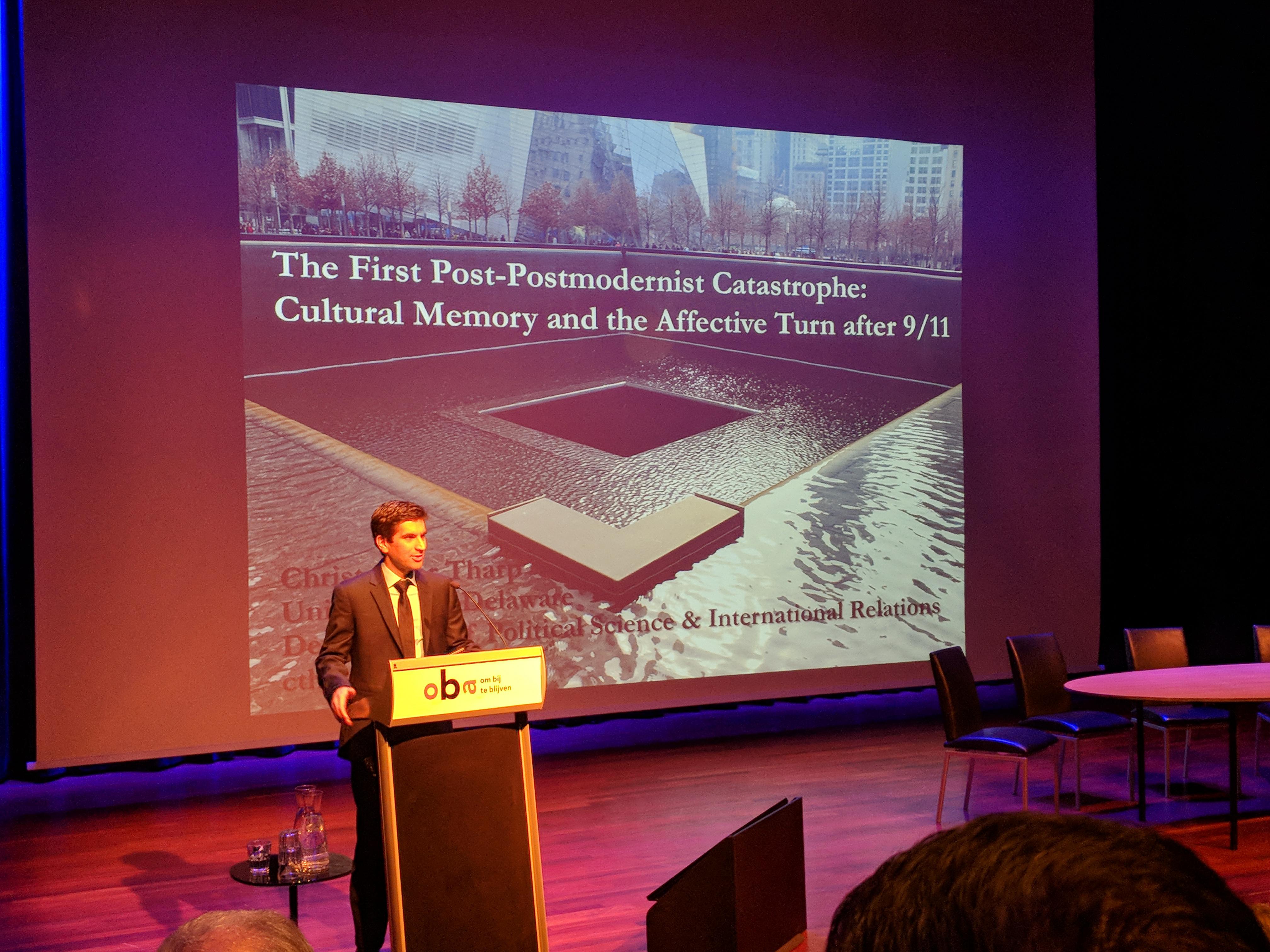 Recent Award Recipients
To date 666 graduate students have received funding from UD's Graduate and Professional Education to pursue professional development.
Mackenzie Perkett
PROGRAM: Health Promotion
VENUE: 39th Annual Meeting and Scientific Sessions of the Society of Behavioral Medicine (SBM) -- New Orleans, LA, United States
PRESENTATION: April 11, 2018
Rachel Blair
PROGRAM: Health Promotion
VENUE: Society of Behavioral Medicine -- New Orleans, LA, United States
PRESENTATION: April 11, 2018
Erica Rathie
PROGRAM: Health Promotion
VENUE: Society of Behavioral Medicine -- New Orleans, LA, United States
PRESENTATION: April 11, 2018
Keith Fishlock
PROGRAM: Nursing
VENUE: ENRS -- Newark, NJ, United States
PRESENTATION: April 11, 2018
Paul Sheslow Paul
PROGRAM: Nursing
VENUE: Eastern Nursing Research Society (ENRS) -- Newark, NJ, United States
PRESENTATION: April 11, 2018
Aaron Russell
PROGRAM: Water Science and Policy
VENUE: American Association of Geographers Annual Conference -- New Orleans, LA, United States
PRESENTATION: April 10, 2018
Chelsea Leiper
PROGRAM: Geography
VENUE: American Association of Geographers Annual Meeting -- New Orleans, LA, United States
PRESENTATION: April 10, 2018
Daniel Moore
PROGRAM: Geography
VENUE: Association of American Geographers (AAG) -- New Orleans, LA, United States
PRESENTATION: April 10, 2018
Nari Kim
PROGRAM: Geography
VENUE: American Association of Geographers -- New Orleans, LA, United States
PRESENTATION: April 10, 2018
Jaime Barrett
PROGRAM: Geography
VENUE: American Association of Geographers Annual Meeting -- New Orleans, LA, United States
PRESENTATION: April 10, 2018
Israt Jahan
PROGRAM: Geography
VENUE: American Association of Geographers Annual Meeting 2018 -- New Orleans, LA, United States
PRESENTATION: April 10, 2018
Samantha Speck
PROGRAM: Geography
VENUE: American Association of Geographers -- New Orleans, LA, United States
PRESENTATION: April 10, 2018
Qiuxi Li
PROGRAM: Geography
VENUE: American Association of Geographer Annual Conference -- New Orleans, OH, United States
PRESENTATION: April 9, 2018
Nathan Thayer
PROGRAM: Geography
VENUE: American Association of Geographers 2018 Annual Meeting -- New Orleans, LA, United States
PRESENTATION: April 9, 2018
Todd Sundberg
PROGRAM: Geography
VENUE: AAG Annual Meeting: NEW ORLEANS 2018 -- New Orleans, LA, United States
PRESENTATION: April 9, 2018
Marcia Shirilla
PROGRAM: Education
VENUE: US Play Coalition -- Clemson, SC, United States
PRESENTATION: April 8, 2018
Hannah Clipp
PROGRAM: Entomology and Wildlife Ecology
VENUE: American Ornithology 2018 -- Tucson, AZ, United States
PRESENTATION: April 8, 2018
Kalyn McDonough
PROGRAM: Urban Affairs and Public Policy
VENUE: Social Justice Through Sport and Exercise Psychology -- Minneapolis, MN, United States
PRESENTATION: April 6, 2018
Anna Nuzzolese
PROGRAM: Political Science and International Relations
VENUE: Midwestern Political Science Association Seventy Sixth Annual Conference -- Chicago, IL, United States
PRESENTATION: April 5, 2018
Tobias Lemke
PROGRAM: Political Science and International Relations
VENUE: Annual Meeting of the International Studies Association -- San Fransisco, CA, United States
PRESENTATION: April 5, 2018
Hayley Morrill
PROGRAM: Political Science and International Relations
VENUE: Midwest Political Science Association -- Chicago, IL, United States
PRESENTATION: April 5, 2018
Piotr Bielinski
PROGRAM: Political Science and International Relations
VENUE: Annual Midwest Political Science Association conference -- Chicago, IL, United States
PRESENTATION: April 5, 2018
Emily Rowe
PROGRAM: Sociology
VENUE: Southern Sociological Society -- New Orleans, LA, United States
PRESENTATION: April 4, 2018
Gowri Sriramagiri
PROGRAM: Electrical and Computer Engineering
VENUE: Materials Research Society (MRS) Spring 2018 -- Phoenix, AZ, United States
PRESENTATION: April 2, 2018