Professional Development Award
Around the World
The Professional Development Award for Graduate Students is supported by the Office of the Provost to help University of Delaware graduate students participate in significant professional conferences pertaining to their field of study. Conference travel is essential to the academic growth and development of graduate students. It affords opportunities for presentation of student work in a professional setting, as well as opportunities for networking and exposure to the latest academic research. We invite you to explore our world view and see where our students have been and where they are heading to next.
This map was added 12-15-2015 and is a growing snapshot of our recent award recipients.
In the Spotlight
Below is a sampling of the most recent award recipients.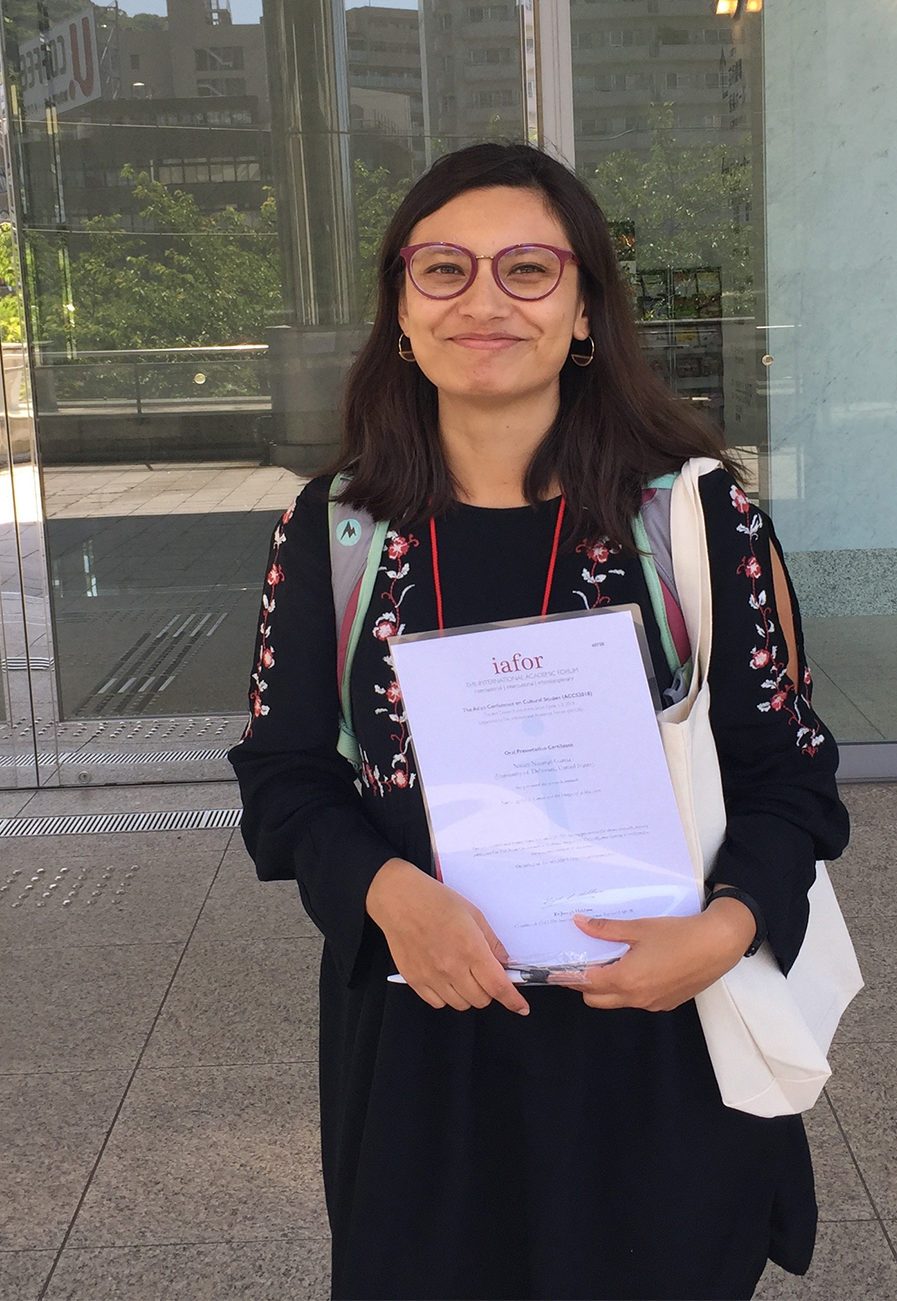 Nancy Elizabeth Naranjo Garcia
PROGRAM: Foreign Languages & Literatures
The Asian Conference on Cultural Studies
Kobe, Japan
June 1, 2018
In the case of graduate studies on film and literature, conferences and symposiums are places to find other research angles. In Kobe, Japan, at the Asian Conference on Cultural Studies in June 2018, I presented on cinema studies that consider the aesthetic of massacres, especially violence from the nation-state directed at political activists. The trajectory of my research incorporates both an artistic medium and a historical component unique to each region in the world; therefore, an international setting with panelists from a variety of fields fosters new perspectives. My context and area of study in the paper signal to Mexico in the year of 1968, which was when the notorious Tlatelolco massacre occurred on October 2, in order to better understand how audiovisual culture projects mass shootings and fascism. The academic conversation during the conference not only brought to my attention additional terminology like "cultural logos" to approach national representation, but the dialogue also affirmed that a larger community of scholars seeking to pose questions similar to mine. In the humanities, collaboration takes place at these venues when you can speak about sometimes-unpopular topics, for example, leftist thought and populism. In this vein, though I focus on Mexican films from a different time in history I still address contemporary pains provoked by current politics. To make arguments about Mexican films and politics from a university in the United States can bifurcate into polemical opinions. Thus a conference or a symposium can stage the place for more in-depth talks about international relations in academia, for instance, how universities presently stand up for their immigrant students, along with the theses we present on in the panel sessions. Mexico in 1968 and in 2018, which is a presidential election year, has taken on new forms after attending a conference in Japan.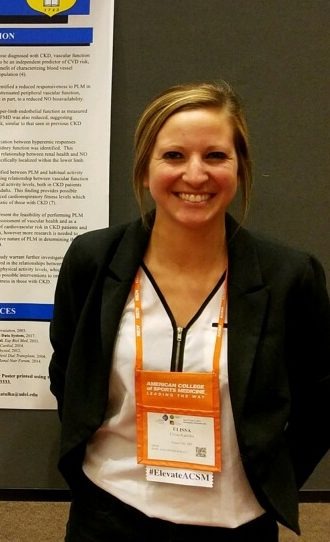 Elissa Katulka
PROGRAM: Applied Physiology
American College of Sports Medicine 65th Annual Meeting
Minneapolis, Minnesota, United States
May 29, 2018
My experience at American College of Sport's Medicine's (ACSM) 65th Annual Meeting in Minneapolis, MN, was notable for many reasons.  Being a doctoral student, we are encouraged and expected to share our work with other researchers through publishing data, which has many benefits regarding the expansion of scientific knowledge and understanding for the research community.  However, the experiences that are obtained at conferences and meetings allow researchers to directly interact with others while sharing their data and common interests regarding ways to expand this knowledge and reach a common goal.
The experience I had was enjoyable for a variety of unique reasons, being that this was the first national meeting I have attended. Beyond this, I also had the opportunity to present in a "thematic poster" session, which can be described as a combination of a "free communication" poster session and an oral presentation. This abstract presentation was eligible for awards through individual interest groups, or "subgroups" within ACSM which have focuses on specific topics within the research fields of health science and sports medicine.  I gratefully achieved the award for 1st place within the interest group that I had submitted my abstract, marking another reason for my truly exceptional experience during my time at ACSM.
With the professional development assistance through the Office of Graduate and Professional Education, I was provided the resources to adequately prepare and perform my presentation to the best of my ability at ACSM.  In addition, this assistance gave me the opportunity to network with a wide variety of individuals such as colleagues from prior institutions that I have attended, current and prior University of Delaware students and faculty, and new acquaintances from universities and institutions across the country. Moreover, it allowed me to further develop my understanding and appreciation for health science research, the individuals who perform it, and to expand my horizons regarding my future goals as I continue my graduate career at UD.

Recent Award Recipients
To date 755 graduate students have received funding from UD's Graduate and Professional Education to pursue professional development.
Oshini Ekanayake
PROGRAM: Chemistry and Biochemistry
VENUE: 32nd Annual Symposium of The Protein Society -- Boston, MA, United States
PRESENTATION: July 9, 2018
Khem Raj Ghusinga
PROGRAM: Electrical and Computer Engineering
VENUE: Workshop on "Mathematical Approaches to Cell-Cell Communication and Collective Behaviours" at the Banff International Research Station -- Banff, Canada
PRESENTATION: July 8, 2018
Brett Slifer
PROGRAM: Music
VENUE: International Trombone Festival -- Iowa City, IA, United States
PRESENTATION: July 8, 2018
Corey Koller
PROGRAM: Biomechanics and Movement Science
VENUE: 8th World Congress of Biomechanics -- Dublin, Ireland
PRESENTATION: July 8, 2018
Samuel Cogar
PROGRAM: Applied Mathematics
VENUE: 2018 SIAM Annual Meeting -- Portland, OR, United States
PRESENTATION: July 8, 2018
Nicole Ray
PROGRAM: Mechanical Engineering
VENUE: World Congress of Biomechanics -- Dublin, Ireland
PRESENTATION: July 8, 2018
Jielin Li
PROGRAM: Electrical and Computer Engineering
VENUE: 2018 IEEE International Symposium on Antennas and Propagation -- Newark, DE, United States
PRESENTATION: July 8, 2018
Virginia Berndt
PROGRAM: Sociology
VENUE: 43rd Annual Natural Hazards Workshop -- Broomfield, CO, United States
PRESENTATION: July 8, 2018
Irem Celen
PROGRAM: Bioinformatics and Systems Biology
VENUE: 26th Conference on Intelligent Systems for Molecular Biology (ISMB2018) -- Chicago, IL, United States
PRESENTATION: July 6, 2018
Agnijit DasGupta
PROGRAM: Computer Science
VENUE: International Society of Computational Biology -- Chicago, MI, United States
PRESENTATION: July 6, 2018
Juniper Lake
PROGRAM: Bioinformatics and Systems Biology
VENUE: Intelligent Systems for Molecular Biology -- Chicago, IL, United States
PRESENTATION: July 6, 2018
Stefan Bartell
PROGRAM: Linguistics and Cognitive Science
VENUE: Ambigo: Workshop on Ambiguity – Theory, Development, and Processing -- Göttingen, Germany
PRESENTATION: July 4, 2018
Sara Gartland
PROGRAM: Education
VENUE: PME 42 (42nd Annual Meeting of the International Group for the Psychology of Mathematics Education) -- Umea, Sweden
PRESENTATION: July 3, 2018
Eric Chen
PROGRAM: Materials Science and Engineering
VENUE: OSA Advanced Photonics Congress -- Zurich, Switzerland
PRESENTATION: July 2, 2018
Matthew Lewis
PROGRAM: Materials Science and Engineering
VENUE: 60th Electronic Materials Conference -- Santa Barbara, CA, United States
PRESENTATION: June 27, 2018
Melissa DiFabio
PROGRAM: Biomechanics and Movement Science
VENUE: National Athletic Trainers Association Clinical Symposia -- New Orleans, LA, United States
PRESENTATION: June 26, 2018
Daniela Avelar Guerrero
PROGRAM: Education
VENUE: Child Language Symposium -- Reading, United Kingdom
PRESENTATION: June 25, 2018
Jing-Hua Tzeng
PROGRAM: Civil Engineering
VENUE: 111th A&WMA Annual Conference & Exhibition -- Hartford, CT, United States
PRESENTATION: June 25, 2018
Joshua Lansford
PROGRAM: Chemical Engineering
VENUE: Gordon Research Conference on Catalysis -- New London, NH, United States
PRESENTATION: June 24, 2018
Cara Ferro
PROGRAM: Music
VENUE: Spotlight on Opera -- Shreveport, LA, United States
PRESENTATION: June 24, 2018
Patrick Cronin
PROGRAM: Electrical and Computer Engineering
VENUE: Design Automation Conference -- San Francisco, CA, United States
PRESENTATION: June 24, 2018
Xiaoxue Zhang
PROGRAM: Education
VENUE: ASEE (American Society for Engineering Education) Annual Conference -- Salt Lake City, UT, United States
PRESENTATION: June 24, 2018
Sagar Doshi
PROGRAM: Mechanical Engineering
VENUE: European Conference on Composite Materials -- Newark, DE, United States
PRESENTATION: June 24, 2018
Ying Peng
PROGRAM: Animal and Food Science
VENUE: 256th ACS National Meeting & Exposition -- Boston, MA, United States
PRESENTATION: June 19, 2018