Professional Development Award
Around the World
The Professional Development Award for Graduate Students is supported by the Office of the Provost to help University of Delaware graduate students participate in significant professional conferences pertaining to their field of study. Conference travel is essential to the academic growth and development of graduate students. It affords opportunities for presentation of student work in a professional setting, as well as opportunities for networking and exposure to the latest academic research. We invite you to explore our world view and see where our students have been and where they are heading to next.
This map was added 12-15-2015 and is a growing snapshot of our recent award recipients.
In the Spotlight
Below is a sampling of the most recent award recipients.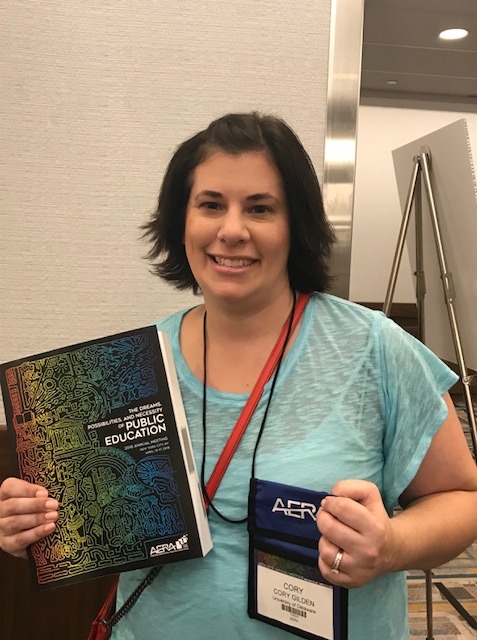 Corina Gilden
PROGRAM: Human Development & Family Studies
2018 American Education Research Association (AERA) Annual Meeting
New York, New York, United States
April 13, 2018
The 2018 American Education Research Association (AERA) Annual Meeting took place on Friday, April 13-17 in New York City, drawing nearly 15,000 participants to the heart of the Big Apple. The conference is one of the largest in the field, featuring graduate student seminars, mentoring sessions, roundtable and poster sessions, journal talks, networking events, and more, all spread throughout nine hotels in the Times Square area. Key sessions did not shy away from hot button issues, with lectures presented about racial injustice and segregation in public education, adaptive learning and disabilities, public policy, sexual harassment, and gun violence.
I presented my work titled, "Enhancing the Individualized Education Program Team: Mothers' In-School Observations of Their Children With Disabilities" at a roundtable session about Observing Learners and Teachers in Classroom Settings, part of the classroom observation SIG. The presentations given during my roundtable session were diverse (one being about observation as part of virtual professional development and another about principal observation) and gave me a chance to meet with professors and graduate students from Texas, Missouri, New York, Pennsylvania, and even Australia! At such a huge conference participating in the roundtable session was such a wonderful opportunity to have a discussion about my research and network with other aspiring academics. I was honored when one of the attendees told me he came to the session specifically to hear by presentation! The thoughtful questions and discussion centered around my study were inspiring and let me know that I'm on the right path with my research.
Exploring the vendors and exhibitors at the conference also allowed me to meet new authors, take advantage of deals for conference attendees, and learn about new products. I am very grateful for having received the Professional Development Grant, which enabled me to add this impactful conference experience to my CV.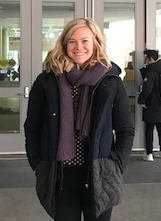 Kalyn McDonough
PROGRAM: Urban Affairs & Public Policy
Social Justice through Sport and Exercise Psychology
Minneapolis, Minnesota, United States
April 5, 2018
Through the support of the University's Office of Graduate and Professional Education I was provided the opportunity to fly out to the University of Minnesota, and present at the Social Justice through Sport and Exercise Psychology Conference. At the conference, I presented a formative evaluation on the Ferris Falcon's Lacrosse program, which is the first lacrosse team of its kind in a Level V juvenile facility in the United States. I presented the formative evaluation, which included a logic model, from a practitioner and coaching standpoint. To the audience of sport coaches and scholars, I hoped to highlight the successes and challenges of coaching a group of young men who are incarcerated and positioning the work within a larger framework of social justice. In presenting my paper, along with three other panelists, I was able to see how practitioners and researchers were executing and studying the use of sport for positive youth development in a variety of sports and settings. Although my work is often positioned at the intersectionality of criminology and sport, the common themes of race, gender, and socio-economic status discussed at the conference resonated with my work. It was a tremendous opportunity to attend the conference because it allowed me to expand my view of the work, think about the issues through a variety of lens, and learn practical as well as empirical methods to implement in my own work moving forward.

Recent Award Recipients
To date 671 graduate students have received funding from UD's Graduate and Professional Education to pursue professional development.
Sarah Weiskopf
PROGRAM: Entomology and Wildlife Ecology
VENUE: The Society for Conservation Biology Asia Section -- Singapore, Singapore
PRESENTATION: June 29, 2016
Haoran Wei
PROGRAM: Computer Science
VENUE: IEEE CLOUD 2016 -- San Francisco, CA, United States
PRESENTATION: June 27, 2016
Yanmiao Xie
PROGRAM: Education
VENUE: Summer Institute on Bounded Rationality of the Max Planck Institute for Human Development -- Berlin, Germany
PRESENTATION: June 27, 2016
Andrew Borowski
PROGRAM: Mechanical Engineering
VENUE: ASEE's 123rd Annual Conference & Exposition -- New Orleans, LA, United States
PRESENTATION: June 26, 2016
Nikodimos Gebreselassie
PROGRAM: Chemical Engineering
VENUE: Metabolic Engineering 11 -- Kobe, Japan
PRESENTATION: June 26, 2016
Jennifer Au
PROGRAM: Chemical Engineering
VENUE: Metabolic Engineering 11 -- Kobe, Japan
PRESENTATION: June 26, 2016
Camil Diaz
PROGRAM: Chemical Engineering
VENUE: Metabolic Engineering 11 Conference -- Kobe, Japan
PRESENTATION: June 26, 2016
Christopher Long
PROGRAM: Chemical Engineering
VENUE: Metabolic Engineering 11 -- Kobe, Japan
PRESENTATION: June 26, 2016
Jacqueline Gonzalez
PROGRAM: Chemical Engineering
VENUE: Metabolic Engineering 11 -- Kobe, Japan
PRESENTATION: June 26, 2016
Brian McConnell
PROGRAM: Chemical Engineering
VENUE: Metabolic Engineering 11 -- Kobe, Japan
PRESENTATION: June 26, 2016
Amelia Lanier
PROGRAM: Biomechanics and Movement Science
VENUE: American Society of Engineering Education Annual Conference -- New Orleans, LA, United States
PRESENTATION: June 26, 2016
Andrea DiTrani
PROGRAM: Biomechanics and Movement Science
VENUE: National Athletic Trainers' Association Annual Meeting and Clinical Symposia -- Baltimore, MD, United States
PRESENTATION: June 22, 2016
Alexander Schroth
PROGRAM: Geography
VENUE: 32nd Conference on Agricultural and Forest Meteorology 22nd Symposium on Boundary Layers and Turbulence Third Conference on Biogeosciences -- Salt Lake City, UT, United States
PRESENTATION: June 20, 2016
Jixin Liu
PROGRAM: Chemistry and Biochemistry
VENUE: Gordon Research Conference, Heterocyclic Compounds -- Newport, RI, United States
PRESENTATION: June 19, 2016
Scott Shuler
PROGRAM: Chemistry and Biochemistry
VENUE: Gordon Research Conference-Heterocyclic Compounds -- Newport, RI, United States
PRESENTATION: June 19, 2016
Kirk Shimkin
PROGRAM: Chemistry and Biochemistry
VENUE: Gordon Research Conference - Heterocyclic Compounds -- Newport, RI, United States
PRESENTATION: June 19, 2016
Kenneth Hoadley
PROGRAM: Marine Studies
VENUE: 13th International Coral Reef Symposium -- Honolulu, HI, United States
PRESENTATION: June 19, 2016
Linda Grand
PROGRAM: Agricultural and Resource Economics
VENUE: Northeast Agricultural and Resource Economics Association) -- Bar Harbor, ME, United States
PRESENTATION: June 19, 2016
Sara Albrecht
PROGRAM: Agricultural and Resource Economics
VENUE: Northeast Agricultural and Resource Economics Association Annual Meeting and Workshop (NAREA) -- Bar Harbor, ME, United States
PRESENTATION: June 19, 2016
Kelsey Cobb
PROGRAM: Chemistry and Biochemistry
VENUE: Gordon Research Conference -- Newport, RI, United States
PRESENTATION: June 19, 2016
Julia Hagemeyer
PROGRAM: Marine Studies
VENUE: International Coral Reef Symposium (ICRS) -- Honolulu, HI, United States
PRESENTATION: June 19, 2016
Kelsey Miller
PROGRAM: Biological Sciences
VENUE: American Society of Microbiology -- Boston, MA, United States
PRESENTATION: June 16, 2016
Mengyin Yao
PROGRAM: Civil Engineering
VENUE: American society of microbiology: microbe 2016 -- Boston, United States
PRESENTATION: June 16, 2016
Yuqi Liu Liu
PROGRAM: Psychology
VENUE: International Multisensory Research Forum -- Suzhou, China
PRESENTATION: June 15, 2016