Professional Development Award
Around the World
The Professional Development Award for Graduate Students is supported by the Office of the Provost to help University of Delaware graduate students participate in significant professional conferences pertaining to their field of study. Conference travel is essential to the academic growth and development of graduate students. It affords opportunities for presentation of student work in a professional setting, as well as opportunities for networking and exposure to the latest academic research. We invite you to explore our world view and see where our students have been and where they are heading to next.
This map was added 12-15-2015 and is a growing snapshot of our recent award recipients.
In the Spotlight
Below is a sampling of the most recent award recipients.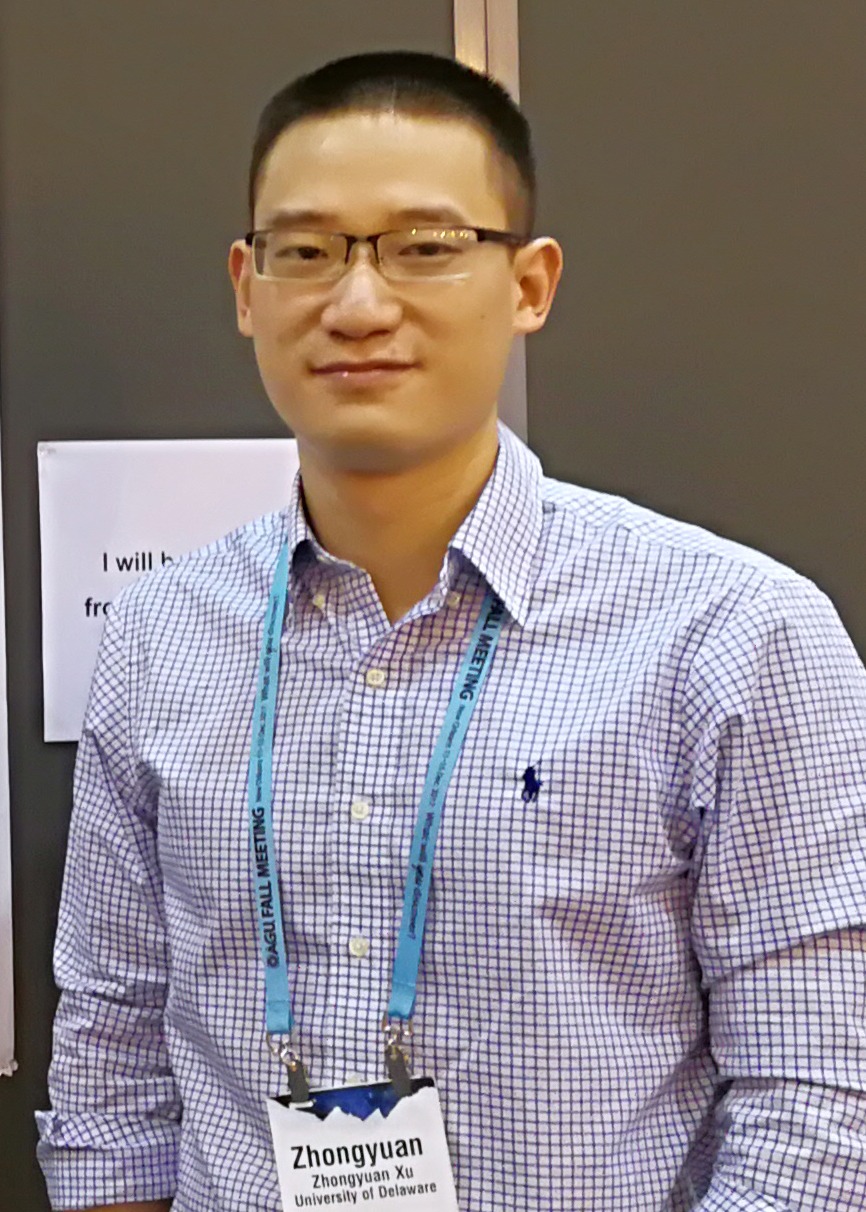 Zhongyuan Xu
PROGRAM: Water Science & Policy
AGU-2017
New Orleans, Louisiana, United States
December 11, 2017
I had a very nice trip to AGU 2017. This was my first time attending the AGU conference and had the opportunity to learn a lot. Firstly, preparing for the conference was not an easy job, putting together a poster to present my research took a lot of time, the figures had to be nice and clear and preparing an easy to understand introduction was challenging.
When I stepped into the Ernest N. Morial Convention Center I felt so excited about the conference. In the first four days, I read a lot of great posters and listened to many wonderful oral presentations. I found different thinkings on the same scientific question and different research objectives from the various presentations. In addition, I met a lot of people who are studying the same field as I am, communicating with them conveyed their different knowledge and techniques. On Friday, I present my poster. Many hydrologists from all over the world shared their thoughts on my research and provided many novel comments that really helped me and gave me a new attitude on my own research. I am very satisfied with this trip and plan to attend AGU again next year.
At last, I want to show my gratitude to the Office of Graduate and Professional Education for supporting my AGU trip, and my thanks to my advisor Dr. Holly Michael who provided help and suggestions in preparing for my AGU meeting attendance.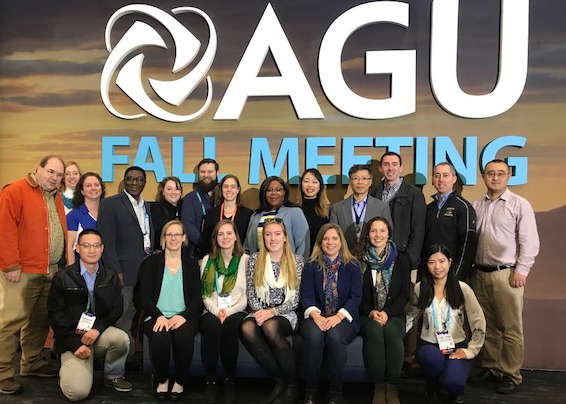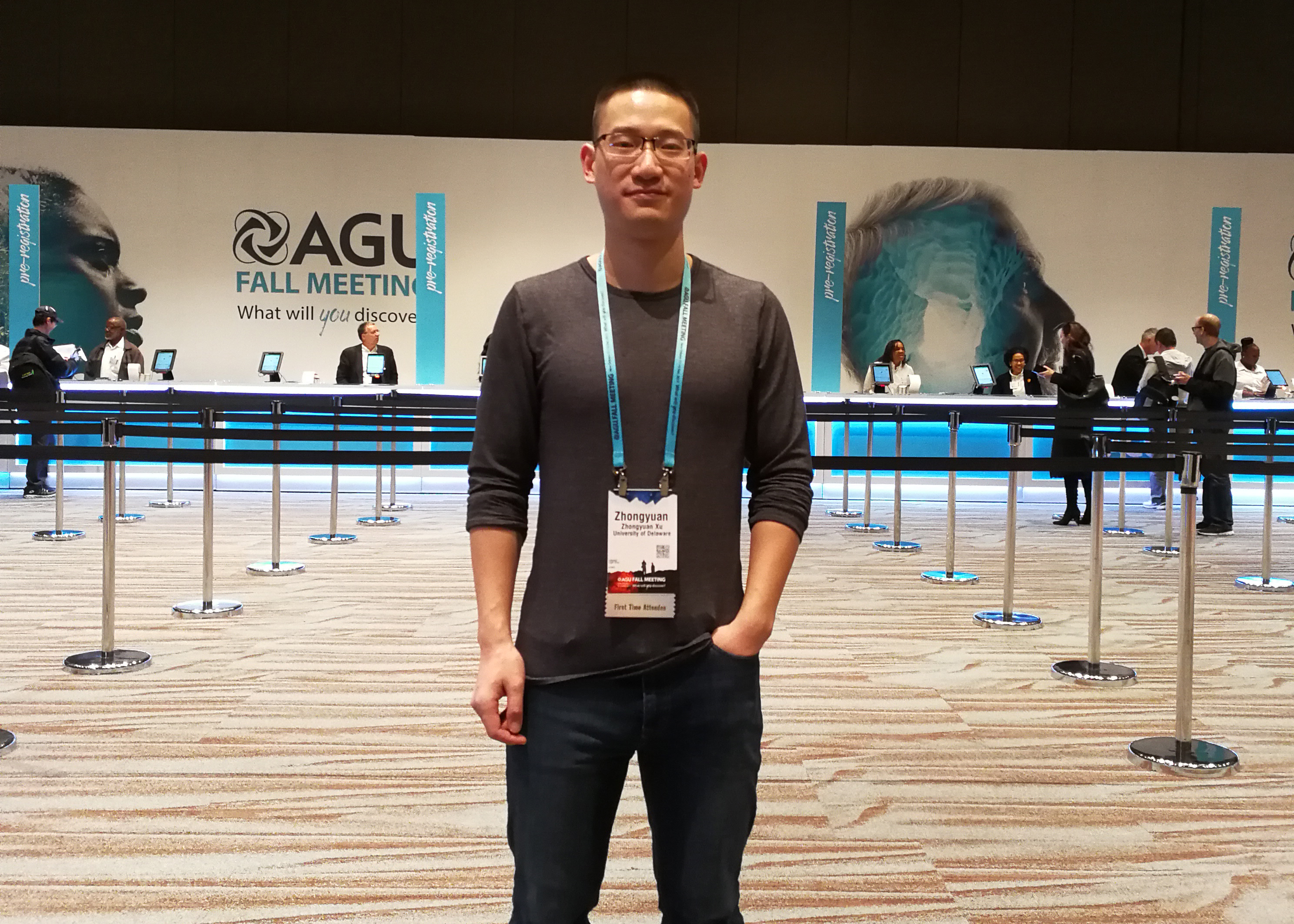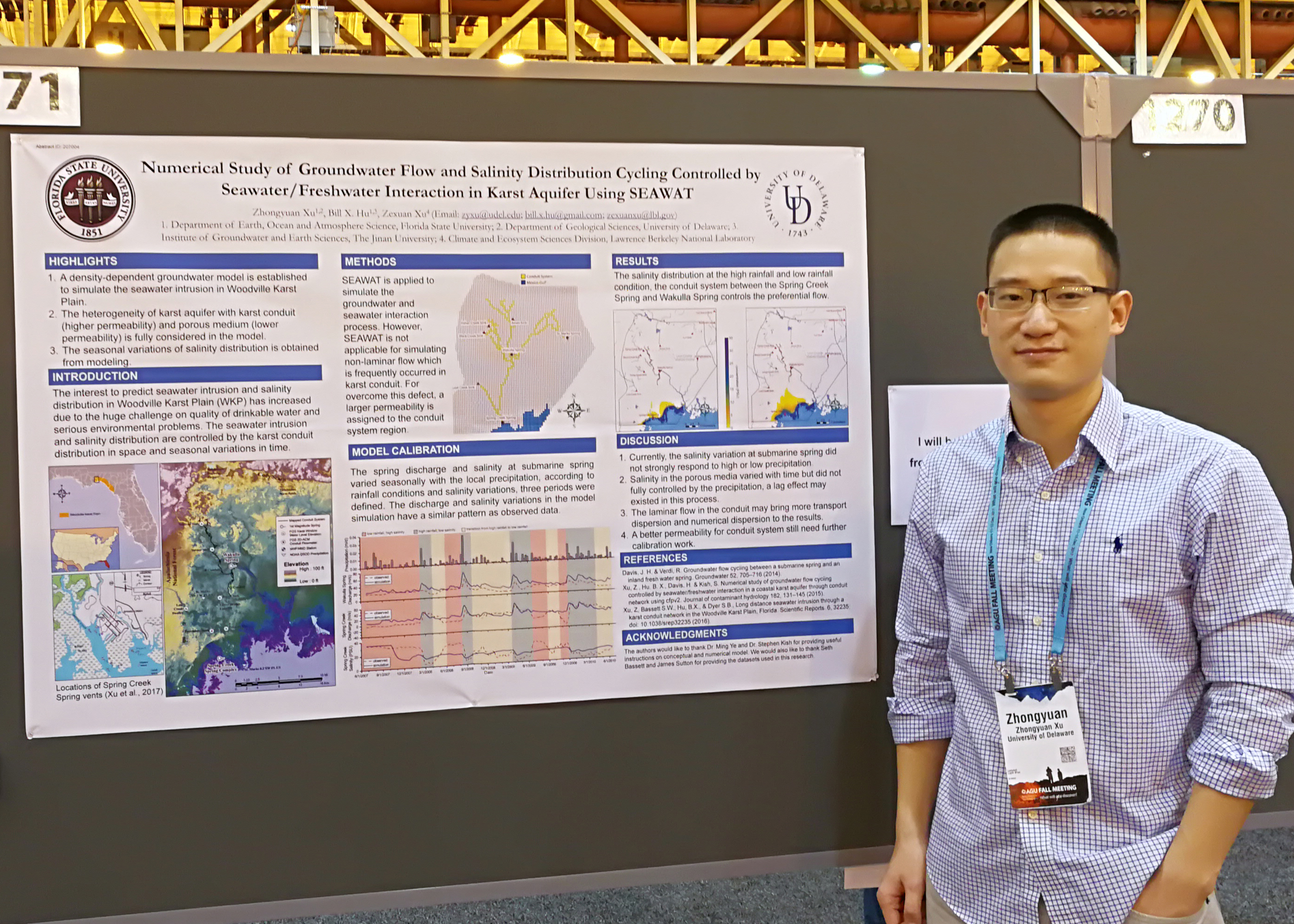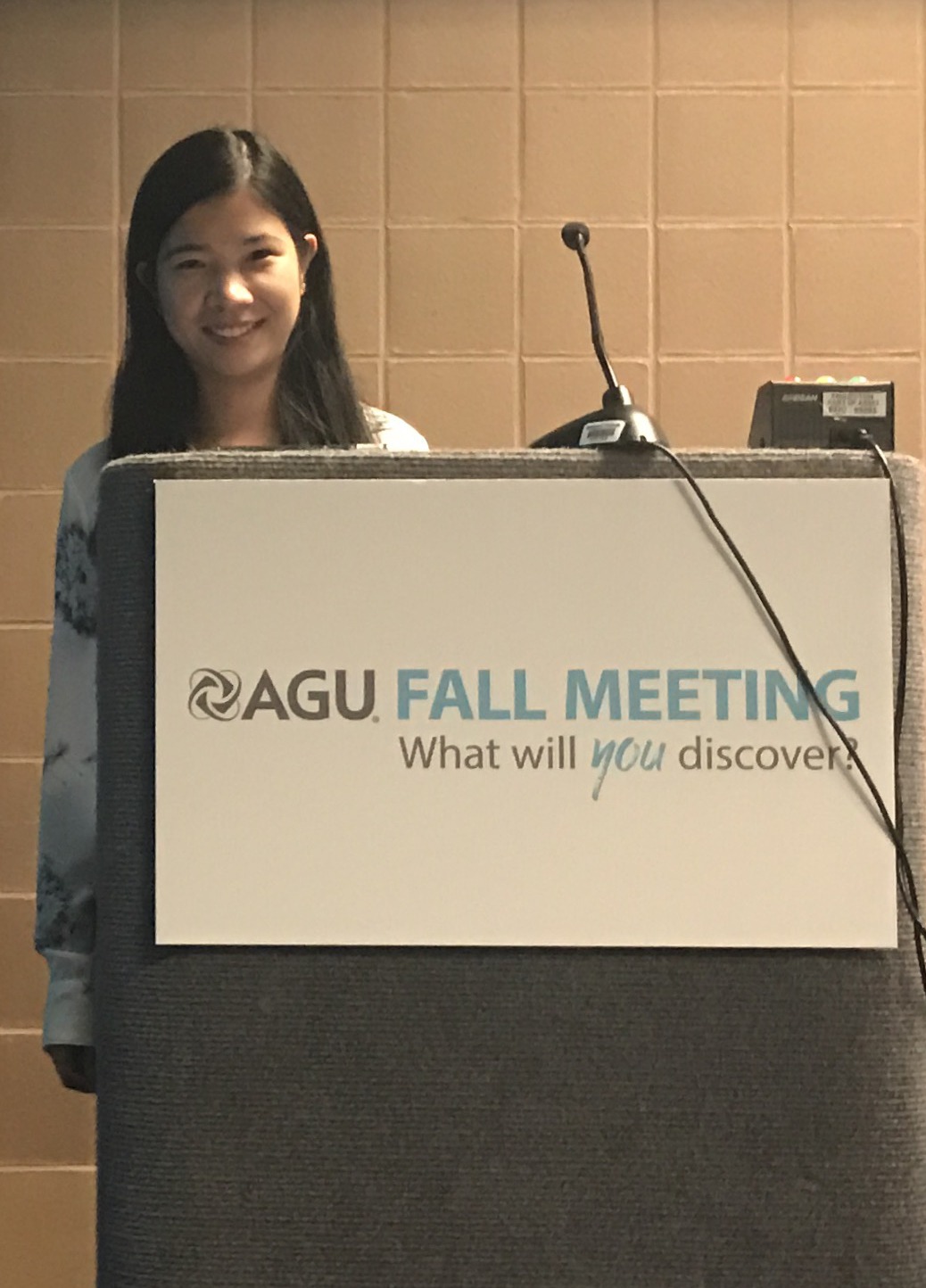 Yuanyuan Xu
PROGRAM: Oceanography
2017 AGU Fall Meeting
New Orleans, Louisiana, United States
December 11, 2017
This is the second time I attended the AGU fall meeting, the largest earth and space science meeting in the world. It was a great chance to share my work with the world and receive lots of good feedback from our colleagues.
I gave an oral presentation entitled, "Carbon and Nutrient Cycling and Transport at the Land-Ocean Interface: Current Understanding and Future Research Directions". I talked about the spatial distribution and temporal trend of ocean acidification in the east coast of United States. I was honored to present my work as a UD student to people from all over the world.
My advisor, Dr. Wei-Jun Cai, is the 2017 AGU fellow for his groundbreaking research on estuarine and coastal processes and their relationship to the global carbon cycle. I felt very proud to attend the honors ceremony as his student.
I found some new features in this year's meeting compare to the one in 2013.
The "AGU Events" app. It is a very powerful tool to browse and search the program. It helps to reduce the usage of paper and makes the search process much easier and faster. I also like the feature that I am able to create a personal agenda with the online planner.
The ePosters. I was attracted by the ePosters immediately when I entered the Poster Hall. One scientist was presenting a 3-D map of a lava tube, which looks fantastic on the touch screen as it allows free rotation. The ePosters also allow a video in a poster, which is a great addition to the physical poster in some cases.
The AGU TV. The AGU TV episodes were shown on the screen around the convention center and in selected hotels throughout the five days of the meeting. Our college of earth, ocean, and environment provided a short film this year!
Overall, this AGU Fall Meeting is very informative. I feel that it is cool to stay in science and spread our work globally.

Recent Award Recipients
To date 576 graduate students have received funding from UD's Graduate and Professional Education to pursue professional development.
Mengxi Lv
PROGRAM: Bioinformatics and Computational Biology
VENUE: 2016 Orthopaedic Research Society Annual Meeting -- Orlando, FL, United States
PRESENTATION: March 5, 2016
Diego Fernandez Otegui
PROGRAM: Disaster Science and Management
VENUE: World Conference on Humanitarian Studies -- Addis Ababa, Ethiopia
PRESENTATION: March 5, 2016
Yilu Zhou
PROGRAM: Mechanical Engineering
VENUE: ORS 2016 Annual Meeting -- Orlando, FL, United States
PRESENTATION: March 4, 2016
Matthew Koterwas
PROGRAM: Nursing
VENUE: Association for Gerontology in Higher Education: Annual Meeting and Educational Leadership Conference -- Long Beach, CA, United States
PRESENTATION: March 3, 2016
Veronique Oldham
PROGRAM: Oceanography
VENUE: Ocean Science Meeting 2016 -- New Orleans, LA, United States
PRESENTATION: February 21, 2016
Lu Han
PROGRAM: Oceanography
VENUE: 2016 Ocean Science Meeting -- New Orleans, LA, United States
PRESENTATION: February 21, 2016
Francyne Kubaski
PROGRAM: Biological Sciences
VENUE: Mass Spectrometry: Application to the clinical lab -- Palm Springs, CA, United States
PRESENTATION: February 21, 2016
Hannah Segrave
PROGRAM: Art History
VENUE: Magic: Between Embodiment and Ontology (2016 Emerging Scholars and Faculty Symposium at McGill University) -- Montreal, Canada
PRESENTATION: February 18, 2016
John Shipley
PROGRAM: Physical Therapy
VENUE: APTA - Combined Sections Meeting -- Anaheim, CA, United States
PRESENTATION: February 17, 2016
Jacqueline Palmer
PROGRAM: Biomechanics and Movement Science
VENUE: Combined Sections meeting -- Anaheim, CA, United States
PRESENTATION: February 17, 2016
Jacqueline Willoughby
PROGRAM: Fine Arts
VENUE: Kunstraum Tapir Gallery -- Berlin, Germany
PRESENTATION: February 17, 2016
Ryan Murphy
PROGRAM: Chemical Engineering
VENUE: Gordon Research Conference/Seminar -- Ventura, CA, United States
PRESENTATION: February 16, 2016
Marcos Portnoi
PROGRAM: Computer Science
VENUE: Int'l Conference on Computing, Networking and Communications (ICNC 2016) -- Kauai, HI, United States
PRESENTATION: February 15, 2016
Andrew Wells
PROGRAM: Civil Engineering
VENUE: ASCE Geo-Structures -- Phoenix, AZ, United States
PRESENTATION: February 14, 2016
Sean Fudger
PROGRAM: Materials Science and Engineering
VENUE: TMS 2016 Conference -- Nashville, TN, United States
PRESENTATION: February 14, 2016
Ozlem Koylu-Alkan
PROGRAM: Physics
VENUE: TMS 2016 Conference -- Nashville, TN, United States
PRESENTATION: February 14, 2016
Francyne Kubaski
PROGRAM: Biological Sciences
VENUE: 13th Annual WORLDSymposium -- San Diego, CA, United States
PRESENTATION: February 13, 2016
Sara Shaw
PROGRAM: Human Development and Family Studies
VENUE: Conference on Research Innovation in Early Intervention -- San Diego, CA, United States
PRESENTATION: February 11, 2016
Melissa Gordon
PROGRAM: Chemical Engineering
VENUE: Gordon Research Conference -- Ventura, CA, United States
PRESENTATION: February 6, 2016
Ru Chen
PROGRAM: Chemical Engineering
VENUE: Gordon Research Conference -- Ventura, CA, United States
PRESENTATION: February 6, 2016
Jannatun Nayem
PROGRAM: Chemical Engineering
VENUE: Gordon Research Conference and Seminar -- Ventura, CA, United States
PRESENTATION: February 6, 2016
Hye Jung Choi
PROGRAM: Education
VENUE: Ethnographic and Qualitative Research Conference -- Las Vegas, NV, United States
PRESENTATION: February 1, 2016
Harry Colmorgen
PROGRAM: Entomology and Wildlife Ecology
VENUE: North American Duck Symposium and Workshop -- Annapolis, MD, United States
PRESENTATION: February 1, 2016
Clark Nissley
PROGRAM: Entomology and Wildlife Ecology
VENUE: North American Duck Symposium -- Annapolis, MD, United States
PRESENTATION: January 30, 2016