Professional Development Award
Around the World
The Professional Development Award for Graduate Students is supported by the Office of the Provost to help University of Delaware graduate students participate in significant professional conferences pertaining to their field of study. Conference travel is essential to the academic growth and development of graduate students. It affords opportunities for presentation of student work in a professional setting, as well as opportunities for networking and exposure to the latest academic research. We invite you to explore our world view and see where our students have been and where they are heading to next.
This map was added 12-15-2015 and is a growing snapshot of our recent award recipients.
In the Spotlight
Below is a sampling of the most recent award recipients.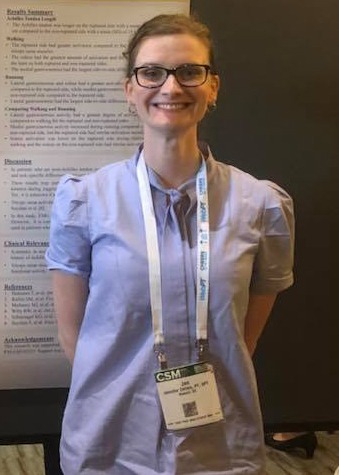 Jennifer Zellers
PROGRAM: Biomechanics & Movement Science
American Physical Therapy Association Combined Sections Meeting
New Orleans, Louisiana, United States
February 21, 2018
I've just returned home from a fantastic conference in New Orleans, LA. The American Physical Therapy Association's Combined Sections Meeting (CSM) is a gathering of over 12,000 physical therapists. CSM started as soon as I got to the airport, with friends and colleagues from around the northeast meeting and catching up from the flight into New Orleans to the return flight home four days later.
This year, I had the privilege of sharing the results of several studies coming out of the Delaware Tendon Research Group at University of Delaware's STAR Health Sciences campus. With the support of the Office of Graduate and Professional Education's Professional Development Award, I was able to take advantage of all that CSM has to offer and presented two platform presentations. These presentations shared our findings regarding the presence of different types of underlying pathology on diagnostic ultrasound scans in people with painful Achilles tendon conditions as well as our work investigating people's physical activity level after Achilles tendon rupture. Between myself and my lab mates, the Delaware Tendon Research Group presented 3 platform and 4 poster presentations at this cutting-edge physical therapy conference.
In addition to presenting, attending CSM allowed me an important chance to engage and network with some of the leaders of the physical therapy field. Education sessions delved into the pragmatics of promoting physical therapy research in an academic environment and the peer review process. Platform and poster sessions were a forum for the newest and latest work in my field. I am very grateful for the support of the Professional Development Award in helping me take part in this year's CSM and fostering my ongoing growth as a clinician-scientist.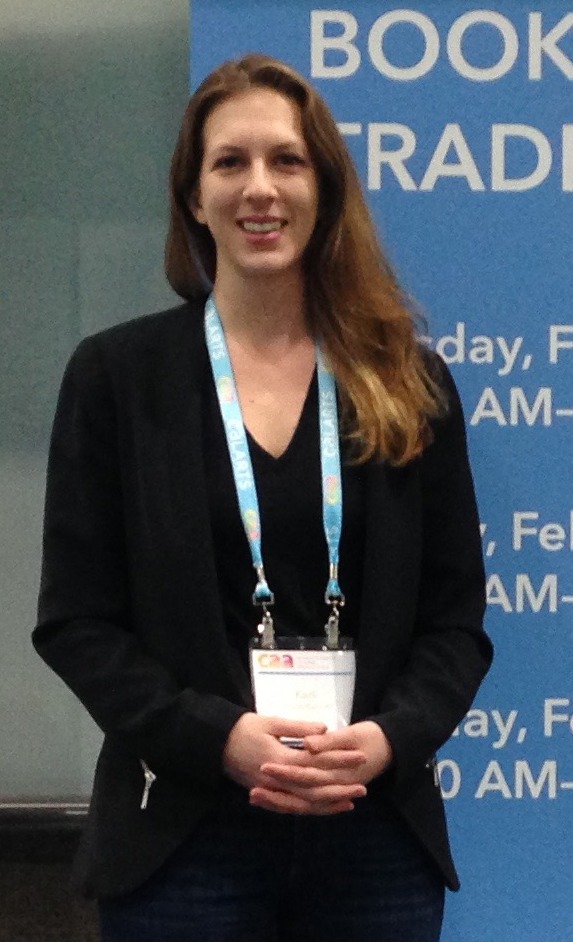 Karli Wurzelbacher
PROGRAM: Art History
College Art Association
Los Angeles, California, United States
February 21, 2018
This February I had the opportunity to visit Los Angeles, California, for the first time to present a paper at the College Art Association's annual conference. This four-day event is an important gathering of art historians and artists from across the country and around the world.
My paper, "Switching Supports: Marsden Hartley and Reverse Painting on Glass," was drawn from my doctoral dissertation, which I will defend in June. The chance to share my research with professors, curators, and graduate students beyond the University of Delaware encouraged me to further distill, clarify, and support the ideas that I explore in the dissertation. It was wonderful to receive feedback following the talk, and to meet art historians and PhD candidates with similar scholarly interests.
When I complete my doctoral degree I plan to work as a museum curator. Attending the conference was critical to my professional development because it provided a venue for reconnecting with colleagues and for meeting new people in the museum field. I attended talks by curators from institutions where I would like to work and was able to speak with them about their current and upcoming projects. Los Angeles is also home to major museums. As part of the conference I viewed the permanent collections and temporary exhibitions at The Broad Museum, the Los Angeles County Museum of Art, and the Museum of Latin American Art.
As a result of this professional development trip I strengthened my academic work, added to my professional network, and visited leading museums. All of these experiences will bring me closer to my goal of becoming a museum curator.

Recent Award Recipients
To date 641 graduate students have received funding from UD's Graduate and Professional Education to pursue professional development.
Daniel Arbucias Daniel
PROGRAM: Political Science and International Relations
VENUE: Daniel Arbucias -- Phoenixville, PA, United States
PRESENTATION: July 25, 2018
Angela Maria Bohorquez Oviedo
PROGRAM: Political Science and International Relations
VENUE: Thirteenth International Conference on Interdisciplinary Social Sciences -- Granada, Spain
PRESENTATION: July 25, 2018
Yuliya Brel
PROGRAM: Urban Affairs and Public Policy
VENUE: ISTR 2018 International Conference and PhD Workshop -- Amsterdam, Netherlands
PRESENTATION: July 10, 2018
Khem Raj Ghusinga
PROGRAM: Electrical and Computer Engineering
VENUE: Workshop on "Mathematical Approaches to Cell-Cell Communication and Collective Behaviours" at the Banff International Research Station -- Banff, Canada
PRESENTATION: July 8, 2018
Daniela Avelar Guerrero
PROGRAM: Education
VENUE: Child Language Symposium -- Reading, United Kingdom
PRESENTATION: June 25, 2018
MINYOUNG YUN
PROGRAM: Mechanical Engineering
VENUE: 14th International Conference on Flow Processes in Composite Materials -- Lulea, Sweden
PRESENTATION: May 30, 2018
Mohammad Alsulmi
PROGRAM: Computer Science
VENUE: 2018 IEEE Conference on Computational Intelligence in Bioinformatics and Computational Biology -- Saint Louis, MO, United States
PRESENTATION: May 30, 2018
Kelsey Bryk
PROGRAM: Biomechanics and Movement Science
VENUE: American College of Sport's Medicine 65th Annual Meeting -- Minneapolis, MN, United States
PRESENTATION: May 29, 2018
Xin Guo
PROGRAM: Electrical and Computer Engineering
VENUE: The 13th IEEE Conference on Automatic Face and Gesture Recognition -- Xi'an, China
PRESENTATION: May 15, 2018
Irem Yildirim
PROGRAM: Psychology
VENUE: 3rd International Meeting of the Psychonomic Society -- Amsterdam, Netherlands
PRESENTATION: May 10, 2018
Hyun Jin Hwangbo
PROGRAM: Linguistics and Cognitive Science
VENUE: 18th International Morphology Meeting -- Budapest, Hungary
PRESENTATION: May 10, 2018
Andrew Sprague
PROGRAM: Biomechanics and Movement Science
VENUE: 18th ESSKA Congress -- Glasgow, United Kingdom
PRESENTATION: May 9, 2018
Patrick Corrigan
PROGRAM: Biomechanics and Movement Science
VENUE: European Society of Sports Traumatology, Knee Surgery & Arthroscopy (ESSKA) Congress -- Glasgow, United Kingdom
PRESENTATION: May 9, 2018
Laura Davidson
PROGRAM: School Psychology
VENUE: Delaware Association of School Psychologists (DASP) Spring Conference -- Landenberg, PA, United States
PRESENTATION: May 8, 2018
Chunting Zhang
PROGRAM: Chemistry and Biochemistry
VENUE: 59th Experimental Nuclear Magnetic Resonance Conference -- Orlando, FL, United States
PRESENTATION: April 29, 2018
Jessica Johnson
PROGRAM: Biomechanics and Movement Science
VENUE: Osteoarthritis Research Symposium International -- Liverpool, United Kingdom
PRESENTATION: April 26, 2018
Jacob Capin
PROGRAM: Biomechanics and Movement Science
VENUE: 2018 World Congress on Osteoarthritis (Osteoarthritis Research Society International) -- Liverpool, United Kingdom
PRESENTATION: April 26, 2018
Michael Babak
PROGRAM: Animal and Food Science
VENUE: Kenya Veterinary Association Scientific Conference -- Nyeri, Kenya
PRESENTATION: April 25, 2018
Katarina Smiljanec
PROGRAM: Applied Physiology
VENUE: Experimental Biology -- San Diego, CA, United States
PRESENTATION: April 21, 2018
Aditi Makhija
PROGRAM: Biological Sciences
VENUE: Experimental Biology 2018 -- San Diego, CA, United States
PRESENTATION: April 21, 2018
Siavash Mashayekh
PROGRAM: Chemistry and Biochemistry
VENUE: ASBMB Annual Meeting -- San Diego, CA, United States
PRESENTATION: April 21, 2018
Walter Drake
PROGRAM: Chemistry and Biochemistry
VENUE: 2018 ASBMB Annual Meeting -- San Diego, CA, United States
PRESENTATION: April 20, 2018
Xiao Ma
PROGRAM: Electrical and Computer Engineering
VENUE: Compressive Sensing VII: From Diverse Modalities to Big Data Analytics -- Orlando, FL, United States
PRESENTATION: April 15, 2018
Corina Gilden
PROGRAM: Human Development and Family Studies
VENUE: American Educational Research Association (AERA) -- New York, NY, United States
PRESENTATION: April 13, 2018