Professional Development Award
Around the World
The Professional Development Award for Graduate Students is supported by the Office of the Provost to help University of Delaware graduate students participate in significant professional conferences pertaining to their field of study. Conference travel is essential to the academic growth and development of graduate students. It affords opportunities for presentation of student work in a professional setting, as well as opportunities for networking and exposure to the latest academic research. We invite you to explore our world view and see where our students have been and where they are heading to next.
This map was added 12-15-2015 and is a growing snapshot of our recent award recipients.
In the Spotlight
Below is a sampling of the most recent award recipients.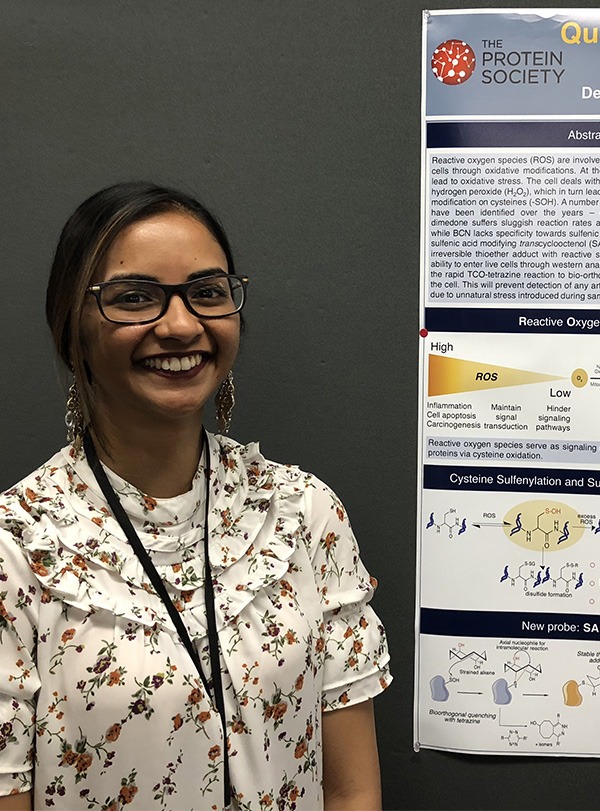 Oshini Ekanayake
PROGRAM: Chemistry & Biochemistry
The Protein Society Symposium
Boston, Massachusetts, United States
July 9, 2018
The Protein society symposium in Boston this year was a great opportunity for me as a third year a doctoral student to not only meet leading figures in the field of protein science but also to build connections with other scientists like myself. The four-day conference was filled with talks from scientists around the world. Even though it seemed a little overwhelming at first, the information presented was highly thought provoking. There was emphasis not only on new techniques, recent findings that may help elucidate novel therapies for disease but also on the theoretical understanding of proteins.
Structural biology was the theme of this year's symposium and for the informed attendee, it certainly was a real treat. Awardee Dr. Yifan Cheng from University of California, San Francisco, a leading name in the field of cryo-electron microscopy, which is an emerging technique in protein structure determination, not only gave us a taste of his lab's latest work but also emphasized the need for collaboration and collegiate atmosphere in science. Listening to all the distinguished speakers, including Dr. Cheng, was extremely inspirational and undoubtedly motivated me as a young and budding scientist to aim higher.
Sitting within the audience and listening to the speakers was a wonderful experience but what was even more rewarding was to speak to them in person. Having been selected to present a poster at the symposium gave me the opportunity to converse with other graduate students, post-doctoral students deciding on their career paths, assistant faculty starting off their research labs and established professors of science with years of experience. Talking to each one of them gave me an insight to life in academia and the progression of a career in science.
I would like to thank UD's Professional Development award for allowing me to attend this year's Protein society symposium and fueling my growth as a scientist.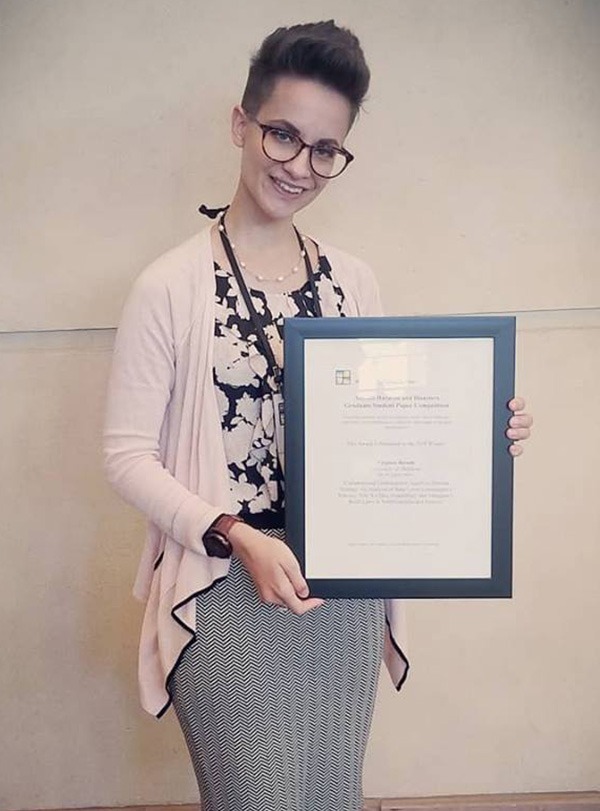 Virginia Berndt
PROGRAM: Sociology
Natural Hazards Workshop
Broomfield, Colorado, United States
July 8, 2018
I was floored and honored when I first learned that I won the Natural Hazards Center's Graduate Student Paper Competition. All of a sudden, I was going to Colorado to present my findings and receive this prestigious award! When I arrived at the Workshop, I was met with unrivaled warmth, kindness, interest in my research, and professional advice for graduate school and beyond. With the gloriously beautiful Rocky Mountains as a backdrop, I presented my paper on women's access to contraception in disaster settings. I was quickly told how important this research topic is; women's health is essential yet vastly overlooked in disaster research. I hope to pave the way for more research like this, to truly transform this already-blossoming field. After accepting my Graduate Student Paper award on-stage, I was met with "Congratulations!" all week long by individuals I did not even know. This truly demonstrates the genuine kindness and support that this disaster research community provides to all, regardless of whether one is a student, practitioner, or professional PhD researcher. It was one of the best conferences I attended, and I desperately hope to attend next year's Natural Hazards Workshop!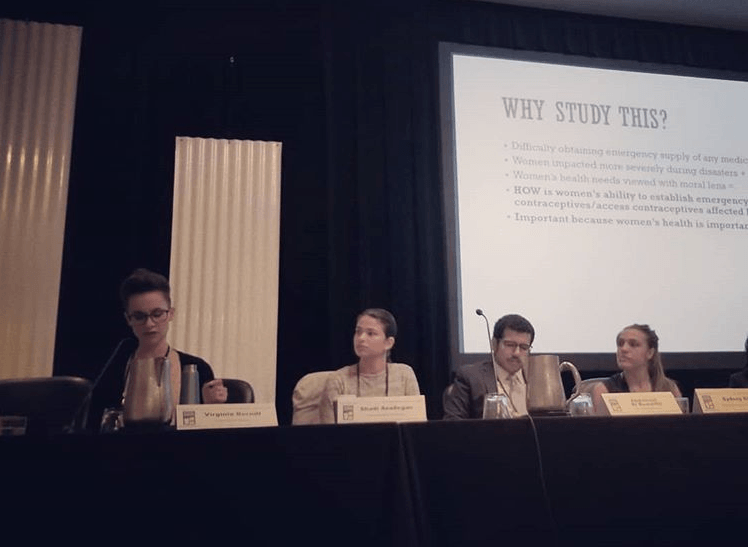 Recent Award Recipients
To date 775 graduate students have received funding from UD's Graduate and Professional Education to pursue professional development.
Adam Stager
PROGRAM: Mechanical Engineering
VENUE: 2018 International Symposium on Experimental Robotics (ISER) -- Buenos Aires, Argentina
PRESENTATION: November 5, 2018
Danielle Riser
PROGRAM: Human Development and Family Studies
VENUE: Division for Early Childhood's 34th Annual International Conference on Young Children with Special Needs and their Families -- Orlando, FL, United States
PRESENTATION: October 23, 2018
Meng Jia
PROGRAM: Chemistry and Biochemistry
VENUE: AVS 65th International Symposium&Exhibition -- Long Beach, CA, United States
PRESENTATION: October 21, 2018
Christopher Goodwin
PROGRAM: Chemistry and Biochemistry
VENUE: AVS 65th International Symposium & Exhibition -- Long Beach, CA, United States
PRESENTATION: October 21, 2018
Mahsa Konh
PROGRAM: Chemistry and Biochemistry
VENUE: AVS International Symposium and Exhibition -- Long Beach, CA, United States
PRESENTATION: October 21, 2018
Emily Farek
PROGRAM: Art Conservation
VENUE: Dennis Farm Symposium -- Factoryville, PA, United States
PRESENTATION: October 11, 2018
Danielle Civil
PROGRAM: Fashion and Apparel Studies
VENUE: 100 Years of Design Graduate Education: "Fashion and the Future of Design" -- Minneapolis, MN, United States
PRESENTATION: September 27, 2018
Patience Ankomah
PROGRAM: Fashion and Apparel Studies
VENUE: Fashion and the Future of Design Symposium -- Minneapolis, MN, United States
PRESENTATION: September 27, 2018
Ashley Paintsil
PROGRAM: Fashion and Apparel Studies
VENUE: Fashion and the Future of Design Symposium -- Newark, DE, United States
PRESENTATION: September 27, 2018
ChaCha Hudson
PROGRAM: Fashion and Apparel Studies
VENUE: Fashion and the Future of Design -- St. Paul, MN, United States
PRESENTATION: September 27, 2018
Ye Fan
PROGRAM: Electrical and Computer Engineering
VENUE: 2018 Grace Hopper Celebration -- Houston, TX, United States
PRESENTATION: September 26, 2018
Joohee Lee
PROGRAM: Energy and Environmental Policy
VENUE: Energy Justice and the Capability Approach -- Malmo, Sweden
PRESENTATION: September 12, 2018
Soojin Shin
PROGRAM: Energy and Environmental Policy
VENUE: Energy Policy Research Conference -- Boise, ID, United States
PRESENTATION: September 6, 2018
Matthew Babcock
PROGRAM: Applied Physiology
VENUE: ACSM's Conference on Integrative Physiology of Exercise -- San Diego, CA, United States
PRESENTATION: September 5, 2018
Kamila Migdal
PROGRAM: Applied Physiology
VENUE: Integrative Physiology of Exercise -- San Diego, CA, United States
PRESENTATION: September 5, 2018
Sachin Gavali
PROGRAM: Bioinformatics and Systems Biology
VENUE: ACM Conference on Bioinformatics, Computational Biology, and Health Informatics (ACM-BCB) -- Washington, DC, United States
PRESENTATION: August 29, 2018
Saleh Tamim
PROGRAM: Bioinformatics and Systems Biology
VENUE: ACM Conference on Bioinformatics, Computational Biology, and Health Informatics (ACM BCB) -- Washington DC, United States
PRESENTATION: August 29, 2018
Aaron Russell
PROGRAM: Water Science and Policy
VENUE: Royal Geographical Society - Annual International Conference -- Cardiff, United Kingdom
PRESENTATION: August 29, 2018
Leigh Andrews
PROGRAM: Psychology
VENUE: Psychological Networks Amsterdam Summer School 2018 -- Amsterdam, Netherlands
PRESENTATION: August 27, 2018
Seyedmohammad Salehi
PROGRAM: Computer Science
VENUE: IEEE Vehicular Technology Conference (VTC) -- Chicago, IL, United States
PRESENTATION: August 27, 2018
Hershal Pandya
PROGRAM: Physics
VENUE: TeV Particle Astrophysics (TeVPA) -- Berlin, Germany
PRESENTATION: August 27, 2018
Tianne Lassiter
PROGRAM: Electrical and Computer Engineering
VENUE: IEEE Research and Applications of Photonics In Defense Conference (RAPID) -- Miramar, FL, United States
PRESENTATION: August 22, 2018
Muhsiang Hsieh
PROGRAM: Civil Engineering
VENUE: 256th ACS National Meeting -- Boston, MA, United States
PRESENTATION: August 20, 2018
Lane Johnston
PROGRAM: Marine Studies
VENUE: 148th Annual Meeting of the American Fisheries Society -- Atlantic City, NJ, United States
PRESENTATION: August 19, 2018