T
he University of Delaware has arrived at another major crossroads in its development as an R1.
Establishment of a graduate college would be a means of signaling more clearly to internal as well as external constituents the centrality of graduate education to the institution's reputational identity.
Re-thinking the infrastructure supporting graduate and professional education (space, staff, programming) is also an opportunity to:
promote academic excellence more effectively
enhance student services and support
leverage strategic cross-college collaborations on interdisciplinary program development and administration more effectively.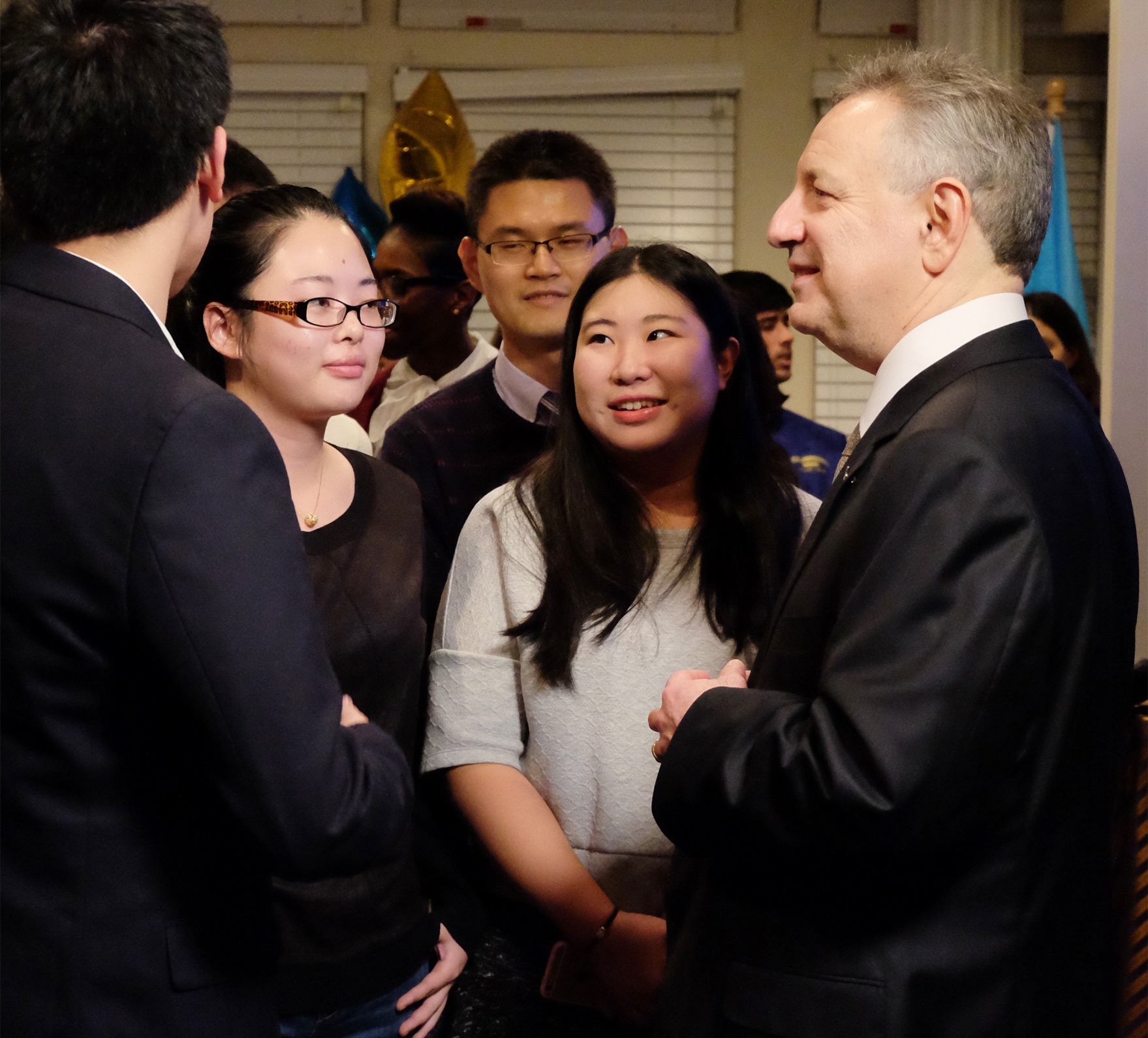 "We need to take our graduate and professional education programs to the next level."
—President Dennis Assanis, University Faculty Senate, September 12, 2016
October 13, 2016
Conference call with Hanover to review/finalize Report Request
November 3, 2016
University Archives Report
December 2016
- February 2017
Internal Working Group Meetings
December 9, 2016
Hanover primary research report
February 15, 2017
Draft of internal working group's white paper ready to circulate to Deans, PSS, Provost and President
March 2017
Prep final version of white paper, financial plan and space plan for University Faculty Senate and Board of Trustees review
April 2017
Review of white paper and financial/space plan by University Faculty Senate and Board of Trustees Academic Affairs Committee
September 2017
Submission of proposal to University Faculty Senate
July 1, 2018
Implementation?
The University of Delaware is a major research university with extensive graduate programs that is also dedicated to outstanding undergraduate and professional education. UD faculty are committed to the intellectual, cultural, and ethical development of students as citizens, scholars, and professionals. UD graduates are prepared to contribute to a global and diverse society that requires leaders with creativity, integrity and a dedication to service.

—UD Mission Statement (Approved by University Faculty Senate April 5, 1993; approved by the Board of Trustees May 26, 1993; May 19, 2008)
Graduate education must be an institutional priority in the New American Research University as it is essential to preparing the most highly trained members of our society – our future leaders, innovators, teachers, professors, thinkers.
…Many AAU organizations organize their graduate studies under a separate college [or school], which may or may not itself be degree-granting, and most of these colleges are staffed at a significantly higher staff-to-student ratio than is [the Office of Graduate and Professional Education]. Moreover, the fact that a university has formally devoted a college, its highest-level organizational unit, solely to graduate education announces that graduate education is an institutional priority.
—Delaware Will Shine "Models of the New American Research University" Working Group White Paper (2014)
Graduate education at UD is highly decentralized, and most constituencies appear to regard the role of OGPE as one of solving problems and providing services, not one of leadership. This view is particularly strong among the Deans. This level of decentralization, and this view of graduate leadership, is not the norm at first tier institutions.
d[We recommend giving] serious consideration to reorganizing OGPE as a "graduate school" under the leadership of a Graduate Dean. We believe this would be instrumental to UD's achieving the goals for graduate and professional education set out in The Path to Prominence.
— External Review of Graduate Education and Administration Report (2011)
CONVENOR
Ann Ardis
Senior Vice Provost for Graduate and Professional Education
Director, Interdisciplinary Humanities Research Center, College of Arts and Sciences
Professor of English
Eric Wommack
Deputy Dean, College of Agriculture and Natural Resources
Doug Doren
Deputy Dean, College of Arts and Sciences
Jack Baroudi
Associate Dean, Alfred Lerner College of Business and Economics
Janis Lopez
Assistant Dean, College of Earth, Ocean and Environment
Ralph Ferretti
Director, School of Education, College of Education and Human Development
Yushan Yan
Associate Dean, College of Engineering
Susan Hall
Deputy Dean, College of Health Sciences
Ravi Ammigan
Interim Associate Deputy Provost
Institute for Global Studies
Office for International Students & Scholars
Gretchen Bauer
Professor, Political Science and International Relations
Faculty Fellow, Graduate & Professional Education
Peggy Bottorff
Associate Provost/Chief of Staff,
Office of the Provost
Jim Broomall
Associate Vice Provost Professional & Continuing Studies and Online Initiatives
Trevor A. Dawes
Vice Provost for Libraries and Museums
Chris Hudson
Interim Chief Budget Officer
Lynnette Overby
Deputy Director, Community Engagement
Professor of Theatre
Jeff Palmer
University Registrar
John Poehlmann
Chief Budget Analyst
Charlie Riordan
Vice President for Research, Scholarship and Innovation
Professor, Chemistry & Biochemistry
Buz Swanik
Chair, Graduate Studies Committee, Faculty Senate
Professor, Kinesiology and Applied Physiology
John Sawyer
Associate Provost, Instructional Research & Effectiveness